Hulu attracts multiple bidders
Popular with cord cutters, Hulu lets people to watch network TV shows over the Internet. Depending on which suitor acquires the service, its business model could be changing.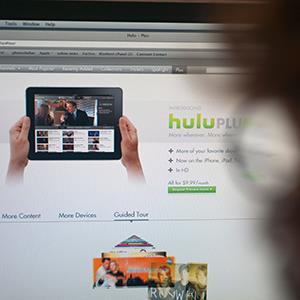 Chris Ciaccia, TheStreet
Hulu has become a hot property in recent weeks, as multiple bids have come in for the company, including one from Internet portal  Yahoo! (YHOO). Now, AT&T (T) is reported to have thrown its hat in the ring. 
The Wall Street Journal's AllThingsD blog reports that AT&T is interested in joining The Chernin Group in a bid for the streaming-video service. Other potential buyers include DirectTV (DTV), Time Warner Cable (TWC) and private equity firms KKR, Guggenheim Digital and Silverlake Partners.
The major problem with acquiring Hulu is that its content is owned by some media conglomerates -- Walt Disney (DIS), News Corp. (NWSA) and Comcast (CMCSA), via its ownership of NBCUniversal -- and securing the rights to stream their movies and TV shows would likely be very taxing.
"Whatever price (the winning bidder) pays (for Hulu), they would need to add a minimum of $2 billion in content costs annually to grow the business," says Hudson Square Research analyst Dan Ernst. "To compete with Netflix (NFLX) and cable, it's a money loser."
Hulu generated $700 million in revenue last year and has more than 4 million paying subscribers to its Hulu Plus service. That's certainly valuable, but is worth noting that The Chernin Group reportedly bid $500 million in its initial offer for Hulu, valuing the service at less than 1 times revenue. Google (GOOG) was reported to have bid $4 billion a few years ago; $500 million is a long way away from $4 billion.
Private equity firm Providence Equity Partners sold its stake in the company, which valued Hulu around $2 billion.
Exclusive content 
Hulu has had exclusive access to content from Fox, ABC and NBC, but the service is not a significant revenue generator for the networks. If they were to make Hulu the exclusive online home of their shows, it would cost them revenue. That's not something shareholders want, and it's partly why CBS (CBS) doesn't put its content on Hulu -- it's able to sell its older content to places like Amazon (AMZN), making incremental revenue off classic shows while retaining exclusivity to its newer programs.
These content owners have figured out that selling shows multiple ways makes the most sense, at least for the time being. The owners have demonstrated over the past few years that new and old content is worth a lot. After all, people are spending more time than ever watching content and consuming data. There's a reason why the share prices of CBS, News Corp., Disney and Comcast have returned 59%, 70%, 42%, and 40%, respectively, over the past year. 
Perhaps the only reasons AT&T  is mulling a bid is that it sees Hulu as a way to expand its out-of-network services, and to keep the service out of the hands of competitors. AT&T's U-Verse video service, which competes with Verizon Communication's (VZ) FiOS, only has a few million subscribers, and isn't nearly as big as FiOS or DirectTV.
Bidders such as Yahoo, The Chernin Group and DirecTV might believe they could get the content for less than $2 billion a year. But persuading the content owners of that might be a hard sell. 
At the right price, Hulu has value to a strategic bidder that's willing to put additional money into content costs and subscriber acquisition. Because in the short run a Hulu acquisition is a money losing proposition.
 More from TheStreet.com
ABOUT TECHBIZ
Start investing in technology companies with help from financial writers and experts who know the industry best. Learn what to look for in a technology company to make the right investment decisions.