Google uses fuzzy math on its Motorola business
The search giant says it acquired the cell phone maker for its patents. It's early yet, but so far the deal is serving as a significant drag on earnings.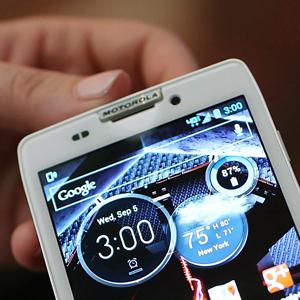 By Michael Comeau, Minyanville
Even the most ardent
Google
(
GOOG
) bull should be questioning the wisdom of the company's acquisition of Motorola Mobility.
The $64,000 question is this: Do Motorola's patents hold enough long-term strategic and financial value to make it worth the drag on growth?
Let's look at the numbers.
First off, toss out the 45% revenue growth that Google chief executive Larry Page touted on the company's Oct. 18 call with analyst and investors to discuss third-quarter financial results. That growth was inflated by the $12.5 billion acquisition of Motorola Mobility; this is the first quarter that the handset maker's fundamentals are contributing fully to Google's top and bottom lines. 
And Motorola is still hemorrhaging money. While the core Google business grew by 19% in the quarter, the Motorola unit's revenue
fell
by a whopping 21%.
So if we compare Google's consolidated results on an apples-to-apples basis, revenue growth was actually 9%, not 45%.
Fuzzy math? I vote YES.
Starting from behind
But we should have seen this mess coming. After all, it's been obvious for quite some time that the
Samsung
(
SSLNF
)
Galaxy and
Apple
(
AAPL
) iPhone juggernauts have been completely dominating the smartphone industry.
Furthermore, Motorola has a dumbphone (as in, anything that isn't a smartphone) business. According to Gartner, global smartphone industry unit sales grew by 43% in the second quarter, but sales of non-smartphones fell by 17% in the period.
So the smartphone industry's growing big, yet Motorola is seeing declining revenues that drag down Google's overall growth rate.
Now, I've heard the argument that Motorola brought Google some much-needed hardware-design expertise. Well excuse my language, but that's a bunch of malarkey. Judging by products like the original Nexus One smartphone (which was released in 2010) and the Nexus 7 tablet, Google is quite capable in this regard. And in any case, it has enough money and prestige to recruit all the hardware talent it could ever need.
Now if Motorola was to release a groundbreaking product on the scale of its iconic StarTAC and RAZR products, that would be one thing. But it hasn't. Motorola's still trying to shake money out of the RAZR line, even though it no longer stands out because ultra-thin phones are so common.
So back to this patent thing.
Common sense tells me that the sole reason for the Motorola deal was the patents. Acquisitions for talent are common in technology, but not on this scale, especially since Motorola has so many legacy businesses. 
The problem comes in that eliminating this drag means dropping a neutron bomb on Motorola and shutting it down so investors can focus on the faster-growing standalone Google.
It's the most
shareholder-friendly​
scenario, but it would also be a political and PR nightmare, and therefore is unlikely.
So what's this patent stuff really worth? It better be more than $18 billion, because that's how much Google lost in market value in the hours after prematurely posting its third-quarter financial results.
DATA PROVIDERS
Copyright © 2014 Microsoft. All rights reserved.
Fundamental company data and historical chart data provided by Morningstar Inc. Real-time index quotes and delayed quotes supplied by Morningstar Inc. Quotes delayed by up to 15 minutes, except where indicated otherwise. Fund summary, fund performance and dividend data provided by Morningstar Inc. Analyst recommendations provided by Zacks Investment Research. StockScouter data provided by Verus Analytics. IPO data provided by Hoover's Inc. Index membership data provided by Morningstar Inc.
ABOUT TECHBIZ
Start investing in technology companies with help from financial writers and experts who know the industry best. Learn what to look for in a technology company to make the right investment decisions.