Investors struggle to get a handle on Apple
The tech pioneer's push into new markets and its tendency to be tight-lipped about its plans make it exceptionally hard to read.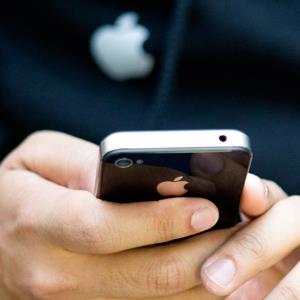 By Jessica E. Lessin, The Wall Street Journal 
Apple (AAPL) is expected to report record iPhone sales and revenue today when it releases its earnings for the holiday period.
But it isn't current sales that Wall Street has focused on as Apple's stock has swooned recently. It is that the Cupertino, Calif., company's future is getting harder to read.
Apple's push into new markets and its complex supply chain are making its growth prospects difficult to understand and predict, say longtime investors and analysts. The company missed analysts' estimates the past two quarters.
The murkiness is compounding jitters about future growth. Apple's stock price reached an 11-month low last week and recovered slightly in recent days, closing at $500 in 4 p.m. trading Friday on the Nasdaq Composite Index ($COMPX). That is still down 29% from its closing high of $702.10 reached in September.
"At this point, Apple's sales are so broad, that no one person outside the company can see the whole picture," says Matthew Hoffman, a wireless-equipment analyst with Cowen.
He says guesswork about future products swings Apple's stock, and the swings are more pronounced because Apple insists on staying mum.
An Apple spokesman declined to comment ahead of earnings.
Secrecy builds buzz
Apple Chief Executive Tim Cook could allay concerns by opening up about the company's product road map on the earnings call. But Cook and other Apple executives have said that they like people speculating. The secrecy builds buzz.
Investors likely will be left to scrutinize a bevy of data points. One of the most important is component orders. But the patchwork of parts inside Apple devices has gotten more difficult to track as the company has diversified to new suppliers and geographical areas, investors say.
Apple also faces challenges, most notably stiffening competition with rivals like Samsung Electronics and the maturation of the high-end smartphone market, which Apple has dominated.
Stuart Jeffrey, an analyst with Nomura Securities, says concerns about the company's growth have increased, given that 50% to 60% of cellphone users in markets where carriers subsidize the cost of the phone -- Apple's sweet spot -- already have a smartphone. That leaves less room for further adoption.
"The S curve is coming toward the flattening part. How do you tackle?" Jeffrey says.
Apple isn't the only tech company with something to prove. Rivals Google (GOOG) and Microsoft (MSFT) also report quarterly results this week. Their previous reports also disappointed investors. (Microsoft publishes MSN Money.)
For Apple, analysts on average expect revenue to increase 18% to $54.7 billion from a year earlier. They expect net income to slip 2% to $12.78 billion, as margins contract, according to Thomson Reuters. The quarter was the first full quarter where the iPhone 5 was on sale.
Wall Street will be paying closer attention to Apple's guidance for the current quarter, which will require some guesswork once again. "People will struggle with what the guidance means," says Jeffrey, who adds that Apple traditionally gives notoriously low guidance, but that such conservatism may be more realistic if growth is slowing down. 
More from The Wall Street Journal 
DATA PROVIDERS
Copyright © 2014 Microsoft. All rights reserved.
Fundamental company data and historical chart data provided by Morningstar Inc. Real-time index quotes and delayed quotes supplied by Morningstar Inc. Quotes delayed by up to 15 minutes, except where indicated otherwise. Fund summary, fund performance and dividend data provided by Morningstar Inc. Analyst recommendations provided by Zacks Investment Research. StockScouter data provided by Verus Analytics. IPO data provided by Hoover's Inc. Index membership data provided by Morningstar Inc.
ABOUT TECHBIZ
Start investing in technology companies with help from financial writers and experts who know the industry best. Learn what to look for in a technology company to make the right investment decisions.