Sizing up the Web's toll on music sales
The greatest takeaway from examining 4 decades of data on music sales and revenue is the record industry's success in reinventing itself in the face of technological change.
When Liz Kennedy informed me I had access to data on every music industry sale over the past 40 years, I had no idea it would feel this sad.
As director of communications for Recording Industry Association of America, Kennedy is the gatekeeper to the Industry Shipment Statistics database.
Here, since 1973, the RIAA has kept a running tab of music sold in all formats -- compact discs, vinyl records, casette tapes, downloaded singles -- by such industry heavyweights as Warner Music Group, Sony Music Entertainment and  Universal Music Group.  
"We are very proud of the depth and transparency of this database," Kennedy told me. "It's a fantastic resource for anybody looking at the scope of our business."
Kennedy allowed me total access: I could model, sample and tinker with the numbers, as long as I gave the association credit. It's stunning how sad a song these numbers sing.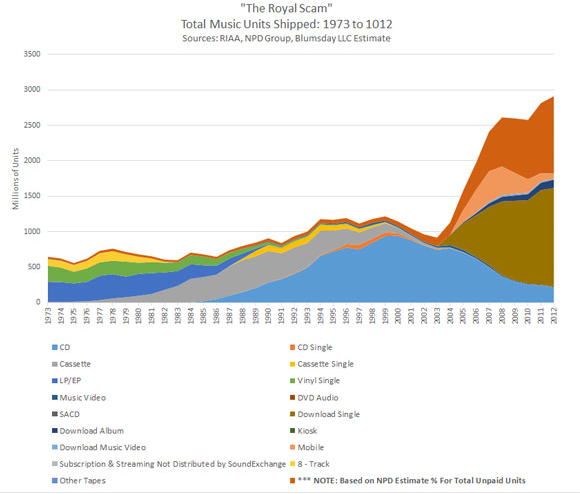 Digital Terminator drops from sky 
The single greatest takeaway of wandering through four decades of music sales and revenue data is how this industry reinvents itself in the face of technological change. Heavens, there were lame ideas -- the CD single, music kiosks, DVD audio? Please. And money was lost. Roughly $400 million went away when the vinyl single business went south, in the late 1970's.
It took until the early 1980's for the cassette tapes to replace those sales.
But overall, time and again, the music industry faced a new world order, embraced it, found an audience with it and made money. It all culminated with a remarkable 1999 peak of 1.3 billion units sold, generating North American revenues of about $19 billion.
Then the digital Terminator dropped from the sky, and the music biz became just another John Connor huddling in the wreckage trying to stay alive.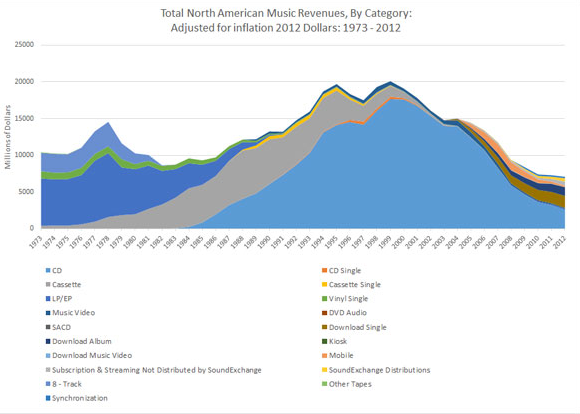 The fall of Rome 

Without question, the impact stunned the industry. Music on the Web was essentially an unserved market through early in the millennium, as unit volumes and revenues collapsed to about $15 billion in 2003. Eventually the industry rallied and found ways to sell songs, including downloads, streaming music services, mobile and sound-exchange distributions -- products consumers gobbled up at unheard-of rates.
Unit volumes soared: The RIAA estimates that online download single services moved north of 1 billion units in 2008. Mobile kicked in another 500 million. It all looked like a digital content house party, save for the fact that revenues plummeted.
Year in and year out, more was sold. But less profit was made, leading to an incomprehensibly small $7 billion total market last year, adjusted for inflation. Even more incredibly, that roughly 60% collapse in sales does not capture the full damage of the digital age.
Stolen music became a major problem.
Shrinkage in the digital content era is a never-ending debate. But the figures I like -- and the ones that are probably the most cited -- are from NPD Group, which estimates that about 60% of all music is sampled illegally in the modern era.
When I baked a round estimate of these stolen units into the RIAA model, consumption jumped to a remarkable 3 billion total units. That's triple the size of all CD sales at their height. Assuming consumption patterns stayed where they were 15 years ago -- that is, each music user spent about $45 a year on three or four CDs - the music business should easily be in the low $50 billion range and probably closer to $60 billion.
Or roughly how big Web giants such as Amazon (AMZN) or Google (GOOG) are.
That makes a $7 billion music market we struggle through today nearly 85% smaller than it should be. Not only is that an inexorable retrenchment in market size for which I struggle to find corollaries; value vaporizing on this scale is so large that a meaningful recovery is out of reach for this generation.
That also makes the future of the music industry about finding the itty-bitty winners in the tiny sliver of business that remains. Sitting here, getting ready to fly into the rising sun, I am starting to see what the digital revolution has really cost us.
It might be just be more than all the gold in Rome.
More from TheStreet.com
ABOUT TECHBIZ
Start investing in technology companies with help from financial writers and experts who know the industry best. Learn what to look for in a technology company to make the right investment decisions.