What Amazon bulls are betting on
The stock is trading at an all-time high on investor optimism about cloud services and other technology initiatives. But those are a small part of the overall business.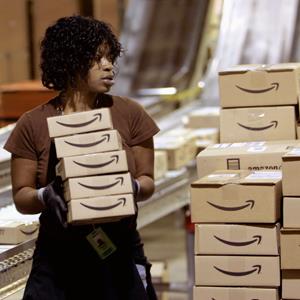 By Dana Blackenhorn, TheStreet 

Recently, I speculated in print that shares of 
Amazon.com
 (
AMZN
) would drop after the Seattle company posted its quarterly earnings. I expected the online retailer to miss analyst estimates
I was wrong, and stock jumped on the news.
Betting against Amazon has become a mug's game. Since the stock market bottom, in late 2008, the stock has risen steadily,  from below $38 a share to its present high of $266.
This has not been accompanied by a rise in earnings, although sales have more than quadrupled in the period. Like those old-school dot-com startups (and .com is still part of Amazon's formal name) the company operates as if it's losing money on every transaction but making it up on volume.
This drives conventional analysts batty. Paulo Santos, an independent trader who contributes market analysis to the website Seeking Alpha, compares betting on Amazon to buying a bad lottery ticket.
A tech company or a retailer? 
There are measures by which Amazon stock has a reasonable price. Compare its market valuation to its annual sales rate and you get about 2.5, well below the numbers for other technology companies, including Apple (AAPL) or Microsoft (MSFT), and not a lot higher than Intel's (INTC) 2.2.
But look at the same ratio in comparison to retailers such as Wal-Mart (WMT) and Costco Wholesale (COST) and you get a different story. Wal-Mart's figure is .59, Costco's .44.
Because Amazon is so technologically intensive, it's hard to tell how to value the stock. 
Is it a retailer or a tech company? The stock price says tech company but the numbers say retailer. The "smart money" is selling Amazon, and the smart money is getting clobbered. 

Chris Gaun of Gartner Group recently tried to uncover Amazon's cloud revenue number -- it's broken out only as part of "other" on the company's balance sheet -- and came up with $1.5 billion for 2012, far from the $3.8 billion figure offered by Australia's Macquarie Capital, which most Amazon bulls are betting on.
Still, assume Macquarie is right. Cloud remains a very tiny portion of the company's business, contributing less than $1 billion in revenue per quarter this year; the entire company averaged quarterly sales of $15 billion. Just like 24 times before, Amazon recently lowered its cloud prices again, even on its fastest processing systems.
Be generous 
Of course, cloud computing is just one part of the Amazon technology story. It's also one of the leading streaming media companies, where it goes head to head with Netflix (NFLX). But what is streaming worth? Netflix' total revenue for 2012 was about $3.6 billion. Even if Amazon did as well, that and the cloud business are still just gnats on the balance-sheet elephant. 
So, be generous and toss in the Kindle business. Pacific Crest Securities recently told Barron's that Amazon might sell 10.5 million Kindle Fire tablets in 2013. That's revenue of $2.5 billion over the course of this year.
In his most-recent conference call, Amazon CEO Jeff Bezos said e-book revenue was $9.2 billion. Let's call e-books tech, too, and not retailing.
Now add it all up and, like I said, be generous. Add Macquarie's $3.8 billion in cloud to Netflix' $3.6 billion in streaming, toss in $2.5 billion for Kindle players and $9.2 billion in e-book revenue. That's $19 billion in technology revenue, from all sources, for 2013.
Amazon.com did $21 billion in revenue during the fourth quarter of 2012 alone.
Figure you're paying Wal-Mart's valuation on the straight retail sales, take out all its cash (about $5 billion) and you're still paying $90 billion for a tech business that may produce $19 billion in revenue this year. That's a ratio of 4.5 times sales.
There are crazier prices on the technology board. Facebook (FB) shareholders pay 18 times revenue for their shares. But you can get Google (GOOG) for 4.9 times sales, and Oracle (ORCL) for 4.5 times sales. That's real tech revenue, every dime of it.
Personally, I love Amazon. I think it's worth $200 per share, which, by my very optimistic, back-of-the-envelope​ calculation, still comes to a valuation comparable with that of Apple. But it's no surprise that, to people who do this for a living, Amazon's stock chart looks a lot like Netflix' from 2011, just before its fall. It's a cult classic, and investing on it at these levels could prove a very scary movie, indeed.
More from TheStreet.com

ABOUT TECHBIZ
Start investing in technology companies with help from financial writers and experts who know the industry best. Learn what to look for in a technology company to make the right investment decisions.