Embrace the volatility
Don't be afraid of this asset bubble, take advantage of it.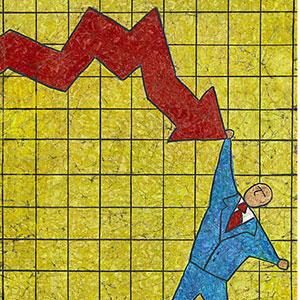 By Thomas Kee, Stock Traders Daily
When bubbles occur, investors often believe that no harm will come to them and that asset prices will simply rise indefinitely. In this most recent bubble, induced by the Federal Reserve's cheap money policies, that is again what happened, as with the credit and Internet bubbles. But the environment we are in today is vastly different from the one that took down the dot-coms between 2000 and 2002.

During the credit crisis people were in denial. Then, after being decimated, investors realized that the risks were real. This is the way of the world when it comes to asset bubbles and their aftermath. 
Because people's wealth is so closely tied to the direction of the stock market and the economy, riding the roller coaster can be very difficult. This is one of the reasons why I advise clients against buy-and-hold strategies. These strategies depend on the stock market continuing to rise and the economy to perform well. From 2009 to now, buy-and-hold investors have looked like geniuses. However, by simply pushing the start date back to 2007 those same people are barely making any money.
Unfortunately, I see this happening all over again. Some buy-and-hold investors are down as much as 50%, so they panic and sell at the bottom. The best practice is to sell when everyone else is buying, and that is exactly what you have been hearing from me for virtually this entire year.
Reluctantly, for a few short months at the start of the year I did adopt a bullish view on the stock market. I even traded it long in April. But I have also successfully steered my clients through asset bubbles, and now my recommendation to them is to engage long-term strategies that are not reliant on market direction.
For institutional investors, this is very difficult to do because they are not nimble and cannot control risk like individual investors do. Individual investors have a competitive advantage; they just drag their heels because they are guided by those same financial institutions that recommend that you always stay invested, primarily as a business model so that they can continue to generate fees. The traditional approach to investing is something that these large institutions have recommended to their clients, but something that those institutions do not necessarily follow themselves. They may be even shorting the market aggressively.  And the one who is left holding the bag is almost surely the buy-and-hold investor again.
Countless times I have recommended alternative strategies that are proactive and that work even when the market falls, and that is what I am recommending today.  Engage proactive risk-controlled strategies that do not rely on the market's direction.  Do not engage unnecessary risks, and avoid the temptation to swing for the fences.
I have been recommending iPath S&P 500 VIX Short Term Futures TM ETN (VXX) and also recently bought ProShares UltraShort Real Estate ETF (SRS). I sold SPDR Gold Trust ETF (GLD) before the breakdown. However, these positions do not reflect longer-term strategies but one-off trades. It is the longer-term strategies offered by Stock Traders Daily that investors should focus on. And if the market falls apart, as suggested by Stock Trader Daily's Investment Rate, using these strategies near the top will give us the financial ability to pick up the pieces when it all comes tumbling down. Remember, the market is about where it was in April, so we are still near a top even though it has fallen hard recently. It is not too late!

Here's the problem: Your "buy and holders" aren't holding. If you sell out at the bottom of a dip, then of course you're going to get soaked.

Stock investments should be made with a time horizon of years, not days or months, otherwise you open yourself to market volatility. Instead, take advantage of dips to buy stock "on sale", then keep it.


When the shift was hitting the fan today, Bernanke and Obama prematurely printed some more fiat cash, gave it to banksters and drove America that much further into indenture for it. Notably, the sell off continued, so that $250 billion or so blown today did nothing but hurt us. The only intelligent thought about the whole stock, bond, real estate and metals markets is-- no matter where you invest it, prepare to lose it because the game is fixed. Our best bet is to quit working for somebody else and let them go to Bernanke for every future penny of existence. The tab will get so high that it cannot be believed and won't. Anyone see Ben Bernanke alive in 2015? That's not a good bet.
Are you sure you want to delete this comment?
DATA PROVIDERS
Copyright © 2014 Microsoft. All rights reserved.
Fundamental company data and historical chart data provided by Morningstar Inc. Real-time index quotes and delayed quotes supplied by Morningstar Inc. Quotes delayed by up to 15 minutes, except where indicated otherwise. Fund summary, fund performance and dividend data provided by Morningstar Inc. Analyst recommendations provided by Zacks Investment Research. StockScouter data provided by Verus Analytics. IPO data provided by Hoover's Inc. Index membership data provided by Morningstar Inc.
ABOUT
Top Stocks provides analysis about the most noteworthy stocks in the market each day, combining some of the best content from around the MSN Money site and the rest of the Web.
Contributors include professional investors and journalists affiliated with MSN Money.
Follow us on Twitter @topstocksmsn.