Foreign flows wreak havoc in SE Asia
The region is vulnerable to shifts in outside capital investments.
For the rest of 2013 and into 2014, three global trends will drive increases in foreign direct investment in Southeast Asia: currency debasement from the major developed nations, the Chinese Yuan's (CYB) appreciation and economic stagnation in the West. But with the rapid and drastic changes in policy in the U.S., the EU and Japan with respect to their various forms of quantitative easing, the potential for Southeast Asia's policy makers to make major errors with regards to handling their fast-growing economies has risen as well.
According to the United Nations Conference on Trade and Development, the Philippines received $11.5 billion in foreign direct investment in 2012, a 15.5% increase over 2011, while other Southeast Asia nations reported similar FDI inflow growth: Vietnam -- 12.5%, Thailand -- 3.9%, and Cambodia -- 104%. These risks will keep some investors to the sidelines, depressing or delaying further investment.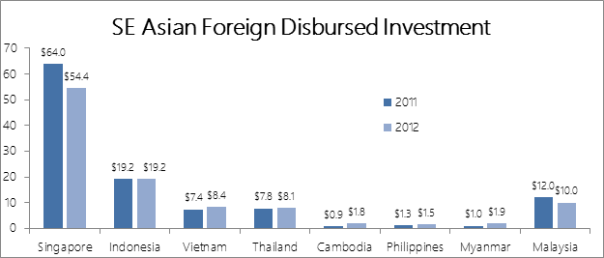 For example, the strong appreciation of the Thai baht and Philippine peso prompted action by both central banks to arrest the rise, with the Bank of Thailand lowering its benchmark lending rate to 2.75% and the Philippines placing strong limits on non-deliverable forward contracts to dampen peso speculation.
But after a brief, yet shocking rise in bond yields around the globe, the Federal Reserve is backing away from talk of ending quantitative easing and will likely begin accelerating its bond purchasing program in the second half of the year. Japan looks to be done debasing the yen in the short-term. Meanwhile, both Thailand and the Philippines are now stuck with policy decisions to weaken their currencies when inflation pressures will begin anew thanks to these abrupt changes in policy.
Let's look at two countries that have been in the spotlight recently.
Focus: Philippines
Standard & Poor's raised the Philippines' rating to investment grade after a similar upgrade by Fitch in March. Both of these moves should help lure foreign investors and make it far easier for the country to attract capital. Tempering capital inflows to slow the peso's strong performance became the major focus for the Bangko Sentral ng Pilipinas, which implemented a number of measures to ease the pressure.
The peso has appreciated 25% in real terms since March 2007, but has sold off sharply since March, weakening 5.5% due to recent global liquidity issues which have tempered that rise. More than $847 million left the country in May and that trend has continued so far in June.
To facilitate business transactions and encourage dollar outflow, the bank raised the amount of foreign currency purchasable by domestics without external BSP review to $120,000 from $60,000. In its latest policy decision the BSP made no changes to its monetary policy rates despite cries from exporters to do so. But with an excellent first quarter to 2013 under its belt and the Philippines the fastest growing Asian economy there is no need to cut rates.
The Philippines Stock Exchange Index has shed more than 1100 points (15%) since May 22, when talk of the Federal Reserve's tapering of QE began after a stellar 2012. The iShares MCSI Philippines Index ETF (EPHE) covers the country's major equities has plunged 22.2% in the past three weeks.
Focus: Vietnam
Foreign investment for Vietnam is its economy's lifeblood, without it in 2012 the domestic economy would have been in a deep recession, accounting for more than 12% of GDP. But that number was down over 2011 and coupled with a weak banking sector and sporadic credit growth due to overleveraged state-owned-enterpri​ses and real estate developers, Vietnam's GDP contracted to just 5.2% growth in 2012.
Vietnam's leadership has become acutely aware of the danger posed by a cessation of foreign investment and has begun taking stronger steps to create more favorable conditions for foreign investors. The new rules allow foreigners to own more than 49% of a joint venture -- though that portion of the stake would not have voting rights. But the new ownership rules are still subject to official review and limited to only certain sectors. Financial firms and banks, however, will most likely be the first industries to be liberalized.
More importantly, the creation of the Vietnam Asset Management Corporation marks the first real step towards solving Asia's worst property and banking situations. VAMC will act as a 'bad bank' for some of the worst sins of Vietnam's over-leveraged banks and together with the State Bank's help will oversee the cleaning up of a number of banks' balance sheets.
Because the dong is nominally pegged to the U.S. dollar it has mostly ignored the turmoil in the foreign exchange markets over the past month. The VN Index broke decisively above 500 earlier in the year for the first time in more than three years and is continuing to hold above that level, mostly on the strength of foreign inflows into Vietnamese equities. The Market Vectors Vietnam ETF (VNM) has seen more than $93.5 million flow into it this year, a rise of 27%.
These new measures have reassured major corporate investors like Samsung (SSNLF), which is more than doubling its investment into Vietnam with a $2 billion smartphone and high-tech factory in Thai Nguyen province.
Conclusion
I feel the Fed and the Bank of Japan have overplayed their hand with respect to ending support and the current volatility will end with Chairman Bernanke's statement this week. Once the market is sure the Fed will not be stepping back, capital flows will normalize and these Asian economies will be recapitalized quickly. I would be a buyer of Vietnam with a close on the VN Index in June above 518.50. For the Philippines, I would advise waiting for the correction to reverse and stabilize before taking a position. After such a strong run that market needs time to digest the changes which have occurred.
DATA PROVIDERS
Copyright © 2014 Microsoft. All rights reserved.
Fundamental company data and historical chart data provided by Morningstar Inc. Real-time index quotes and delayed quotes supplied by Morningstar Inc. Quotes delayed by up to 15 minutes, except where indicated otherwise. Fund summary, fund performance and dividend data provided by Morningstar Inc. Analyst recommendations provided by Zacks Investment Research. StockScouter data provided by Verus Analytics. IPO data provided by Hoover's Inc. Index membership data provided by Morningstar Inc.
ABOUT
Top Stocks provides analysis about the most noteworthy stocks in the market each day, combining some of the best content from around the MSN Money site and the rest of the Web.
Contributors include professional investors and journalists affiliated with MSN Money.
Follow us on Twitter @topstocksmsn.