How to tell if a stock is a pyramid scheme
There's a surprising amount of controversy when it's really not rocket science to figure out, says one expert.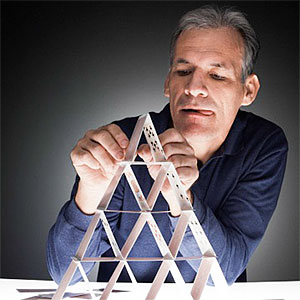 By
Louis Bedigian
While some investors have always been skeptical about multi-level marketing comapnies, very few have gotten into a battle as heated as the one between Bill Ackman and Carl Icahn. Ackman is famously short Herbalife (HLF), while Icahn is now a prominent investor.

Their battle may be fun to watch, but it does not address the key question on everyone's mind: How can you tell if a company is a pyramid scheme?
"I don't think multi-level marketing is inherently evil," Whitney Tilson, Founder and Managing Partner of Kase Capital, told Benzinga. "There's no question that Pampered Chef is a legitimate business, that Amway is a legitimate business, that Tupperware is a legitimate business."
Tilson said that investors should ask themselves: What's the difference between those companies and Herbalife (HLF), Nu Skin Enterprises (NUS) and ViSalus, which is owned by Blyth (BTH)?
"Charlie Munger [recently] highlighted one big difference: It's much more likely to be a flimflam -- [that's] the word I think he used -- if they're selling potions," said Tilson. "In other words, the first companies I named -- Pampered Chef, Amway and Tupperware -- are selling tangible products, right? The other group of companies I mentioned are selling potions. Health potions, medical potions, you name it."
To fix the industry, Tilson said that there needs to be a "very high degree of regulatory scrutiny of these companies."
Regulators should focus most of their attention "where most of the abuses occur, which is when they're selling potions," Tilson explained. "Then you have to look really hard at, are they really selling products or are they selling the business opportunity, because that's where it deteriorates into a pyramid scheme."
"Another way of looking at it is what percent of all the money is being made by the people at the top one or two percent versus everybody at the bottom. There's a surprising amount of controversy when I actually don't think it's rocket science to just figure out that, hey, if maybe 99% of the money is being made by the top 1% and virtually all of the people at the bottom of the pyramid are losing large amounts of money, that's a pyramid scheme!"
Tilson said that the industry has been "very, very clever" and that a lot of "bad actors" have gone on for a long time. But he thinks that Ackman's crusade against Herbalife has drawn a lot of attention and scrutiny.
"It reminds me of what Steve Eisman did on the for-profit education industry," said Tilson. "He put together the data, showed how the industry had become bloated and corrupt and was bilking its customers. He went very public with it. He went down and testified before Congress. He went to the Department of Education and shared his analysis with them."
Those stocks quickly collapsed, plummeting 80% to 90%.
"The Department of Education did not go in and seize the companies and shut them down," Tilson added. "What the Department of Education did was implement much stronger regulatory rules that made it much more difficult for these companies to scam their customers. You know what? Once that happened, it turned out that these companies had little or no profit. It turns out they were making virtually all of their money from scamming their customers."
Tilson expects similar results for the multi-level marketing industry.
"It's not gonna be a dramatic [event]," said Tilson. "I think what's much more likely is that all of the publicity and attention is going to lead to them having much more difficulty.
"Of course, the single most important thing if you're a multi-level marketing firm is that you need lots and lots of new people entering the pyramid at the bottom because you have such high turnover since everyone who entered last year lost their shirt and exit the pyramid. So you need more and more suckers coming in at the bottom to make it work. Everybody in the world now has an Internet connection and can go read about the statistics, etc., so I think that's one way that the industry gets reined in.
"Secondly, I think that regulators, auditors and accountants, etc., all scrutiny is likely to lead to impairing the business model, because it is extremely profitable stealing from your customers. Once that becomes more difficult, your profitability tends to go off a cliff. That's when the stocks go off a cliff as well." 
More from Benzinga
Are you sure you want to delete this comment?
DATA PROVIDERS
Copyright © 2014 Microsoft. All rights reserved.
Fundamental company data and historical chart data provided by Morningstar Inc. Real-time index quotes and delayed quotes supplied by Morningstar Inc. Quotes delayed by up to 15 minutes, except where indicated otherwise. Fund summary, fund performance and dividend data provided by Morningstar Inc. Analyst recommendations provided by Zacks Investment Research. StockScouter data provided by Verus Analytics. IPO data provided by Hoover's Inc. Index membership data provided by Morningstar Inc.
ABOUT
Top Stocks provides analysis about the most noteworthy stocks in the market each day, combining some of the best content from around the MSN Money site and the rest of the Web.
Contributors include professional investors and journalists affiliated with MSN Money.
Follow us on Twitter @topstocksmsn.