Why a value investor likes Apple, BofA, Wal-Mart
In today's environment there is less competition for the cheap stocks.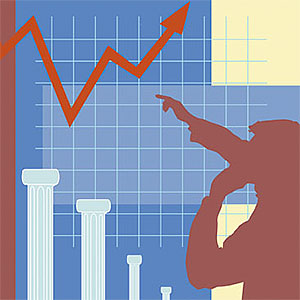 By Abram Brown
You'll catch an earful of contrary thinking lamenting the death of value investing and stock picking around Oakmark Funds' Bill Nygren. Today, as more and more investors chase markets events in momentum investing, observes Nygren, there's less competition for cheaply valued stocks. "And that makes it easier for a value investor to do well today," he says.  
Nygren manages five Oakmark funds for New York-based Harris Associates. In a three-decade career, Nygren built a reputation as a top value manager with the $9.6 billion Oakmark I fund returning 6.5% annualized in 15 years and the $2.5 billion Oakmark Global fund returning 10% in 10 years.
Nygren, a thin-faced Chicagoan, seems to always wait several moments before answering a question -- a technique learned by watching older Harris executives wait to finish a sentence until they finished exhaling their cigar smoke. His investment horizon reflects this deliberately protracted pace. Nygren assumes he'll hold any stocks for five to seven years.
Like Warren Buffett, who says his investment philosophy is part growth guru Ken Fisher and part value granddaddy Ben Graham, Nygren doesn't believe growth and value investing strategies should exist in a vacuum. "As a value manager, I don't have to say, I don't like to own growth. I just don't want to pay up to get it." Not that most stock pickers are accurate on growth forecasts. "Growth horizons tend to get fuzzier than most investment managers think."
Nygren uses his investment in Apple (AAPL) and Cummins (CMI) to illustrate his thought process. Apple, he estimates, trades at a lowly eight times earnings. "No one would ask, How can a value manager own Cummins? Even though Apple sells for less than Cummins." Moreover, Nygren praises CEO Tim Cook's decision to pay a dividend and buyback stocks. "Just a couple of years ago, it would seem that shareholders would never get money back, and you then look at where the company is today -- repurchasing significant amounts of its own stock and paying more than a 10-year Treasury -- and that's on top of the positives that Apple has in its ecosystem."
Looking for cheap stocks with management teams making shareholder-focused decisions, Nygren thinks about risk as losing money. This differs, he says, from the way too many investors think about risk -- that it refers to how far a fund deviates from its relevant benchmark or the S&P 500 ($INX). He likes to buy stocks at a 60% to his calculation of its intrinsic value.
Wal-Mart (WMT) is another top choice for Nygren. He likes that Wal-Mart's management team is better using capital to enrich shareholders, putting excess cash flow toward buying shares. "We think that's a really important element to their growth today, and that's not being adequately valued in the marketplace. Most companies are consuming cash."
Constructing a portfolio is a delicate dance. In the Oakmark Fund, for example, a quarter of the assets is devoted to financial stocks. For Nygren to add more financials, "it would have to have a return that is significantly higher than an oil or drug stock where we don't have such an overweighting." Nonetheless, Nygren is down on healthcare stocks, believing them to be too overbought as investors bid up yield-generative stocks.
Bank of America (BAC) was added back to Oakmark funds after the financial crisis, when "they went from the poster child of the great recession to one of the best balance sheets in the bank world." Nygren estimates BofA's book value at $20 a share. "We think out of a couple of years and think it can earn 10% return on equity." He's confident that Moynihan will continue to return capital and that "most of what has gone wrong at BofA was put in place by the prior management."
More from Forbes
DATA PROVIDERS
Copyright © 2014 Microsoft. All rights reserved.
Fundamental company data and historical chart data provided by Morningstar Inc. Real-time index quotes and delayed quotes supplied by Morningstar Inc. Quotes delayed by up to 15 minutes, except where indicated otherwise. Fund summary, fund performance and dividend data provided by Morningstar Inc. Analyst recommendations provided by Zacks Investment Research. StockScouter data provided by Verus Analytics. IPO data provided by Hoover's Inc. Index membership data provided by Morningstar Inc.
ABOUT
Top Stocks provides analysis about the most noteworthy stocks in the market each day, combining some of the best content from around the MSN Money site and the rest of the Web.
Contributors include professional investors and journalists affiliated with MSN Money.
Follow us on Twitter @topstocksmsn.