3 airlines that will keep soaring in 2014
These carriers are destined for more profits as they expand routes, fill more seats and cash in on in all those extra passenger fees.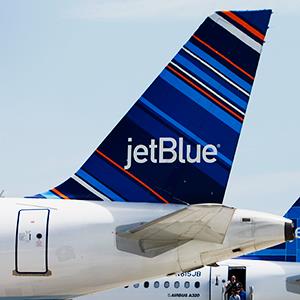 By Karen Riccio
Reports of the airline industry's surging passenger revenue for December 2013 put an exclamation point on the end of a very profitable year for airline stocks.
The potential for more upside for airline stocks is great, but buyers beware: Higher profits may already be baked in the cake for some airlines. Plus, with high valuations having crept into the equation, buying may subside and more investors may take profits in the near term.
That could create tremendous buying opportunities. Still, I  think investors need to come back to earth and remember how fragile airline stocks really are. Should oil prices rise higher than 2012 levels, terrorism rear its ugly head or travelers shut their wallets, the industry is entirely capable of taking a nosedive.
It may involve one or two airlines, or it could be an entire fleet. Those are the inherent risks associated with this sector.
As a whole, the International Air Transport Association (IATA) projects a growth in net profit for the industry to $19.7 billion in 2014, up from $12.9 in 2013, based on four specific drivers:
Economic cycle: Global GDP for 2014 is expected to expand by 2.7 percent in 2014 in developed countries but stagnation will continue in the BRIC nations.
Passenger demand: Passenger demand may grow by 6 percent. However, stiff competition is likely to cause industry-wide yields to fall by 0.6 percent in 2014.
Ancillary revenue: Airlines are benefiting from all those extra fees for checked bags, food and perks. On a worldwide basis, each passenger brings in extra revenue of $13 as opposed to $5.94 without the extra purchases. In fact, airlines would be experiencing losses from core seat and cargo products without it.
Mergers: Consolidation has made the most progress in North American airlines, which explains their largest anticipated profits and best margins this year. Struggling European airlines should improve due to successful joint ventures over the North Atlantic.
Here are three U.S. airlines that are expected to continue to soar in 2014:

Southwest Airlines
(
LUV
) 
When airline stocks peaked during their last bull market in 1999, Southwest Airlines' revenue was just shy of $5 billion. Today, it's $14.7 billion and hanging with the big boys in the sky.
In fact, as American Airlines Group (AAL) continues to reorganize its flights following the US Airways merger,  Southwest, JetBlue (JBLU) and Virgin America may be swooping in on the void left between Washington's Reagan National Airport and 17 cities. It could certainly be a boon for any or all of the bidders. Exact dates for when American's service ends have not been announced, but U.S. regulators only want bids from low-cost carriers to ensure competition and cheaper fares.
As a major domestic discount carrier, Southwest Airlines has also expanded its international business with the acquisition of AirTran.
Like its competitors, Southwest is benefiting from passenger fees. Its passenger per available seat mile increased nearly 15 percent while available seat miles rose 3.4 percent in 2013. Those figures caused a few analysts to take notice of the stock and raise estimates.
The attention makes sense considering growth is estimated to come in at 87 percent in 2013 with another 18 percent during 2014. Those may seem like pie-in-the-sky numbers, but LUV has only missed estimates once in two years.
JetBlue Airways (JBLU)
There's no doubt travelers love JetBlue. The airline enjoys the highest customer satisfaction rating as proven by the NPS (Net Promoter Score), a gauge also used by Apple (AAPL) and General Electric (GE). On a scale of 100 to 100, JetBlue scores 65 to 70 while its larger competitors lag at 0 to 10.
Ah, those leather seats with 30+ TV channels, built in wi-fi, extra leg room and more baggage space really make a difference to travelers.
Starting in June, JetBlue will increase its business-class capacity by 15 percent on flights from JFK to Los Angeles and San Francisco. With one-way seating starting at $599, it may cut into business for some of the bigger carriers with prices 65 percent higher.
Little by little, JetBlue is making a bigger name for itself and drawing more business. It recently announced a 12.7 percent increase in traffic year-over-year in December with a capacity increase of 9 percent.
With plenty of free cash flow -- some $500 million over a span of four years -- this $2.5 billion airline may be a keeper for 2014, especially at $9 per share.
Spirit Airlines (SAVE)
Spirit is an ultra-low-cost operation; its business model of offering the cheapest fares around yet charging travelers for everything from checking baggage to choosing a seat ahead of time has been a clear winner. Revenue rose 24.7 percent in the first nine months of 2013, while shares skyrocketed 153 percent last year, making it the top performer in the airline industry. 
Higher revenue can be chalked up to filling a higher percentage of seats and higher yields per passenger. Spirit also added two new airports and seven new routes late in 2013. The airline will add seven new aircraft to its fleet in 2014, resulting in anticipated capacity growth of 15 percent.
Not only has Spirit upped its aircraft order with Airbus, it anticipates meeting its goal of 500 domestic markets through the end of the decade. That means the company hopes to triple its size.
A repeat triple-digit performance may not be in the cards this year, but Spirit remains on the fast track.
More from Traders Reserve
DATA PROVIDERS
Copyright © 2014 Microsoft. All rights reserved.
Fundamental company data and historical chart data provided by Morningstar Inc. Real-time index quotes and delayed quotes supplied by Morningstar Inc. Quotes delayed by up to 15 minutes, except where indicated otherwise. Fund summary, fund performance and dividend data provided by Morningstar Inc. Analyst recommendations provided by Zacks Investment Research. StockScouter data provided by Verus Analytics. IPO data provided by Hoover's Inc. Index membership data provided by Morningstar Inc.
ABOUT
Top Stocks provides analysis about the most noteworthy stocks in the market each day, combining some of the best content from around the MSN Money site and the rest of the Web.
Contributors include professional investors and journalists affiliated with MSN Money.
Follow us on Twitter @topstocksmsn.