3-D printing stocks with staying power
Forget the flashy contenders with 'cool' factor. These issues in the health care arena have big potential.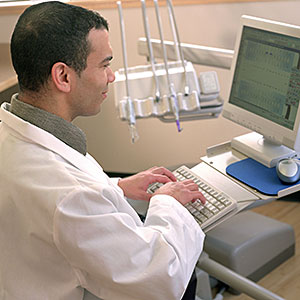 By Karen Riccio
I thought the 1990s dot-com craze trained investors to follow trends, not fads, but apparently not.
The enormous primping of 3-D printing stocks over the past couple years handed investors triple-digit gains, at least to those smart enough to realize profits or put some into shorting the same positions.
In fact, quite a few investors flaunted their IQs in mid-2013, making these stocks some of the most shorted on the market. Those of you still hanging onto long positions might want to hold onto your hats.
Labeled overvalued, over-touted and overbought, many stocks in the 3-D arena may be destined to fade away.
But not all of them.
Those 3-D printing companies catering to consumers such as 3D Systems (DDD) and Stratasys (SSYS) may not have much staying power beyond the technology's "cool" factor. How many egg holders and combs can people keep printing out before boredom sets in?
3-D printing stocks in healthcare
But a technology that can revolutionize the way we manufacture or, even better, improve healthcare, never gets old. It may be a little shaky in its infancy and have a few non-believers, but after time it evolves into a trend and important tool for scientists, engineers and doctors.
The 3-D printing arena in healthcare is particularly interesting. At this juncture, some company stocks are inarguably speculative. Others, however, have developed technologies being implemented right now and making a difference in peoples' lives.
Thus, the difference between a fad and a trend.
Here are three trend-following, high-reward stocks for investors who can stomach some risk.
Organovo (ONVO)
Did you know that nearly 18 people die every day waiting for an organ transplant? Well Organovo, the only publicly traded company in bioprinting -- the printing of human tissues -- is close to patenting the ability to 3D print a living liver and expects to unveil it next year
Although the liver tissue model is for research use only and will be used in the laboratory for medical studies and drug research, it proves that 3D printed tissue can be kept alive long enough to test the effects of drugs on it or implant it in a human body where it can further develop.
Growth for Organovo may not come quickly -- developing a new drug costs an average of $1.2 billion and takes 12 years. However, the potential -- for mankind and Organovo's bottom line -- is astronomical. The San Diego company is well below $1 billion in market cap with no debt, trading at $11 per share. The stock is up 216 percent over the past year.
Align Technology (ALGN)
The great thing about 3-D printing is that it makes it possible to make one copy of the same product in a slightly different way, which is why it is being used in many dentist offices.
Align makes clear braces, branded "Invisalign." These braces straighten teeth with a series of removable, virtually invisible aligners. Last year Align produced 17 million unique and distinct copies of its clear aligners. It is all done in a single factory, using 65 automated printers.
The factory is capable of producing millions of units, which are uniquely planned by technicians and approved by dentists.
Align Technology is based in San Jose, Calif., with offices worldwide. The Invisalign system can be found in more than 45 countries and has treated some 1.5 million patients.
Align's worldwide market share may be small, but as tradition is slowly broken, the use of digital technologies for restorative dentistry is growing rapidly.
In 2012, roughly $94 million of $165 million in sale came from Invisalign. Plus, demand overseas shot sales up 31% in 2013 from a year ago.
ALGN is trading near a 52-week high at $68. It is up 127 percent in 12 months.
Hanger (HGR)
Hanger, a $1.37 billion company, is doing great things today with eyes toward accomplishing greater things in the future. In 2011, it fitted an amputee with a $95,000 bionic leg that allows for climbing stairs, walking backward and even riding a bike.
Today, the Austin, Texas, company is working on creating bioprinted prosthetic limbs that would eliminate the need for artificial ones and be far more cost efficient. Seattle designer Ivan Owen invented Robohand, a 3-D-printed robotic hand that costs $500, compared with a price tag of $10,000-$15,000 for a below-the-elbow prosthesis.
The technology isn't as far off as you might think. In London last year, a team of scientists demonstrated how it used certain materials to create a bone then coat it with human stem cells that can grow various tissue types.
In the third quarter of 2013, Hanger reported a 24.4 percent surge in adjusted net earnings to $21.9 million from $17.6 million year-over-year. HGR is trading around $40/share and is up 38 percent over the last 12 months.
More from Traders Reserve

the 3D systems printer using the SLA process, a light sensitive liquid, makes parts that have similar density to bones.  this enables a doctor to gain images thru MRI's, "print" out key body parts, and perform practice surgeries on his desk. 
idealy this helps him confirm and practice the operation before he cuts on the real person.....
i believe the Align Technology people are simply using the 3D systems machines for their own application.  there's a hearing aid company doing the same thing.  custom fit hearing aids made thru these machines have been occuring for around 10 years. 
applications for this machinery is far beyond homeowner uses.....
Are you sure you want to delete this comment?
DATA PROVIDERS
Copyright © 2014 Microsoft. All rights reserved.
Fundamental company data and historical chart data provided by Morningstar Inc. Real-time index quotes and delayed quotes supplied by Morningstar Inc. Quotes delayed by up to 15 minutes, except where indicated otherwise. Fund summary, fund performance and dividend data provided by Morningstar Inc. Analyst recommendations provided by Zacks Investment Research. StockScouter data provided by Verus Analytics. IPO data provided by Hoover's Inc. Index membership data provided by Morningstar Inc.
ABOUT
Top Stocks provides analysis about the most noteworthy stocks in the market each day, combining some of the best content from around the MSN Money site and the rest of the Web.
Contributors include professional investors and journalists affiliated with MSN Money.
Follow us on Twitter @topstocksmsn.