3 ETFs for panicked investors
If you fear the worst is coming and want to protect your portfolio, there are a few funds that can help.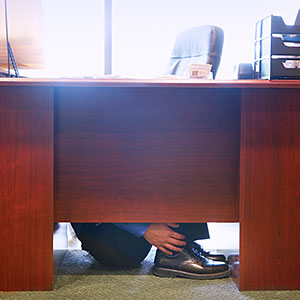 By Matthew McCall

The average investor gets news from the television and Internet along with most Americans. Unfortunately, a large portion of the same investors will rely on that news when making investment decisions.
The problem here is that the news you are watching or reading about is just that, "old news." This news has already been priced into the stock market and trading on old news will only hinder any strategy to make money.
In recent years and, in particular, the last two weeks, the news has been overwhelmingly negative regarding the government and the economy. But what investors need to realize is that there is a major disconnect between the news and the stock market. Anyone that has invested based on headlines the last few years would have missed out on a great bull market.
With all that being said, investors must also sleep at night. And there are bubbles that burst all the time on Wall Street. So if you fear the worst is coming and want to protect your investment portfolio, there are a few ETFs that can help.
ProShares Short S&P 500 ETF (SH)
The ETF seeks a return that is the exact inverse of the S&P 500 for a single day. For example, if the S&P 500 is down 1.5 percent on the day, theoretically SH should be up 1.5 percent and vice versa. Because the ETF is reset each day, over time compounding will significantly alter the results of SH versus the S&P 500, so be careful.

This ETF is a short-term instrument that can be used to protect a portfolio against a drop in the overall U.S. stock market.
AdvisorShares Ranger Equity Bear ETF (HDGE)
The objective of this ETF is to create capital appreciation by shorting domestically traded stocks. The team searches for stocks with low earnings qualities and aggressive accounting.

By being short the market (i.e., betting it will fall), the ETF in theory should do well during any market selloff. From Sept. 18 to Oct. 8, the SPDR S&P 500 ETF (SPY) fell by 4.4 percent. During the same time, HDGE increased in value by 3.4 percent.

Similar to SH, this ETF is typically a short-term play during a bull market, unless the goal is to have some insurance in your portfolio; in that case HDGE could be a longer-term play.
ProShares Short Financials ETF (SEF)
Similar to SH, this ETF will return the one-day inverse of the underlying index, which happens to be the Dow Jones U.S. Financials Index. During most market pullbacks the financials will fall with the overall market. Recently the financials have often led the selling and therefore SEF could provide protection to a portfolio that has not only market exposure, but also above-average exposure to the financial sector.
One important factor to always realize with short ETFs is that the long-term trend in the U.S. stock market has been up. Attempting to time the market for a selloff is not easy and using short ETFs could end up hurting a portfolio's performance more than helping. 
Proceed with caution.
More from Benzinga:
Right now all we're seeing is a validation that the markets are rigged and every intelligent person should be selling out and staying out until the crooks are caught. There is no economy in the USA, so every day of artificial lift for stocks is another noose around the neck of future America paying for the foolishness of this era. When all hope fails and no greedy grubbers are jailed, that's what firing squads are for. Smaller government? WHAT government? Time to make one out of real people and declare war on the financial sector. 

Panic ? Come on people overwhelming Obozo the socialist clown debt Big Ben's corrupt welfare for the ultra rich and the lowest labor participation rate since
1978................​..What's
the problem stop trying to bad mouth the drooling stupid democrat corruption. Think Detroit the utopian model of liberals everywhere.
Are you sure you want to delete this comment?
DATA PROVIDERS
Copyright © 2014 Microsoft. All rights reserved.
Fundamental company data and historical chart data provided by Morningstar Inc. Real-time index quotes and delayed quotes supplied by Morningstar Inc. Quotes delayed by up to 15 minutes, except where indicated otherwise. Fund summary, fund performance and dividend data provided by Morningstar Inc. Analyst recommendations provided by Zacks Investment Research. StockScouter data provided by Verus Analytics. IPO data provided by Hoover's Inc. Index membership data provided by Morningstar Inc.
ABOUT
Top Stocks provides analysis about the most noteworthy stocks in the market each day, combining some of the best content from around the MSN Money site and the rest of the Web.
Contributors include professional investors and journalists affiliated with MSN Money.
Follow us on Twitter @topstocksmsn.