3 reasons investors are betting on housing
They haven't given up on shares of builders, lenders and other related companies. Here's why.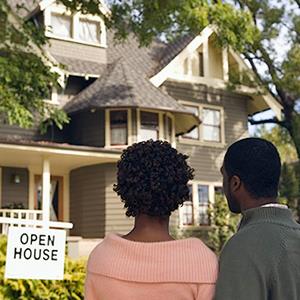 By Ruth Mantell,
MarketWatch
There's a lot that's holding back U.S. home sales and construction rates.

Just ask Federal Reserve officials, who laid out a laundry list last week of factors behind the sluggish housing market.

To name just a few: Credit standards are strict, families are having trouble saving enough for high down payments, and costs are rising.
The housing market has been so disappointing for so long that many have lost hope for much improvement. But big investors say the recovery hasn't petered out and are holding onto shares of builders, lenders and other housing-related companies.
Here are three reasons that big investors are optimistic about the housing market:
Nowhere to go but up
Let's start with somewhat of a glass-half-full outlook. Construction and sales rates for new single-family homes remain low enough that they are unlikely to fall, given the overall economy's strength.
"The new-home market is about the only part of the U.S. domestic economy that still remains in recession territory," said Michael Shaoul, chief executive of Marketfield Asset Management, a major shareholder of Lennar (LEN), the biggest U.S. home builder by market capitalization. "I don't think that normality for the U.S. economy and the abnormality of the U.S. housing market can coexist for too much longer."
Sales of new single-family homes recently hit an annual rate of 504,000, up 17 percent from a year earlier, but far below an average annual pace of almost 940,000 over the decade leading up to a 2005 peak. Likewise, new construction on single-family homes recently reached an annual pace of 625,000 starts, up 5 percent from a year earlier, but below an average pace of almost 1.4 million starts over the decade leading up to a 2006 peak.
"To see a housing-market collapse from this level would be exceptional given what's happening in the rest of the economy," Shaoul said. "The housing market has tried everybody's patience, but it's much more likely that the recovery extends."
And years of turmoil has led to a happy result for market survivors: Builders such as Lennar and other housing-related companies have become more efficient -- a quality that may not be priced into shares right now.
Lenders such as Bank of America (BAC) and JPMorgan Chase (JPM) have seen mortgage originations tumble in recent quarters as rates rose. With loans at such low levels, origination growth may pick up, analysts said.
"Certainly they are facing easier comparisons," said Sandy Sanders, a Manulife portfolio manager. "These companies are coming out leaner, stronger and more efficiently run than they were three to five years ago.
Also, the fallout from bad loans may be subsiding.
"Most companies going forward will see less legal and headline risk with regard to major new financial penalties and fines," Sanders said.
Labor market is picking up steam
Employers are hiring more and announcing few layoffs, while workers are becoming increasingly confident. Those are the sorts of trends that support home sales, economists say.
A firming labor market helps prospective buyers with an established career who may want to trade up to a new home. Also, an economy that is steadily adding jobs will support first-time buyers who need stable cash flow and are trying to save enough for a down payment.
"If job growth continues, and unemployment goes down, more people will be in a position to purchase a first home," said Joe Fath, portfolio manager of T. Rowe Price's Growth Stock Fund.
More buying by young families would be a key development, as these purchasers have played a weak role in the housing market's recovery, making it tougher for other families to sell and buy homes.
Although the most recent jobs report, which showed that the U.S. gained a solid 288,000 nonfarm positions in June, could be downwardly revised, there are a couple of promising trends in the data. 
First, job gains throughout the second quarter have been strong, signaling that the economy's contraction at the start of the year may have been a blip. Second, each month's job gains in the second quarter of 2014 have been stronger than the comparable period in the prior two years. For example, June's gain of 288,000 jobs this year was greater than the June gain of 201,000 jobs in 2013 and 88,000 jobs in 2012.
Analysts say jobs trends like these may encourage and enable more young people to emerge from their parents' basement and move into their own place.
Households can manage more debt
In the wake of the financial meltdown, "debt" sounded a lot like a dirty word. And with good reason: too many families were in way over their heads, and millions are still struggling with depreciated property values and unwieldy monthly mortgage payments.
But in recent years, as mortgage rates fell, borrowers refinanced, cutting their interest payments. Further, mortgage debt remains relatively cheap, and "housing is affordable," Sanders said.
"Household debt has decreased. Balance sheets on the consumer side are healthier today than they were" several years ago, Sanders said.
Two gauges from the Fed indicate that payments for debt and other financial obligations are becoming more manageable for households. In the first quarter, the household-debt-servi​ce ratio, which measures the share that home loans and other required household debt payments make up of disposable income, was 9.9 percent, down from about 10.1 percent a year earlier and the lowest result since at least 1980.
And shoppers haven't been splurging. In the first quarter, Americans' credit-card balances fell by $24 billion to $659 billion, hitting the lowest tally in more than a decade, according to the Federal Reserve Bank of New York .
More from MarketWatch
There is nothing credible or factual in this article.
Recover careers the alumni stole. Mandate self-employment for a "Master" degree. Stop coddling BIG and restore Free Enterprise. As for credit standards... force self-portfolio management back on banks-- watch the economy recover and non-jumbo housing markets stabilize. 

Normal Americans can not afford homes anymore.

There will be no home recovery until one of two things happen.

Wages increase to $150,000 on average for Americans to afford houses again

or home prices fall to about $40,000 a year so a family of two minimum wagers can afford a home

one or the other has to happen.


Ruth
I don't have your confidence. I still see several problems besides the relative weak statistics you note.
The employment numbers are manipulated.
The inflation numbers are manipulated.
We still have the same stupid Congress.
Worse of all, we still have more time left with the lying, incompetent Obozo in the White house.


Where I live in Silicon Valley the average 2 bedroom home goes for over $700,000. Even during the recession the loss in value was minimal and prices (houses and rent) has been going up around 10% per year. The reason prices are so high is that many large tech firms are located here (Google, Apple, Facebook, etc) and the public schools are far better then other places. 
Are you sure you want to delete this comment?
DATA PROVIDERS
Copyright © 2014 Microsoft. All rights reserved.
Fundamental company data and historical chart data provided by Morningstar Inc. Real-time index quotes and delayed quotes supplied by Morningstar Inc. Quotes delayed by up to 15 minutes, except where indicated otherwise. Fund summary, fund performance and dividend data provided by Morningstar Inc. Analyst recommendations provided by Zacks Investment Research. StockScouter data provided by Verus Analytics. IPO data provided by Hoover's Inc. Index membership data provided by Morningstar Inc.
ABOUT
Top Stocks provides analysis about the most noteworthy stocks in the market each day, combining some of the best content from around the MSN Money site and the rest of the Web.
Contributors include professional investors and journalists affiliated with MSN Money.
Follow us on Twitter @topstocksmsn.