3 reasons to buy dividend stocks
For long-term holdings, there is no better strategy.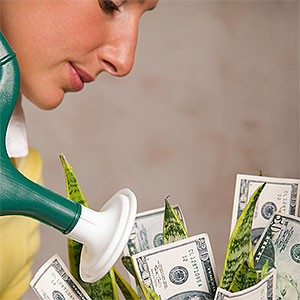 By Max Levin,
MainStreet
A long-term investment is a position used by investors who are predicting upside in the market down the road. 
This is a technique used by people, from the average Joe to the top hedge fund advisors, who are banking on robust returns down the road. 
But whatever your timeline -- whether you hold a stock for a year or 10 years -- you should be collecting a dividend. 
Why? Well, here are three compelling reasons:

No. 1: Dividend stocks usually tend to be less volatile. 
From a company's standpoint, the ability to allocate a dividend derives from the company's liquid assets. 
Investors usually flock to such dividend-paying stocks for a sense of annual security. They know that each quarter, they will be receiving a check. You want to get paid while holding a stock, not just when you liquidate the shares. 
Take, for example, a stock like Johnson and Johnson (JNJ), which pays a yield of 2.7 percent and whose share price has been hovering at the $95 price range, or Procter & Gamble (PG) with a 3.25 percent yield at an $80 share price. 
This is the kind of stable growth investors should be looking for in a longterm portfolio. Large funds who are locked into a volatile security with large risk, compensate with dividend stocks.
No. 2: When holding a stock that pays a dividend for a considerable amount of time, it allows you to re-invest the dividend payment  into the company. 
This is through the Dividend Re-investment Program (DRIP), where you can take the dividend funding and re-invest it into the stock at market value without incurring fees. Over time, the number of shares you hold will accrue, which is great for the younger generation.
No. 3: The ability to pay a dividend shows strength in a company. 
Dividends are simply a portion of profits. If a stock releases annual and increasing allocations, this shows the strength and long-term stability of the company. Some of the strongest companies in the marketplace lie within the Fortune 500. These types of dividend-paying companies show strong, steady growth.
Low volatility, longt-erm growth through DRIP, and profits are all by-products of purchasing stocks with dividends. The ability to collect liquid assets while sitting on an investment is huge for your portfolio. 
All long-term holdings in your portfolio should have a dividend. Don't sit on your assets and wish for a light at the end of the tunnel. Get paid for waiting.
More from MainStreet

I agree that a person should buy dividend stocks and hold them for several years while they get paid in the form of dividends.  However, I disagree strongly with this author's examples.  Those dividend percentages will barely keep up with inflation, and the mentioned companies stock prices seem to be pretty stagnant.  Either buy for a significant dividend payout of at least 6% or for growth, but NOT for measly 2-3% dividends and stagnant stock prices.  I don't see him getting much payback from JNJ and PG in either growth or dividends!
Also, DRIP plans are for novice investors who don't know what else to do with their money.  I prefer to collect the dividends and reinvest them in stocks that I don't already own, potentially better paying or better growing companies.
Point # 3 is the only part of this article with which I substantially agree.  The other two parts have substantial disadvantages along with their good parts. 
Are you sure you want to delete this comment?
DATA PROVIDERS
Copyright © 2014 Microsoft. All rights reserved.
Fundamental company data and historical chart data provided by Morningstar Inc. Real-time index quotes and delayed quotes supplied by Morningstar Inc. Quotes delayed by up to 15 minutes, except where indicated otherwise. Fund summary, fund performance and dividend data provided by Morningstar Inc. Analyst recommendations provided by Zacks Investment Research. StockScouter data provided by Verus Analytics. IPO data provided by Hoover's Inc. Index membership data provided by Morningstar Inc.
ABOUT
Top Stocks provides analysis about the most noteworthy stocks in the market each day, combining some of the best content from around the MSN Money site and the rest of the Web.
Contributors include professional investors and journalists affiliated with MSN Money.
Follow us on Twitter @topstocksmsn.