3 reasons to buy Yelp shares now
The stock has suffered since March, but it's time to jump in after strong earnings.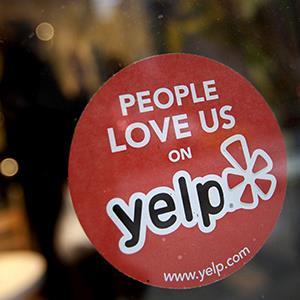 By Jeff Reeves

Yelp (YELP) posted first-quarter earnings on Wednesday after the bell. And while the stock initially faded after hours, shares gapped up over 13 percent in the first trading session after Yelp earnings hit. Shares fell more than 6 percent Friday to close at $59.76.

This is pretty much Yelp stock in a nutshell. On the plus side, the online review site is up over 160 percent in the last 12 months versus just 19 percent gains for the S&P 500. On the downside, Yelp stock is down more than 30 percent from its March highs.
Even the first-quarter numbers are a bit bipolar. The company is still unprofitable, but Yelp earnings showed a narrower loss and better revenue than expected.
So what are investors supposed to think? Is Yelp just one of these volatile internet stocks that wiggles a lot up and down but ultimately goes nowhere . . . or are we in the beginnings of a sustained uptrend?
I think it's the latter -- at least for the rest of 2014. And here are three big reasons why:
Big user growth

The first-quarter Yelp earnings have a lot of numbers worth calling out, but the most interesting to me is the fact that visitors grew 30 percent year-over-year to approximately 132 million -- and the all-important mobile segment was up 52 percent from a year earlier.
Now, there is a slight cooling go on. Previous growth rates via Yelp earnings include:
39 percent user growth year over year reported in Q4 2013 Yelp earnings.
41 percent user growth reported in Q3 2013 Yelp earnings.
38 percent growth reported in Q2 2013 Yelp earnings.
However, Yelp stock has just established a strong partnership with Yahoo (YHOO) that includes integration into local search. 

This partnership will help ensure user growth continues briskly going forward, and keep revenue moving steadily higher. The fact that Yelp increased its guidance after this report should tell investors how much confidence management has that this trend will continue and perhaps accelerate across 2014.
Local push is paying off

The mobile growth numbers are worth looking at further. A big driver of Yelp stock so far has been efforts to partner with Google (GOOG) and Apple (AAPL) mapping software, providing reviews and recommendations to people as they hunt for directions.
But it's not just mobile for mobile's sake. It's all about the local angle, where these mapping services can give consumers information from Yelp based on their specific location -- and most importantly, it's about allowing Yelp to tap into local business advertising.
The details for Q1 Yelp earnings show an impressive 65 percent growth in local business accounts, proving that Yelp stock is connecting the dots between mobile users and local reviews. It's a logical step, but also a powerful one to drive increased ad revenue.
A big part of Yelp's growth plan is to move abroad, and in Q1 the company saw international reviews grow by 210 percent with a 95 percent uptick in international traffic. There's room, of course, but this growth into Latin America and Asia comes at an important time that Yelp is learning about how to serve local markets better.
I remain convinced the location-based marketing push is a big one for all tech companies, from Google to Yelp to everyone in between. And it's very encouraging to see the stock ahead of the curve as measured by some important metrics in this earnings report.
Brand ubiquity
Perhaps the biggest reason to believe in Yelp stock long-term is what execs called "brand ubiquity" in its recent earnings release. The company says that Yelp "is becoming the de facto standard in local search and consumers and other companies recognize its leadership in the local space." And judging by the Yelp stickers in restaurants, my personal experience seeing Yelp dominate search results for restaurant reviews and the habits of the people I know . . . that is very much true.
But rather than rest on its laurels even as competitors like Zagat (which is owned by Google) and newly IPO-ed GrubHub (GRUB) look for a piece of the pie, Yelp is accelerating its growth plans with big efforts both overseas and at home.
Just consider that in Q1, its product development budget roughly doubled year over year from about $7.2 million in Q1 2013 to $14.0 million in 2014. In addition to the raw number, the share of total budget also increased -- from 14 percent of total quarterly expenses in 2013 to 17 percent in 2014.
The fact that Yelp is narrowing its profit shortfall even as it invests more in R&D is telling, and shows the company is taking its rivals seriously and is intent on growing both its product lineup and its geographic reach.
Risks to Yelp stock

Of course, it's worth noting that the valuation on Yelp is a big concern.
The company isn't profitable yet, and with projections (on average) of just 37 cents per share in earnings for fiscal 2015, the forward P/E for Yelp stock is well north of 170.
The valuation vs. sales is equally troubling, with the valued at $4.7 billion over just $510 million or so in 2015 sales forecast -- or more than nine times next year's revenue.
Still, the stock is very much in the middle of the typical Internet stock's high growth and high earnings multiple phase. Remember, Yelp just went public in March 2012 . . . and actually traded for over $100 a share as recently as a few months ago.
There is no guarantee that Yelp will ever get back there, of course, and a "risk off" mentality will certainly way on momentum plays like Yelp stock the most.
But given that it has raised guidance, posted strong growth numbers and is still well below previous highs, I have confidence the uptrend will continue for Yelp stock in 2014.
Jeff Reeves is the editor of InvestorPlace.com and the author of The Frugal Investor's Guide to Finding Great Stocks. As of this writing, he did not hold a position in any of the aforementioned securities. Write him at editor@investorplace​.com or follow him on Twitter via @JeffReevesIP. 
More from InvestorPlace
Are you sure you want to delete this comment?
DATA PROVIDERS
Copyright © 2014 Microsoft. All rights reserved.
Fundamental company data and historical chart data provided by Morningstar Inc. Real-time index quotes and delayed quotes supplied by Morningstar Inc. Quotes delayed by up to 15 minutes, except where indicated otherwise. Fund summary, fund performance and dividend data provided by Morningstar Inc. Analyst recommendations provided by Zacks Investment Research. StockScouter data provided by Verus Analytics. IPO data provided by Hoover's Inc. Index membership data provided by Morningstar Inc.
ABOUT
Top Stocks provides analysis about the most noteworthy stocks in the market each day, combining some of the best content from around the MSN Money site and the rest of the Web.
Contributors include professional investors and journalists affiliated with MSN Money.
Follow us on Twitter @topstocksmsn.