3 reasons to sell Whole Foods now
The stock is simply too risky at current levels.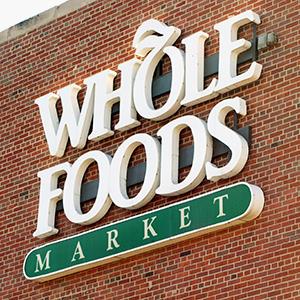 By Lawrence Meyers
Several big-name stocks are so outrageously overvalued right now that there is far more risk in holding them than in selling immediately. Whole Foods Market (WFM) is one such name.
This is not a call on the organic industry itself. It remains in a secular uptrend, and that should be the case for some time.

In fact, the organic messaging is so powerful that regular grocers like Safeway (SWY),  Kroger (KR), and even Target (TGT) are also carrying organic food.
This also isn't a call on the health of the company itself from a macro standpoint. But still, you should sell WFM right now if you own it -- and there are three simple reasons why.

Why you should sell

The first reason to sell Whole Foods: quantitative easing. Looking at my own short list of stocks with valuations that are out of whack, I believe the Fed's quantitative easing program plays at least some role in each stock's froth.
First, a brief review for those who aren't up to speed on QE and what it has done to the markets. The Fed is buying $85 billion of bonds each month, which pushes bond prices up and drives yields lower. As yields have cratered, investors have moved money out of the bond markets and into the stock markets.
That means stock prices -- whether WFM or another name -- are being driven higher by this artificially induced demand. From my perspective, a lot of that money is going into large-cap brand name stocks.
And that brings us to the second concern with WFM: Its valuation. The artificial demand from QE, coupled with slowing growth, puts Whole Foods at an unreasonable premium.
Despite the general strength of the organic sector, fourth-quarter Whole Foods earnings showed a few holes in the model. Same-store sales increased just 5.9% -- the worst rate all year. And revenue only increased 2% year-over-year, with earnings only up 7%.
While the slow growth was partially due to accounting quirks, there was more bad news. WFM also lowered sales forecasts for fiscal 2014 as pricing competition is coming from all directions, including from Costco (COST). So now we're looking at 15% year-over-year earnings growth for fiscal 2014, and 18% year-over-year growth the year after that. Analysts see 18% growth annually over five years.
That means WFM stock is trading at 34 times 2014 earnings, with a growth rate of half that. Sure, I'd assign a slight premium because the company has a few bucks in cash per share, no debt and always generates good cash flow. But even then, a multiple of 23 or so puts us nowhere close to the stock's $59 price tag.
Last but not least, competition is another big concern for WFM stock investors. Everyone jokes about Whole Foods being called "Whole Paycheck." The company is the most expensive of its kind -- and people notice that, particularly during a bad economy.
Privately held Trader Joe's sells many of the same things Whole Foods carries. And with other grocers battling to reclaim market share, I've seen the same organic produce at Whole Foods selling for 15% to 35% less at other stores. And while I don't see upstarts like Sprouts Farmer's Market (SFM) -- itself trading at 100x earnings --- eating Whole Foods' lunch anytime soon, it is nonetheless another competitor on the radar.
So WFM stock is overvalued, with the store itself is facing competition at every corner. And going back to the QE problem, there's no way to tell for certain just how much capital is flowing into Whole Foods as a result. But sooner or later, QE will stop.
If Whole Foods continues to struggle, the downdraft from that reality could be even more serious.
More From InvestorPlace
As of this writing, Lawrence Meyers did not hold a position in any of the aforementioned securities.
"Organic" similar to "Obama" all just society run amuck.
I grew up listening to dad saying "it ain't like when I was a kid. Luckily for Dad he is gone and now I can say "it ain't like when I was a kid"!
So much has changed and some for the better, but not much, most is just more BS, Gov Regs, Higher prices... Oops, that brings me back to "Organic" Organic costs way more and doesn't taste any better.
When Obama's mission to destroy America is complete, with inflation out of control and food prices outrageous, people will be happy to eat house brand baloney and hot dogs.

If you want to be sure your food is "organic" you pretty much have to raise it yourself...
Even then you might want to question the seed or plants you use..?
I've found that the "certification process" is not always that difficult for some growers..
And what some individuals consider organic, may not be organic to others.
But having some of these stores prosper also gives the consumers more choices...
And don't be afraid to do business with a local farmer and ask him about his crops or animals that are raised by them....Many are quite honest, and they know where it came from.
Are you sure you want to delete this comment?
DATA PROVIDERS
Copyright © 2014 Microsoft. All rights reserved.
Fundamental company data and historical chart data provided by Morningstar Inc. Real-time index quotes and delayed quotes supplied by Morningstar Inc. Quotes delayed by up to 15 minutes, except where indicated otherwise. Fund summary, fund performance and dividend data provided by Morningstar Inc. Analyst recommendations provided by Zacks Investment Research. StockScouter data provided by Verus Analytics. IPO data provided by Hoover's Inc. Index membership data provided by Morningstar Inc.
ABOUT
Top Stocks provides analysis about the most noteworthy stocks in the market each day, combining some of the best content from around the MSN Money site and the rest of the Web.
Contributors include professional investors and journalists affiliated with MSN Money.
Follow us on Twitter @topstocksmsn.