3 tech stocks to sell or short
Investors are growing nervous, and the resulting market weakness is hitting momentum favorites in the sector.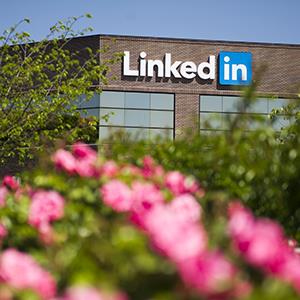 By Anthony Mirhaydari
Stocks were sliding Tuesday as nervousness grew over the second-quarter earnings season, which kicks off with Alcoa (AA) in the afternoon, as well as the outbreak of another geopolitical hotspot as Israel gears up for an anti-terror campaign in the Gaza Strip.
With Iraq still a mess and Iranian nuclear negotiations on the fritz, the Middle East is really heating up. And let's not forget that Ukraine is far from resolved as well.
Technically, the Dow Jones Industrial Average ($INDU) has been pushed back below the 17,000 level that had the bulls foaming at the mouth over the weekend while the Russell 2000 ($TOMX) is down another 1.3 percent for its worst two-day drop since April.
Given all the pent-up selling pressure, the drop could deepen much further.
Certainly, the weakness is already hitting momentum favorites in the technology sector. Here are three popular tech stocks that you need to sell or avoid.
Twitter

Twitter (TWTR) shares are down nearly 12 percent to cap a four-day loss as faith in the microblogging service is shaken. We've yet to see Twitter make a profit, with positive earnings per share not expected until the fourth quarter of this year.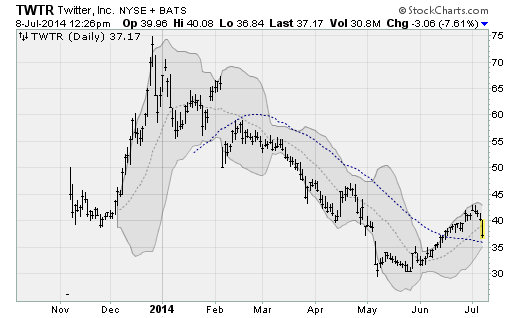 Competitive threats are on the rise as well, with Chinese microblogging service Weibo (WB) recently coming public on the Nasdaq exchange.
LinkedIn

LinkedIn (LNKD) has had a rough time since last September, falling into a relentless downtrend that's pushed the stock down roughly 40 percent from its old highs. LNKD shares caught a reprieve over the last three months but succumbed to selling pressure again on Tuesday as shares drop below their 50-day moving average once more.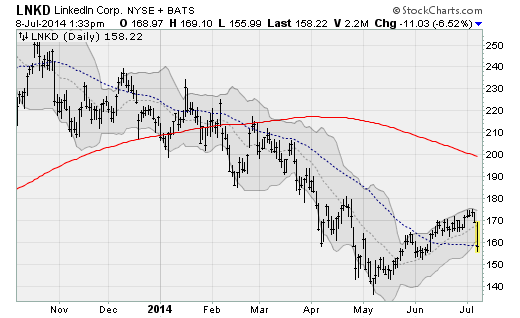 Analysts at Barclays Capital, in a recent coverage initiation note, highlighted the main problem LNKD faces: creating habitual, regular use among its users.
Facebook
Like many of the other names in its industry, Facebook (FB) suffered a washout between March and May as momentum tech favorites were washed out in a wave of selling pressure. In the months that followed, the bulls wrestled prices higher.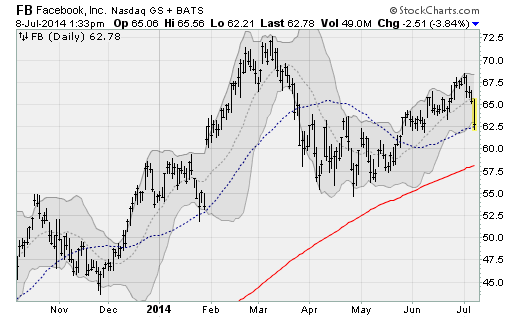 But on Tuesday, that three-month uptrend was decisively broken as FB stock threatened its 50-day moving average for the first time since March.
The shine is coming off of FB as teens, the arbiters of cool in the mobile economy, migrate to other platforms to avoid the "mom problem": Studies cited by Barclays analysts show Facebook usage by the 35- to 54-year-old age bracket has grown by 41 percent over the last three years while the 13-17 demo has dropped 25 percent and the 18-24 demo has dropped modestly.
In response, I've recommended the July $62.50 put options to my Edge Pro subscribers.
You can check out two more tech stocks to sell here.

More from InvestorPlace
Anthony Mirhaydari is founder of the Edge and Edge Pro investment advisory newsletters, as well as Mirhaydari Capital Management, a registered investment advisory firm.

Still it isn't time yet Anthony.  You are recommending people fight this corrupt political institution that is at present in an all out war to destroy the American Constitution.  The War Room mentality of the International banking Cabal will not let the rich and moneyed even have a whimper of discontent become embroiled.  The plan all along has been to use the citizens money to placate these entities knowing they have no moral or religious motivations and will stand by as the regular American system is gutted as long as their bottom lines continue to grow.  You have read my postings for many years now Anthony as I have yours. The New World Order is about a one world and one world guberment and one world Economy.  I can't see very many arguing with me at this point considering when borders are not enforced you have no country and when you have no country you have no laws. This Market at these levels is not just about confidence but also manipulation.  When most every nation in the world now has a most favored Nations Agreement with the US we now have 100 times the workers competing with Americans and the American lifestyle and wages will need to adjust downward much like gravity pulls all things back to earth.  When the time is right and the complacency of the moneyed class is no longer required only then will you see these markets drop.  JMHO

Agree jMeck, these are not Tech stocks, barely should be included in Tech Sector, if at all.
Media stocks at best, because I believe they are referred to as Social Media...?
And their ties to communications, are only through the carriers.
Not a Fad, but what I consider a "faddish" investment...
Never went for the IPOs on two of the 3 offers, or intended to when they fell back from grace on their prices coming out....Just don't understand or believe in the numbers...
But some have done real well if they sold on some of the peaks and bought on the valleys..?
That was not us....So we have nothing to sell.

Are you sure you want to delete this comment?
DATA PROVIDERS
Copyright © 2014 Microsoft. All rights reserved.
Fundamental company data and historical chart data provided by Morningstar Inc. Real-time index quotes and delayed quotes supplied by Morningstar Inc. Quotes delayed by up to 15 minutes, except where indicated otherwise. Fund summary, fund performance and dividend data provided by Morningstar Inc. Analyst recommendations provided by Zacks Investment Research. StockScouter data provided by Verus Analytics. IPO data provided by Hoover's Inc. Index membership data provided by Morningstar Inc.
ABOUT
Top Stocks provides analysis about the most noteworthy stocks in the market each day, combining some of the best content from around the MSN Money site and the rest of the Web.
Contributors include professional investors and journalists affiliated with MSN Money.
Follow us on Twitter @topstocksmsn.