3 ways we're botching the US oil boom
These mistakes are creating the worst energy policy that the myopic environmentalists and short-sighted industry executives can buy.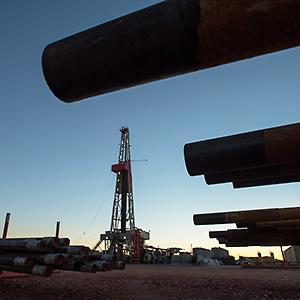 We just can't seem to keep up with the energy revolution in this country. It's happening too fast. But because of the velocity of change and the lack of interest in Washington, D.C., about what to do with it, the increases have had very little impact beyond job creation in a handful of states.

What do I mean by the velocity of change? Three years ago, North Dakota was producing 350,000 barrels of oil per day. The projections by all but the most wild-eyed of oil people, namely Harold Hamm from Continental Resources (CLR), was that this production number could double over the next four to seven years.
Last month, oil production hit 1 million barrels a day. North Dakota has now left California and Alaska in the dust with its astounding output.
The boom has made North Dakota one of the richest states in the union. It has brought unemployment down to 3 percent, and the average wage earner in the patch brings home more than $90,000 a year.
That's huge, but more important, perhaps, is that the surge is totally unexpected, and therefore -- because of no coordination whatsoever and a total hands-off policy on fossil fuels by the administration -- this bounty has meant not much at all to the country. We know that now more than ever, because we know the price of gasoline in our country is going to spike and spike badly if the southern Iraqi oil fields are taken by the radical rebels of ISIS.
It's not all on Washington. The infrastructure to use all of the oil isn't ready, because of a combination of speed and disbelief.

First, 63 percent of the oil is shipped by the ridiculously inefficient and dangerous rail cars instead of pipelines. You can lay pipe fast and the average pipe layer makes $63,000. A pipeline job requires thousands of people.
But because of spills and a fractured political environment, pipelines in non-oil states take a tremendous amount of political will to build, and the pipeline companies aren't run by politicians, they are run by pipeline people. The populace seems split among people who want the oil flow stopped in its tracks, those who want very limited pipe building, and those who grudgingly accept it.
The result? We end up shipping it by rail to do an end-run around the mess.
Second, because so few people saw the revolution coming, the power system is totally misconfigured. As anyone who has been to North Dakota can tell you, there's more natural gas just being burned off than used. Much more. Flaring, the by-product of the more than 10,000 wells, is a huge environmental problem. The gas needs to be shipped by pipeline to where it can be used. Yet the energy situation in North Dakota shows how truly screwed up things are, as 79 percent of its power comes from coal!
Third, the one bit of long-range planning the oil and gas industry seemed to do during this period was build refinery capacity in the Gulf to handle the thicker, more noxious Canadian tar sands oil. But North Dakota's oil is of much higher quality. We don't have the refinery capacity to handle it. That's partly why Iraq matters more than North Dakota to gasoline. Now, it is possible, you could say, that some greens want it this way. It keeps gasoline prices higher, which makes for a more environmentally friendly regime.
But it also makes for a less energy-independent regime, thus making our involvement in Iraq much more problematic and necessary for our energy security and for our economy. No one in the government has sat down with anyone in the industry, at least visibly, and tried to figure out how to harness the natural gas and oil we have to make us independent. That's how thick the hatred is for fossil fuels, particularly among Democrats in Washington.
So, in the end, North Dakota gets a lot of jobs, the oil gets lost in the system and we care more about Basra than Bismarck. The hardcore oil and gas haters seem not even to care about this trade-off. And that's why the million-barrel mark means almost nothing to our nation unless you are looking for a job in the Bakken or Williston basins.
This is the worst energy policy that the myopic environmentalists and short-sighted industry executives can buy.
Jim Cramer's Action Alerts Plus: Check out this charitable trust portfolio to see the stocks Cramer thinks could be winners.

More from TheStreet
DATA PROVIDERS
Copyright © 2014 Microsoft. All rights reserved.
Fundamental company data and historical chart data provided by Morningstar Inc. Real-time index quotes and delayed quotes supplied by Morningstar Inc. Quotes delayed by up to 15 minutes, except where indicated otherwise. Fund summary, fund performance and dividend data provided by Morningstar Inc. Analyst recommendations provided by Zacks Investment Research. StockScouter data provided by Verus Analytics. IPO data provided by Hoover's Inc. Index membership data provided by Morningstar Inc.
ABOUT
Top Stocks provides analysis about the most noteworthy stocks in the market each day, combining some of the best content from around the MSN Money site and the rest of the Web.
Contributors include professional investors and journalists affiliated with MSN Money.
Follow us on Twitter @topstocksmsn.