4 keeper stocks to save your sanity
These issues can hold your nest egg together for the long haul without worries about a volatile market.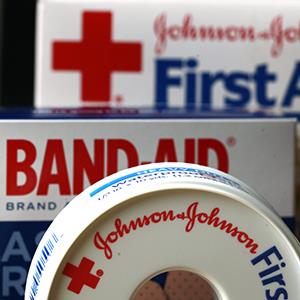 By Karen Riccio
The stock market volatility we've experienced thus far in 2014 has certainly served as a rude awakening for many investors who were lulled into a false sense of security after a year of smooth sailing.
Wednesday, the Standard & Poor's 500 Index ($INX) -- flat as a pancake since January -- is the only major index not in the red. Both the Nasdaq Composite Index ($COMPX) and Dow Jones industrials ($INDU) are in negative territory, sending weary investors on a roller-coaster ride they didn't expect.
One way to avoid the ups and downs is by owning stocks that aren't about short-term trends, or economic cycles, or what the new Fed chair said a week ago.
It's certainly OK to invest in stocks that change with the seasons, as long as you monitor them semi-regularly. However, owning a few staples that can hold you and your nest egg together for the long haul certainly makes sense. That can allow you to sleep soundly while making solid gains.
That said, here are four stocks capable of delivering stability -- and sanity -- over the long haul. Springing from the education, healthcare, food processing and technology industries, each company has long histories and long profitable futures.
Horace Mann Educators (HMN)
Founded in 1945 by two teachers in Illinois, Horace Mann Educators is an $8.5 billion national multiline insurance company. Just about every penny comes from public K-12 teachers, administrators and their families in the U.S., a market expected to grow 14 percent by 2020.
With this potential growth in its core market Horace Mann is well positioned with its portfolio of insurance products to capture this growth. In addition, to current teachers & administrators, Horace Mann still has other potential markets within the education sector, for instance former teachers and teachers at private schools.
As of 2013, some 6.2 million students attended K-12, supported by personnel totaling 2.6 million and 298,879 administrators. Another 412,992 college students are planning to become teachers, and 1.2 million are retired.
The key to keeping Horace Mann's competition at bay is the constant maintenance of close relationships with school districts and teachers organizations. No other insurance company has even tried to encroach on this niche, a factor that serves Horace Mann well.
The fact that premiums grew 4 percent in fourth quarter 2013 on a year-over-year basis to $152.5 million is proof the strategy is working. Retention rates remain solid at 85 percent in auto and 89 percent in property. Those numbers, along with strong growth in annuities and life insurance as well as lower-than-expected paid catastrophe claims, prompted the company to increase its full-year earnings guidance from $1.95 to $2.05 a share.
Horace Mann stock is up 56 percent over two years, and it delivers a 3.3 percent dividend.
Johnson & Johnson (JNJ)
Throughout its 70-year-history, Johnson & Johnson's role has evolved from a maker of baby lotions and shampoos into the world's largest supplier of medical devices, sixth-largest consumer health company, and eighth-largest pharmaceuticals company.
Many of its products are household names: Liquid Neutrogena, Band-Aid, Neosporin, Listerine, Tylenol and Rolaids, to name just a few. This diversity and brand strength is one reason why Johnson & Johnson has a history of being among the most reliable stocks on the market.
J&J just reported first-quarter 2014 earnings; it beating sales estimates with a 3.5 percent increase to $18.1 billion over a year ago. Adjusted net earnings increased 7.8% on the year to $4.4 billion. Worldwide pharmaceutical sales increased 10.8 percent to $7.5 billion in the first quarter, from strong sales of its new hepatitis C drug, Olysio. Sales of Zytiga and Stelara were up 49 percent and 32 percent, respectively.
Shares of J&J are up 56 percent over two years, and the steady dividend increase has made the stock worth holding. Five years ago the payout was $1.52 per share. Today it is $2.64.
That makes Johnson & Johnson the perfect stock to own not only in today's volatile market conditions, but in any financial climate. Even if Johnson & Johnson's stock price stays flat in a given year, the dividends will still keep coming.
Bunge Limited (BG)
The world's population is expected to grow to 9 billion by 2050, and food supplies will need to match or exceed that pace. Bunge Limited has a wide variety of business operations, but it leads the industry as the processor of wheat, sugar and oilseed.
The 190-year-old Bunge's processing operations are spread throughout the world. Last year the company expanded production lines in North America, Turkey and China. Bunge also keeps 58 percent of its assets in Brazil, but has started to greatly expand in Asia. Brazil grows 25 percent of the world's sugar, but boasts 50 percent of the sugarcane exports. Bunge management expects to see a growing demand in Brazil's sugarcane business from the huge development of ethanol.
The company's financials have teetered, but the long-term growth trend is higher. In 2006, Bunge had revenues of a mere $26 billion compared to $84 billion in revenues for 2013.
Though the market is filled with a host of uncertainties, there's no question about the global demand for food and food-processing services. Bunge stands to benefit from the boom in agricultural commodities, which is clearly a long-term trend.
Qualcomm (QCOM)
Few industries have been marked by more explosive growth and product innovations than smart phones and tablets, and Qualcomm is intimately connected.
As the leading supplier of semiconductors used in wireless devices, particularly smart phones, tablets, laptops, handheld wireless computers, routers and other infrastructure equipment, its chipsets can be found on virtually every major platform, including Apple, Nokia, Blackberry and various Android units.  
Given Qualcomm's prevalence in smart phones and tablets, it's easy to overlook other areas of strength, notably the wireless medical device market used for monitoring patients. The market for such remote monitoring is expected to reach $9.3 billion in 2014. Furthermore, the current trend suggests that at least 170 million Americans will be using these monitors by 2017. 
In the most recent quarter (FQ1 of 2014), Qualcomm reported record year-over-year revenue, up 10 percent to $6.2 billion and expects 5 percent revenue growth over the full year. The company's earnings per share have risen for 14 consecutive quarters.
With $9.5 billion in cash and virtually zero debt on the books, Qualcomm's balance sheet is strong. Analysts are expecting the stock to gain around 10 percent to 12 percent for 2014, not including the 1.9 percent dividend. 
More from Traders Reserve
DATA PROVIDERS
Copyright © 2014 Microsoft. All rights reserved.
Fundamental company data and historical chart data provided by Morningstar Inc. Real-time index quotes and delayed quotes supplied by Morningstar Inc. Quotes delayed by up to 15 minutes, except where indicated otherwise. Fund summary, fund performance and dividend data provided by Morningstar Inc. Analyst recommendations provided by Zacks Investment Research. StockScouter data provided by Verus Analytics. IPO data provided by Hoover's Inc. Index membership data provided by Morningstar Inc.
ABOUT
Top Stocks provides analysis about the most noteworthy stocks in the market each day, combining some of the best content from around the MSN Money site and the rest of the Web.
Contributors include professional investors and journalists affiliated with MSN Money.
Follow us on Twitter @topstocksmsn.