4 market sectors not playing along
It's not just small-cap stocks firing warning shots anymore. Broader problems are festering like an infection.
By Anthony Mirhaydari
As I've been writing about over the last few weeks, stocks have been in their own little world.

The persistent, incremental moves to new highs in the Standard & Poor's 500 Index ($INX) and the Dow Jones industrials ($INDU) haven't been supported by the economic data, profits data (which just rolled over in Q1 by the most since Lehman Bros. blew up), the bond market, the commodities market or the foreign exchange market.
But none of that mattered. Nor did the lack of participation by small-cap stocks, with the Russell 2000 not only well off its highs set earlier this year but struggling to stay above its 200-day moving average -- a long-term measure of trend strength.
Unfortunately, the problem is only growing -- festering like an infection -- as key cyclical sectors continue to lag behind.

Here are four to keep an eye on:
Regional banks
The SPDR Regional Banking ETF (KRE) was a star performer last year, outperforming the broad market thanks to rising credit quality, as well as hopes of a turnaround in banking profits due to the increase in long-term interest rates related to the Federal Reserve's plans to "taper" its ongoing QE3 bond purchase stimulus.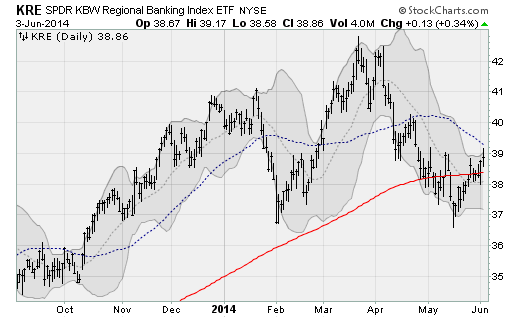 With short-term rates stuck near 0 percent since 2008, the rise in long-term rates toward 3 percent last year increased what's known as net interest margin -- or the difference between short-term and long-term rates that directly impacts bank profit margins.
With the bond market growing increasingly skeptical about the health of the economy, pushing long-term rates back down, this dynamic has reversed. As a result, the KRE has badly underperformed the broad market since early April and remains mired in a trading range near its 200-day moving average.
Homebuilders
The Homebuilders SPDR (XHB) -- which includes housing-related stocks like Home Depot (HD) and Trex (TREX) in addition to D.R. Horton (DHI) -- also is trading down near its 200-day moving average after a rise in mortgage rates earlier this year sucked the wind out of mortgage originations and housing market activity.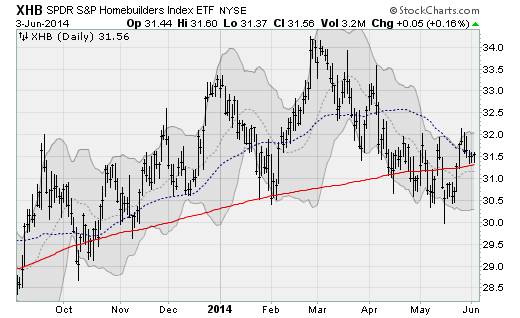 Although there has been a little bounce back recently, as long-term interest rates have dropped as low as 2.4 percent, the bloom has come off the sector as problems like housing affordability, demand for apartments and rent inflation all weigh.
Steelmakers
It's hard to find a sector ETF that's more tapped into the veins of the global economy than the Market Vectors Steel (SLX), which holds steelmaking stocks like Vale (VALE) and Rio Tinto (RIO).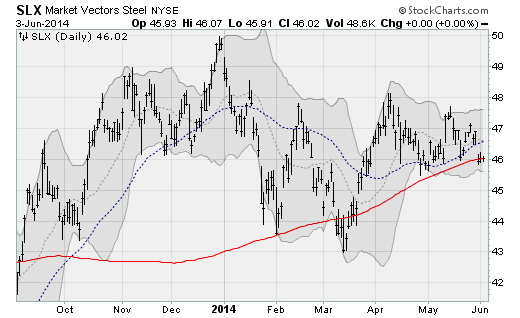 Steel companies are feeling the heat, so to speak, as doubts linger about the health of China's economy amid an unresolved credit crunch that was responsible for the market drop back in January and February.
Iron ore stockpiles in the Middle Kingdom have been on the rise, pushing the price of iron ore futures in China to levels not seen since September 2012. A drop in housing construction activity has been a culprit, with construction starts down 24 percent so far this year compared to last year. Chinese steel companies, awash with inventory, are reportedly dumping into the U.S. market -- angering domestic producers like U.S. Steel (X).
That's not the behavior you'd see if things were healthy.
Retailers
The Retail SPDR (XRT) -- which holds stocks including Staples (SPLS) and Big Lots (BIG) -- also has been struggling to stay above its 200-day moving average since April as the U.S. consumer his showing signs of fatigue. Retail sales recently disappointed, with sales ex-autos and gas dropping outright in April over March.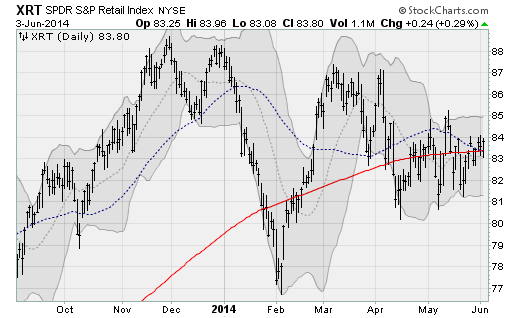 The weakness looks set to continue with wages stagnant, short-term credit on the rise and the savings rate dropping. All of this suggests household budgets are under pressure.
With roughly two-thirds of the U.S. economy still dependent on retail spending, the lack of performance in the XRT is a nagging sign that all is not well.
How to Play It

As a result of the lingering weakness, short side opportunities are presenting themselves in these areas.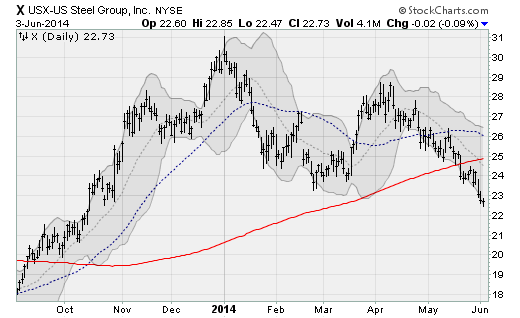 I recommended the X stock June $25 puts to my Edge Pro clients back on May 23. The contracts are currently up more than 85 percent.
More from InvestorPlace
Anthony Mirhaydari is founder of the Edge and Edge Pro investment advisory newsletters, as well as Mirhaydari Capital Management, a registered investment advisory firm.

Anthony did you notice hardly anything but spun reports this am.  There is absolutely nothing positive that would suggest markets go higher anywhere yet they are up today.  With this disconnect I can only imagine the carnage when the hot air leaves the balloon.  How in the world did we evolve to be this economically challenged?  I suspect the herd mentality is the only explaination.  I know we have sat here for years and watched these markets climb and climb and throw off all concerns for historically accepted reasoning.  Perhaps I'm just old and outdated.  And now we see a trade War brewing because our Guberment was arrogant and thought others were too stupid to notice.  I have seen this in other business instances before.  They always get brought down.  And we will pay the price because many of us are worthlessly stupid citizens that have allowed all the foolish lies to become accepted.  We just pass this off with a stupid rationalization that all Politicans lie so we just need to accept it.  I say B.S.

Old and outdated? Well, do we have a new financial system in this country? What ever happened to being able to get a good return on stable investments, investments that do not risk all your principle.
We can all go the options route now I guess or pay 300 a share for a risky stock that pays 2%. Is that what the middle class has now for options? I went back to my home town in WI and the manufacturing for doors, windows (Payne and Morgan) are gone. The manufacturing of library furniture (Buckstaff)  is minimal. Homes are cheap but if there is no work, it makes no difference. Did they all go to North Dakota?

Funny that Tony brings VALE and Rio Tinto up, I dumped VALE a couple of years ago when he started pumping Brazil. Not because of Tony, but because I didn't see domestic consumption that should be happening with the World Cup and Olympics on the horizon. Luckily I got out before the China downturn with a nice profit and big dividends. Uncle Sam and Brasilia loved me at tax time.


Next Time Up posted, "How in the world did we evolve to be this economically challenged?  I suspect the herd mentality is the only explanation.  I know we have sat here for years and watched these markets climb and climb and throw off all concerns for historically accepted reasoning."

Well how is this any different then any Bubbles in the Past. Same folks then as now. The only problem, the Bailouts keeps getting bigger and more Global. The only thing History has taught us, folks will continue to make the same dumb Mistakes, over and over again. This time won't be any different.


Old Cramer was at it again today. He thinks folks are shocked by the move in Markets. Well it's hardly shocking when 3 Central Banks have printed $10Trillion in Fake Money to prop up Global Markets. However, it is somewhat shocking that Rates Rates haven't soared in spite of the FACT that Global debt has soared 40% since the Great Recession. Most of it Bad Debt.

So Anthony is right, Broader problems are festering like an infection. And things are only getting worse. Folks think just because the Stock Markets continue to go Higher then things have to be Fine and Dandy. We all know that Stocks can go much higher before they POP. Only then will the important issues we never fixed come back to Light. Then all Hades breaks loose. Who will bail out the folks that didn't lock in Profits this time Around? Exactly. The Biggest Insiders have been selling daily, monthly, Yearly.  Buy and Hold to Infinity is a thing of the past. They tell you that Myth while they do just the Opposite.


Are you sure you want to delete this comment?
DATA PROVIDERS
Copyright © 2014 Microsoft. All rights reserved.
Fundamental company data and historical chart data provided by Morningstar Inc. Real-time index quotes and delayed quotes supplied by Morningstar Inc. Quotes delayed by up to 15 minutes, except where indicated otherwise. Fund summary, fund performance and dividend data provided by Morningstar Inc. Analyst recommendations provided by Zacks Investment Research. StockScouter data provided by Verus Analytics. IPO data provided by Hoover's Inc. Index membership data provided by Morningstar Inc.
ABOUT
Top Stocks provides analysis about the most noteworthy stocks in the market each day, combining some of the best content from around the MSN Money site and the rest of the Web.
Contributors include professional investors and journalists affiliated with MSN Money.
Follow us on Twitter @topstocksmsn.