5 reasons the markets will rally again in 2014
Forget the gloom-and-doomers. Here's what will drive the ascent in the new year.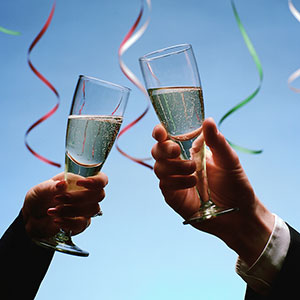 By Jamie Dlugosch
It has been a glorious time for investors, at least those that believed in the market.
I'll admit to having some skepticism heading into 2013. When I offered my Top Stocks to Own in 2013, it was on the heels of my 2012 picks generating 40% for the year. I have enough respect for the market to know how difficult it would be to repeat that performance. So, I hedged by suggesting that I would do only half as well in 2013.
Now, 11 months later, that list of 10 stocks for 2013 stands at an aggregate gain of 57%. It's enough to make your head spin. More importantly, one can rightly question if such good fortune can continue.
If I was hedging my bets in 2013, I will surely hedge my bets for 2014, right? Not so fast. The animal spirits are stirring and one can easily conjure a scenario for more gains ahead.
OK, I'm pretty sure any list of 10 stocks will be hard pressed to gain more than 50%, but unlike the bubble maniacs and their doom and gloom expectations from here, I think it is most reasonable to assume more gains in 2014.
How much more depends on a number of factors, but there are a few things this market needs to continue in rally mode. Here are five of them:

The Federal Reserve
So much of what transpires in the market depends on the policies of the central bank. Frankly, I don't think the average investor fully appreciates just how important that policy is to a rising market. At the moment that policy is highly accommodative to growth and future stock gains.
More importantly, we are in the middle of a transition to power that will likely ensure smooth sailing for at least the next six  months. There have been few key policy changes when power changes hands and this time should be no different. That means we have up to and through the time the new chairman takes helm at the end of February. Specifically, one can expect continued buying of bonds until early summer. If so, that should boost the market another 5% to 10%.

Fear in the market
Every good bull rally requires a healthy dose of fear. It is quite true that the market climbs a wall of worry. That wall of worry was in the spotlight recently when everyone and their brother seemingly expected stocks to crumble. Instead we broke through key psychological barriers with minimal resistance.
It really is remarkable how many non-believers are out there. I say fantastic, and the more the better. As long as there is fear in the market, this market can and will continue to rally.
Fund flows
For stock prices to continue their ascent we need buyers, and those buyers are likely to come from some surprising sources.
I can think of one really big source that should the flood gates open, we could see the market gain 20% in the next 12 months. What source could that be? Think exchange-traded funds. I won't say these Wall Street manufactured devices are a fraud, but they are close. Born out of fear, these devices attracted billions of dollars in assets. Many of those assets were directed to fear-based or inverse exchange-traded funds – inverse in that they will perform well in a down market.
How did that inverse bet go over the last two years? Not very wel,l and when these folks pull the plug on these inverse funds they are likely to move into equities. Nobody wants to miss a rally after all, and these folks are no different. Fortunately for us, there are huge dollars in these funds that could easily push stock prices higher.
Compelling valuations
Perhaps it's shocking to some, but valuations do ultimately matter. For stocks to stay in rally mode, valuations need to be compelling. This is not the heyday of the dot-com, thankfully. So far, appreciation in stocks has not yet resulted in the sort of valuations that can derail a bull market. In fact, I'm putting together my list of stocks for 2014 and I'm having no trouble finding compelling opportunities.
Considering I follow mostly fundamental valuation metrics and buy accordingly, I would say that stocks in general are still reasonably priced. That is not to say we won't have moments when stocks pause or even take a step back, but overall there are still plenty of reasons to want to buy stocks even at current levels.
Stable geopolitical climate
Say what you will about President Obama, but his foreign policy seems to be doing the trick and all of that is positive for stocks.
The recent agreement with Iran paves the way for another several months of smooth sailing, at least in the Middle East. The bigger trouble might be in the Far East. Chinese claims in the Sea of Japan run the risk of derailing this stock rally. The fact that the dispute amounts to a fight over a pile of rocks is meaningless. Wars have been started over far less. So far the market has not paid much attention to the issue, but it is just the sort of thing that could halt stock buyers in their tracks. Hopefully that doesn't happen and we continue on in geopolitical harmony. If so, one can expect investors to be buying stocks.
More from Traders Reserve
DATA PROVIDERS
Copyright © 2014 Microsoft. All rights reserved.
Fundamental company data and historical chart data provided by Morningstar Inc. Real-time index quotes and delayed quotes supplied by Morningstar Inc. Quotes delayed by up to 15 minutes, except where indicated otherwise. Fund summary, fund performance and dividend data provided by Morningstar Inc. Analyst recommendations provided by Zacks Investment Research. StockScouter data provided by Verus Analytics. IPO data provided by Hoover's Inc. Index membership data provided by Morningstar Inc.
ABOUT
Top Stocks provides analysis about the most noteworthy stocks in the market each day, combining some of the best content from around the MSN Money site and the rest of the Web.
Contributors include professional investors and journalists affiliated with MSN Money.
Follow us on Twitter @topstocksmsn.