5 things to know about Iraq right now
As new conflict grips the world's eighth-largest oil producer and the US weighs military action, crude prices have shot higher. Is the global recovery in danger?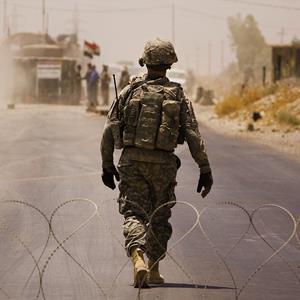 By William L. Watts, MarketWatch
Oil futures continued to rise on Friday after the White House signaled the U.S. is getting ready to return to military action in Iraq and after Iranian forces joined the Baghdad government's efforts combat insurgent advances.

Financial markets are seeing some modest fallout from the conflict. Here's what you need to know.
What is happening?
President Barack Obama is weighing possible airstrikes to blunt the momentum of Sunni militants who have seized control of several major cities in recent days, the White House said. Iran has already jumped to help fellow Shiites in Iraq's government against the threat, deploying Revolutionary Guard units to the country.
Iraq is on the brink of civil war after Kurdish forces took control of Kirkuk, a provincial capital city and oil-production hub in northern Iraq.
The move by Kurdish forces comes after Sunni militants took nearby Mosul, Iraq's second-largest city, earlier this week. They've threatened Baghdad and have vowed to march on two cities held sacred by Shiite Muslims. Western parts of Kirkuk province are reportedly still under the control of other militants from an al Qaeda offshoot called the Islamic State of Iraq and al-Sham, or ISIS. The militants have vowed to advance on Karbala and Najaf, two cities revered by Shiite Muslims, who make up 60 percent of Iraq's population and dominate the Iraqi government.
Why is Iraq important?
Iraq is the world's eighth-largest producer of oil and ranks No. 2 in the Organization of the Petroleum Exporting Countries, or OPEC, behind Saudi Arabia. Production has been on the comeback trail since the height of the Iraq war. Production hit 3.6 million barrels a day in February, its highest level in more than 30 years. Production has since fallen back, slipping to 3.3 million barrels a day in May, analysts say.
Iraq's production growth has been a welcome development for oil consumers as Libya struggles to come back online amid persistent violence and turmoil. But the fighting casts big doubts over the government's aim to boost output to 4 million barrels a day by the end of this year and to 7 million barrels a day by 2016, note economists at Capital Economics.
A sustained surge in oil prices would be unwelcome as the global economy struggles to build some momentum.
"Although the situation is some distance from the oil fields, the reality is that a $20 a barrel spike in crude prices could well prove sufficient to derail the global economic recovery. Ultimately with markets so toppy and repeatedly looking for a reason to sell, this could all make a lot of sense," said Joao Monteiro, an analyst at Valutrades in London.
What's the threat?
Given Iraq's size, a major disruption could conceivably trigger a major spike in oil prices, analysts said.
An underlying fear in the oil market is that the fighting will spread to Iraq's main oil-producing areas in the south. Meanwhile, Iraq's biggest refinery at Baijii in the north remains under government control , Iraqi oil minister Abdul Kareem Luaibi said Thursday, according to Reuters. Luaibi said Iraqi crude exports from its southern terminal at Basra were running at an average of 2.6 million to 2.7 million barrels a day on Wednesday.
"The northern oil fields have been taken yet that area of the country was not really active. There had been damaged pipelines due to sabotage," said Phil Flynn, senior market analyst at Price Futures Group. "Basra in the south of Iraq seems to be operating normally and any attack on Baghdad may be met with much tougher resistance."
What does it mean for oil markets?
Oil prices continued to rise Friday but trimmed early gains. Nymex July WTI crude futures rose 43 cents, or 0.4 percent, to $113.45 a barrel. On Thursday, Brent jumped more than $3.
July Nymex WTI crude, the U.S. benchmark, rose 41 cents, or 0.4 percent, to $106.94 after trading at its highest level in at least nine months.
What does it mean for financial markets?
So far, financial markets have shown only modest reaction to the turmoil. U.S. stocks saw broad losses Thursday, which were tied to concerns about Iraq as well as soft economic data.
U.S. stock indexes were up slightly Friday morning, as merger and acquisitions activity overshadowed Iraq concerns.
"Investors appear to be asleep at the wheel on Iraq, which has the potential to have a highly disruptive impact on the market," said Rebecca O'Keeffe, head of investment at stockbroker Interactive Investor in London. "Although most of the country's oil is produced in the south of the country, there is a growing risk that the escalating tensions between Shia and Sunni could spread, which increases the threat of a spike in oil prices."
Treasurys, which can often serve as havens during conflict, were showing little sign of a flight to safety. Treasury prices were under pressure Friday, pushing up yields as investors instead took cues from a speech by Bank of England Gov. Mark Carney warning that U.K. interest rates may rise sooner than expected.
More from MarketWatch

We invaded this shidhole knowing full well that they didn't have any weapons of mass destruction to satisfy the ego of a dummy president controlled by strings pulled by warmonging republicans whose interests in the industrial- military complex made a huge bundle of money at the expense of our finest American military whose reward was death and life crippling injuries.


"Is the global recovery in danger?"
Our "Global recovery" was never "in danger" - mainly - because it never was. 
The unconscionable debt (shackles) that our "leaders" , "politicians" and "bankers" have bestowed upon us is profoundly changing our world - right now. Our  quality of life - "life as we know it" - is going down as I write this.
The only question is how quickly it happens. The Elites want it to happen very, very slowly - it has been happening for several years. So - so far so good. Because if it happens quickly, there is a revolution.
"Corporate Cronyism" is the phrase that describes the truly evil alliance of government, bankers and (usually) huge corporations. The mix is suffocating and ultimately toxic to us "worker bees".
Worldwide - governments have created "money" and falsified statistics to obfuscate their own greed, ignorance and fraud.
Worldwide - corporations pay huge amounts to those corrupt governments to create stifling "barriers to entry" costs. A  "free market" is almost impossible to find- worldwide.
Worldwide - Since 1913 and the creation of the FED - Huge bankers have been enabled to create debt  that can never - ever - be repaid. And do nothing but make "money" from that insanity.

Lets just get the hell out of there and shut our doors... let our troops man up the borders and airports instead of living like crap in the fields. I know my Son has been there 4 tours lasting not less than 13 months each now in the last 10 years. Several times where he was they did not even have water to shower for weeks.. on his way back from a tour no one was able to shower before travel back to the states..then a few stupid people at an Atlanta airport that were suppose to be Americans were downright rude to the soldiers returning from the battlefield.  We are sending our Sons and Daughters into harms way just to save a few bucks for people that don't realize or appreciate their sacrifices..

Are you sure you want to delete this comment?
DATA PROVIDERS
Copyright © 2014 Microsoft. All rights reserved.
Fundamental company data and historical chart data provided by Morningstar Inc. Real-time index quotes and delayed quotes supplied by Morningstar Inc. Quotes delayed by up to 15 minutes, except where indicated otherwise. Fund summary, fund performance and dividend data provided by Morningstar Inc. Analyst recommendations provided by Zacks Investment Research. StockScouter data provided by Verus Analytics. IPO data provided by Hoover's Inc. Index membership data provided by Morningstar Inc.
ABOUT
Top Stocks provides analysis about the most noteworthy stocks in the market each day, combining some of the best content from around the MSN Money site and the rest of the Web.
Contributors include professional investors and journalists affiliated with MSN Money.
Follow us on Twitter @topstocksmsn.