7 predictions about Tesla Motors
Minyanville contributors share their thoughts after last week's downgrade from Goldman.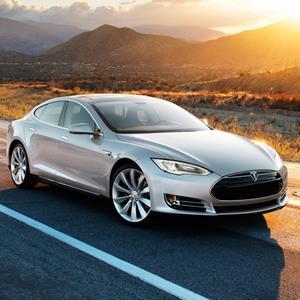 Last week has been an eventful one for Tesla Motors (TSLA) and Elon Musk: Goldman Sachs downgraded the stock and shares sank 16.05% from the opening Monday, July 15, to the close on Tuesday, July 16, but then rallied 9.75% since. Rumors and speculation about Musk's next project, the "Hyperloop" gave the entrepreneur and his car company even more media attention.
Here, seven of Minyanville's finest weigh in on the recent Tesla action.
This wackiness is not unusual
By Michael Comeau
The wackiness in Tesla's stock price is not at all unusual for an expensive and controversial momentum stock with enormous short interest. Nonetheless, Tesla remains one of the most interesting companies in global business by virtue of the fact that it is shaking up what has traditionally been a relatively staid industry. And while Hyperloop is not a part of Tesla, it adds to Elon Musk's mystique -- I'm surprised we don't get more Steve Jobs comparisons, in addition to the Tony Stark ones.
(Position in TSLA and AAPL.)
Michael Comeau edits Minyanville's Buzz & Banter, and is also a regular columnist on Minyanville.com, focusing on technology and consumer stocks.
Goldman's analysis may have been too critical
By Andrew Keene
With a highly valued company like Tesla, there are many investors who have profited greatly and have not wanted to let go of the stock. Because investors have made such hyper gains, the shocking downgrade by Patrick Archambault has made them believe the stock is actually too good to be true, and so they started selling off collectively yesterday. Archambault predicted a $58 worst-case scenario, $84 target price, and $113 best-case scenario based on his main concern about the company's demand and sustainability in the long term. He cited that according to his research, auto stocks habitually drop when rates rise, even with heightened demand. However, in Ben Bernanke's most recent speech, the Fed chairman stated that the Fed's "asset purchases … are by no means on a preset course," meaning that tapering will only happen if the economy can improve on its own with the historically low interest rates employed now.
The downgrade was especially surprising considering Tesla's explosive first quarter earnings report, which was due to the release of the Model S with $561.8 million in revenue. It beat analysts' estimate of $496.2 million and destroyed the $30.2 million reported back in the first quarter of 2012. Investors even saw a stock jump of 25% in the after-hours market after that earnings report.
However, perhaps it's the Goldman downgrade that is overvalued by investors in this whole matter. The bearish scare that happened on Tuesday is appearing to dissipate with current prices. Tesla investors should be worried if the drop-off in prices continues for multiple days. But if the rebound continues, Archambault's analysis may simply prove to be overly critical since investor sentiment appears to be switching to the bullish side again.
(Short Position: July 80 Puts in TSLA)
Andrew Keene is president of KeeneOnTheMarket.com​. Andrew has been a market maker on the CBOE floor for the past decade and at one point, was the largest on-floor independent Apple options trader in the world.
This roller coaster is more fun to watch than ride
By André Mouton
Tesla fell 14% last Tuesday but is up 200% since the beginning of April, and both numbers suggest uncertainty about how to value the stock. Goldman's analysis may have been pessimistic, but it also assumes the timely arrival of a budget (~$35,000) model that we only know about from Elon Musk's Twitter account. A $13 billion in market cap seems like a stretch, but with a 17% short ratio, the bear case is well-represented. It strikes me as the sort of roller coaster that's more fun to watch than to ride.
The fascinating thing about Hyperloop is that it's not even an idea, it's a promise to deliver an idea on a future date -- basically an intellectual stock option. That something so embryonic can get so much press is a little worrying. It took 75 years for the light bulb to evolve from an idea into a commercial success, and in today's environment -- where results are often assumed -- we need to be careful to preserve a sense of skepticism.
André Mouton is a writer and an independent investor who cut his teeth in the dot.com crash and chewed his lip in the financial crisis.
Tesla's not just a car company, and it has room to run
By Peter Prudden
Tesla is more than just a car company fueled by government subsidies. It's technology, fuel efficiency, and a glimpse into the future of innovation; it symbolizes how America returns to the age of an industrial revolution. The man behind the company represents the type of individual required to bring America back to the forefront of growth. I often hear comparisons of him to Tony Stark, but Howard Hughes is more realistic.
Regarding the actual stock itself, in March I posed a question to the Twitter world with the stock trading near $37 per share. I wanted to know if the investment community believed in the company and the man as much as I did. I suggested the company was on the verge of becoming the next great growth stock, and the performance over the coming four months was astonishing to all. I believed the valuation placed on the company was misguided. Bears were brave in making a case to bet against the stock based upon perceived accounting issues. That was evident in the 40% short interest on the stock.
In the near term, what to do with the stock? The value investors who believed in the business are sitting pretty, and as the volatility picks up, I would guess they will pare down a position. The stock is currently consumed by the trading world and it will likely make and break many careers. My belief is that in the near term it will shake many out and begin to build a new floor to trade against. If you are long the stock, look for this past week's low to hold, or as a stop. I am an investor in this company and recall First Solar (FLSR) traded to $300 before all the bears were washed ashore. There is room to run here.
(Position in TSLA.)
Peter Prudden is the General Partner of SISU Advisors LP and the Managing Member of Prudden & Company LLC.
Who was paying attention to the rest of the auto industry?
By Justin Sharon
Tesla seems to be one of those stocks -- First Solar is another that comes to mind -- that is inherently volatile. A day trader's dream, perhaps, but fundamentally tough to value.
In a way, Tesla picked an especially bad day to have a bad day, as the Goldman target cut came amid the firm turning "neutral" on the overall automotive industry, which included a downgrade of Ford (F) for the first time since 2009. Add in a lower session for equities generally, and TSLA stock having been priced for perfection after attaining an all-time high on Monday, July 15, and the recipe was there for a brutal sell-off.
This too may well pass; Tesla shares swooned in February following a negative New York Times review, only to subsequently rebound to record highs. Ditto, as you see, the stock is currently snapping back nicely from Tuesday's tumble.
Ironically, lost in the shuffle, Goldman actually raised its TSLA target on Tuesday, July 16, to $84 from $61. Targets are sometimes seen by Wall Street professions as merely eye-catching marketing tools designed to make waves, but not to be taken altogether too seriously. They sometimes imply a level of precision that makes seasoned investors skeptical. The most (in)famous example I can think of was this $1,000 number Paine Webber put on Qualcomm (QCOM) during the 1999 market mania (shares were last seen trading at about $62!).
Interestingly, per this recent article on TheStreet, Deutsche Bank's Rod Lache, rated the top auto sector analyst in the most recent Institutional Investor survey, "is not taking a valuation view on the company" as shares are being driven by investor enthusiasm, etc, as opposed to more prosaic metrics.
This is, of course, the exact opposite approach of Goldman's analyst Patrick Archambault, who outlined various valuation scenarios in great detail.
Justin Sharon authors Minyanville's stock upgrades and downgrades articles every morning. He has extensive experience on Wall Street, most recently at the Private Client unit of Merrill Lynch.
The midlife crisis buy
By Vincent Trivett
Tesla is a fascinating company with staying power. Whether it is overvalued or not, it's a small company. Right now, its cars are luxury status symbols for the rich in California, and that means that there is a tremendous upside. It is just starting to dent the U.S. and Europe, and it has plenty of room to expand, even if it continues catering to the one-percenter crowd. It's narrowly profitable already with only a few service centers around, and keep in mind it's still illegal to sell Tesla cars in a few states. When the company builds out, comes out with a more affordable model in a few years, and gets more brand recognition, especially as an aspirational buy, it will have vastly more potential buyers than it does today. There is definitely pent-up demand, and as it gets more visible, it will be like back when only the awesome nerds had gmail and everyone else had to wait to get invited.
I think that in a year Tesla would be the midlife-crisis buy. Your neighbor with the Beamer looks like a chump next to your novel modern gizmo. Who would have thought you could be conspicuous about your consumption and simultaneously look like like a smart guy who cares about the environment?
As for the Goldman downgrade, I could see how it's overvalued, but I think that a string of positive quarters should put the debate to rest. It's not easy to make money in the car business, but cutting out the middlemen and charging a premium for a premium product is an uncontroversial way of going about things, in my opinion. The shorts were burned before; I doubt Tesla can go down all that much, but that's really just my hunch on long-term fundamentals. And yeah, I've literally never bought a stock in my life. Tesla wouldn't be the first.
And I'm pretty sure that the Hyperloop isn't a Tesla thing. I think California's hopeless bureaucracy and geography is going to make it impossible or far too expensive to actually build. But it would be freaking awesome.
I really think Tesla is great for just flouting the ridiculous dealer system. That will go soon. People will blame their states for not letting them buy one, not Tesla for choosing a more sensible business model. Nobody sheds a tear for car dealers, who add no value at all.
These are just my thoughts from casually reading the news. Whatever the price target, Tesla is news. When was the last time you cared about a new Dodge? Or were even aware of Don Ackerson's newest idea? Yep, I had to Google that, too.
Vincent Trivett is a journalist and photographer who has written for Business Insider, City Limits, WNYC, the Atlantic's Business blog, Yokohama Seasider Magazine, Koe Magazine, the Japan Beer Times, and of course, Minyanville.
The price of oil is a huge long-term factor
By Sean Udall
My view on Tesla is that sometimes you just have to say you missed one and let it go. It could be the next Google (GOOG), Apple (AAPL), or even just a Porsche, which made an epic run in the 1990s and then again in the 2000s. And in fact, the Porsche and BMW business model was, for years, much more predicated on profit per car than on selling world-leading volume numbers. And if we see the price of gasoline rise above the $5 mark or higher, TSLA could become the next Porsche.
On the negative side of TSLA, it could also become quite troubled, or a short trader's dream, if future volumes and profit per car metrics don't come through. I also think TSLA carries a lot of potential commodity and political risk. A big win from the GOP could quell a lot of the green energy momentum driving the space. The price of oil (and gas) is also a huge long-term factor. If we ever get $2.00-2.50 gas again, electric cars could have a much harder time gaining sustainable market share.
So color me neutral/mixed on the long-term view and only a short-term technical trader on the name.
Sean Udall is an Investment Strategist, Portfolio Manager and Proprietary Trader with extensive experience across a wide variety of asset classes, including equities, fixed income, currencies and derivatives. He's a recognized trader and the founder of the TechStrat Report.
More from Minyanville
DATA PROVIDERS
Copyright © 2014 Microsoft. All rights reserved.
Fundamental company data and historical chart data provided by Morningstar Inc. Real-time index quotes and delayed quotes supplied by Morningstar Inc. Quotes delayed by up to 15 minutes, except where indicated otherwise. Fund summary, fund performance and dividend data provided by Morningstar Inc. Analyst recommendations provided by Zacks Investment Research. StockScouter data provided by Verus Analytics. IPO data provided by Hoover's Inc. Index membership data provided by Morningstar Inc.
ABOUT
Top Stocks provides analysis about the most noteworthy stocks in the market each day, combining some of the best content from around the MSN Money site and the rest of the Web.
Contributors include professional investors and journalists affiliated with MSN Money.
Follow us on Twitter @topstocksmsn.