A clear sign that the market may pause
US companies have suddenly stopped buying back their own shares. That makes it harder for stocks to go higher.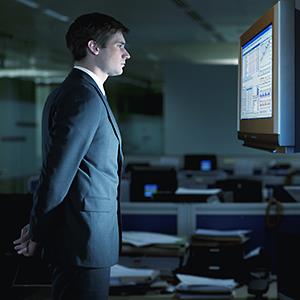 By Matt Clinch,
CNBC
U.S. businesses took a pause from repurchasing their own shares -- also known as stock buybacks -- in the first quarter of 2014, according to the U.S.-focused research tracker TrimTabs, which now believes surging stock markets might have a tough time pushing even higher.

"Corporate actions have turned less supportive of stock prices," TrimTabs chief executive David Santschi said Sunday in a research note. "The decline in the volume of buybacks is a cautionary sign, as buyback volume and the Standard & Poor's 500 Index ($INX) have a high positive correlation."
Many of corporate America's biggest names have decided to buy back their own stock in recent years. These buybacks happen when companies buy their own shares trading on the stock exchange, reducing the portion of shares in the hands of investors. They offer a way to return cash -- along with dividends -- to shareholders and usually coincide with a company's stock pushing higher as shares get scarcer.
Many analysts see stock buybacks as being a key driver behind record highs for U.S. stock markets rather than any expansion in company earnings. In some cases, firms are borrowing cash to buy back their shares, thus taking advantage of ultra-low interest rates set by the U.S. Federal Reserve.
The final quarter of 2013 had cash-laden S&P 500 companies spending $214.4 billion on share buybacks and cash dividends, according to preliminary results released Wednesday by S&P Dow Jones Indices. The figure was second only to the $233.2 billion spent in the third quarter of 2007, according to the research company. Howard Silverblatt, a senior index analyst at S&P Dow Jones Indices said he expected this trend of greater shareholder return to continue throughout 2014.
But Sunday's data from TrimTabs shows that new stock buybacks in first quarter of 2014 fell to their lowest in five quarters. This was despite a rush of stock repurchases by U.S. banks on Wednesday after an annual check-up by the Fed which tested if banks had a large enough capital buffer to keep lending through another financial crisis.
Eleven financial companies announced $25.8 billion in stock buybacks in the past week according to TrimTabs, which meant new stock buybacks totaled $134.4 billion in the first quarter through Thursday, March 27. Buyback announcements were well below the interim peak of $195.5 billion in the second quarter of 2013, it said.
Gemma Godfrey, the head of investment strategy at Brooks Macdonald, told CNBC via email that a reduction of these buybacks, at a time when the Fed is winding down quantitative easing support, could leave markets vulnerable.
"With the stock market continuing to scale new heights, whereas political rhetoric and confidence was enough to drive these moves previously, there is more pressure on fundamentals to justify the rally," she said.
Godfrey believes that investor patience is starting to wear thin in certain areas of the market. However, taking a broader look at the recent surge in stock markets, she added that any fall in indexes would be from a high base and would not be a "trough."
"With (interest) rates, even after an initial rise within the next year, far from pre-crisis levels, it will remain an attractive strategy for corporates and investors alike," she said.
More from CNBC

The stock market is doomed to go much much lower. Take out the companies borrowing money to buy their shares and the feds pumping money into the stock market and add in the 10,000,000 new baby boomers retiring each year for the next decade and taking money out and you have a major problem.

The collapse will be complete.


How To Be Architects of Armageddon:
- Feed the markets. Make wealth richer.
- Ignore mass career terminations, see home values crash, job blockade skills and experience, hire text addicts to do mostly nothing, lie to voters, see them into early graves, print more fake cash than 100 generations can ever repay, legalese the People to death.
Wake up. There's a war coming. You don't survive it. 
If Obama, Bernanke, Yellen and other scholarly morons were right, we would have economy and prosperity. It's the End of the World as we know it. WHY don't you stop now. Or else. 
Are you sure you want to delete this comment?
DATA PROVIDERS
Copyright © 2014 Microsoft. All rights reserved.
Fundamental company data and historical chart data provided by Morningstar Inc. Real-time index quotes and delayed quotes supplied by Morningstar Inc. Quotes delayed by up to 15 minutes, except where indicated otherwise. Fund summary, fund performance and dividend data provided by Morningstar Inc. Analyst recommendations provided by Zacks Investment Research. StockScouter data provided by Verus Analytics. IPO data provided by Hoover's Inc. Index membership data provided by Morningstar Inc.
LATEST POSTS
Meet Alibaba's new billionaires
Despite its size, the IPO will create just two new members of the 10-figure club from its executive ranks. A few others could net hundreds of millions.
ABOUT
Top Stocks provides analysis about the most noteworthy stocks in the market each day, combining some of the best content from around the MSN Money site and the rest of the Web.
Contributors include professional investors and journalists affiliated with MSN Money.
Follow us on Twitter @topstocksmsn.