A stalwart Micron bear finally blinks
An analyst throws up the white flag and raises his price target, conceding that chip pricing is going to stay strong as production costs fall.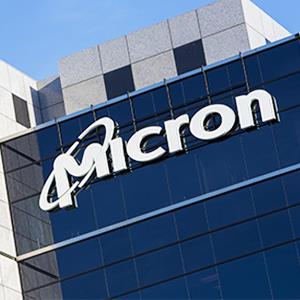 The Micron (MU) bears look like they have lost their bets in the big DRAM chicken game. Or at least they lost their No. 1 advocate when Merrill Lynch went from underperform to buy this morning.
First, that's an astonishing turn. The analyst, Simon Woo, had been a huge and unrelenting bear. All the way up. He has fought it and fought it, always with the same logic: that the discipline that has almost always seemed to wreck the pricing for commodity chips -- in this case DRAMs -- would happen again just as it has pretty much every time the stock got up a head of steam. He used the standard logic: that someone would blink as pricing got good and would start building factories and eliminate the tightness, then Micron would collapse.

I can't blame him. Many smart people have contended that has to happen. Every time I said something positive about Micron -- and I have many times -- I have run into this logic. It happened in 1995 after Micron stock went from $9 to $47 in a very brief period. It happened in 2000 after a dizzying $29 to $97 run.
But this time was different. There had always been multiple players in the DRAM business. There were so many players that someone always had to blink. It was illogical to think that someone wouldn't want to grab market share or perhaps buy some semiconductor equipment, put up a quick factory and cash in on that fabulous pricing.
But a funny thing happened along the way to the competitive slaughterhouse: It closed. Or, more accurately, Micron closed on the Elpida deal for $2.5 billion and the world changed. Instead of multiple players, there were only three: Samsung, the world's biggest, Micron and Hynix.
When you have only three players, it is a very different world, a much less competitive world. And this time nobody blinked.
Except Woo.
Today he makes it clear that his $22 price target, one that was raised repeatedly pretty much against his will as the stock moved higher, is no longer active. He replaces it with a $40 target. He makes it clear that pricing is going to stay strong and costs for production are going down, so his numbers are way too low.
He basically throws up the white flag.
I am a big believer in old tech here, everything from Microsoft (MSFT) and Intel (INTC) to Hewlett-Packard (HPQ), Cisco (CSCO) and Oracle (ORCL). I like Western Digital (WDC) and Seagate (STX) and Sandisk (SNDK). I like them all for the same reason: The world has gone rational. The competition has dimmed. Nobody is putting up new plants, because everyone is so grim, determined and bearish, which is the opposite of how this industry used to be. (Microsoft owns and publishes MSN Money.)

In other words, the execs in the industries have gotten out of playing the starry-eyed games they always have. That's really what Woo got wrong.
Today you will hear that now is the time to go negative, when the big bear capitulates.
My only problem with that is there is still no sign whatsoever that the bears in the industry -- the people who run the companies -- believe things have really gotten better.
They are staying cautious. That's what Woo missed. That's who really mattered all along.
Jim Cramer's Action Alerts Plus: Check out this charitable trust portfolio for the stocks Cramer thinks could be winners. The portfolio
is long ORCL.
More from TheStreet

You have lost many of us Jim.  Chaos is the new normal in this stupidly greedy and politicized world.  Many of us agreed prior to the last Presidential election that a Marxist oriented President would revert to Chaos to maintain control and here we are.  For any of you Liberals who voted for this inept unqualified totalitarian you are reaping exactly what many of us said you would.  Chaos in every corner of our country both geographically and economically.  You Liberal folks probably will stick with this arrogant lying self serving jerk all the way until we have a total economic collapse and a World War.  But then you can just blame Bush right?   Obama is not an American.  He was raised in Indonesia where poverty and corruption are part of their daily social fabric.  Which is just about where we are here today.  You yourself are now so confused Jim you vacillate almost daily from positive to negative.  Do you really honestly have a clue about what is happening or about to happen?  I don't think so. We are being lied to everyday now and more and more folks have lost confidence in our political leadership and in essence our system and soon each other.  Great job Liberal America, that something for me for nothing attitude is paying off very well now isn't it? Can any one of you Liberals who voted for this man  please explain to me why your elected President has agreed with many Central American countries to in concert  dump hundreds of thousands of their children on our doorstep?

Very little has changed since this morning, manipulators in control on and off the floor, do not fall for the small recovery pockets you are going to see, they are all just sucker's rallies trying to lure folks in and then stab them in the back by dropping markets even lower....All we can do is to try to minimize the damage, the sidelines looking mighty good this afternoon...All that can save the market today is a
miracle....Doubtful,​
too many of these cheating crooks.
Are you sure you want to delete this comment?
DATA PROVIDERS
Copyright © 2014 Microsoft. All rights reserved.
Fundamental company data and historical chart data provided by Morningstar Inc. Real-time index quotes and delayed quotes supplied by Morningstar Inc. Quotes delayed by up to 15 minutes, except where indicated otherwise. Fund summary, fund performance and dividend data provided by Morningstar Inc. Analyst recommendations provided by Zacks Investment Research. StockScouter data provided by Verus Analytics. IPO data provided by Hoover's Inc. Index membership data provided by Morningstar Inc.
ABOUT
Top Stocks provides analysis about the most noteworthy stocks in the market each day, combining some of the best content from around the MSN Money site and the rest of the Web.
Contributors include professional investors and journalists affiliated with MSN Money.
Follow us on Twitter @topstocksmsn.