A tastier Yum depends on China
Once again, slumping sales there are hurting the parent of KFC, Taco Bell and Pizza Hut, but it now sees better days coming.
Until recently,
Yum Brands
'
(
YUM
) China business was seen as a strength for the operator of KFC, Pizza Hut and Taco Bell. Now, it's the Kentucky company's biggest liability.
Shares of Yum Brands tanked Tuesday after the company reported yet another disappointing quarter in China, where it gets abut 50% of its revenue. The stock declined 2% to close at $72.97. China will continue to be a vexing challenge for Yum for many reasons.
First, diners at Yum's KFC locations in China were scared away by reports about the H7N9 avian flu virus, which has sickened 131 and killed 44 people, according to media reports. Then state-run China Central Television last year criticized KFC for the improper use of antibiotics in the chicken that it sold. Finally, there are the issues of China's economy growing more slowly and increasing competition from local chains.
Not surprisingly, China same-store sales, a key measure of stores open at least a year, plummeted 13% in July, nearly double the 7.1% plunge analysts expected. This followed a 10% drop-off in June and a 19% decline in May. Most of Yum's approximately 6,000 China restaurants are KFCs.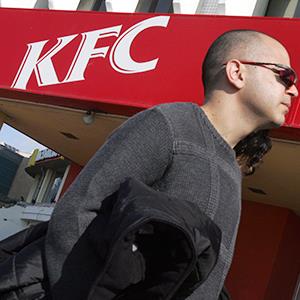 Yum, though, expects better times ahead in China, where it plans to open at least 700 new stores this year. It forecasts a gain in fourth-quarter same-store sales as it reaps the dividends of an advertising campaign there that stresses chicken alternatives, such as shrimp.
And let's not forget that the rest of Yum is holding its own in other parts of the world.
During the most recent quarter, U.S. same-store sales rose 1%, led by gains at KFC and Taco Bell. Pizza Hut posted a decline. Operating profit grew 4%, fueled by the popularity of menu items such as the Doritos Locos Tacos. Sales in emerging markets outside of China increased 5% and fell 1% in developed countries.
Many people who find Yum's food tasty might feel the same way about its stock, which has gained more than 12% this year. It trades at a price-to-earnings multiple of 24.4, at a discount to other chains such as
Burger King
(
BKW
), whose multiple is 45.7 and
Wendy's
(
WEN
), which trades at a price-to-earnings ratio of 253.2.  
Wall Street thinks Yum has room to run. The average 52-week price target on the shares is $77.74, about a 7% upside. If the company's business is able to show decent growth in China and steady performance in the U.S., Yum could exceed that forecast.
Jonathan Berr does not own shares of the listed stocks. Follow him on Twitter @jdberr.

NEVER MIND THE CHINESE!!!( for now anyway) I mean is this really newsworthy??

how 'bout the fact that the New York Communist Times has been hacked and has been down all morning, due to a story about the Clinton Global Initiative, it appears that these clinton bastards were using a Non-profit as their own personal piggy bank, FANCY THAT!! CGI is always in a deficit and yet they rake in millions of dollars a year to make that IMPOSSIBLE...once again..interesting isn't it, and NOT surprising!

how bout that libs, these are you fcukin' people, the NY Commie Times actually does some journalism for a change and does a story on the clintons and it happens to get hacked, hmmm interesting isn't it....



I remember my first Yum experiences in China fondly  About 20 years ago there was a Pizza Hut right above the Star Fery terminal in Hong Kong.  I still laugh at how the waitress told me that their "Yankee Pizza" featuring corn, green beans, and bacon was the favorite pizza in America.  Sadly, MOST of the good things about China that I loved 20+ years ago are now LONG gone! 
I also remember perhaps 7-8 years ago when a brand new Pizza Hut opened on Nanjing Road in Shanghai.  There were probably 20 customers there for dinner in perhaps 10 tables and booths... and perhaps 50 members of the wait staff lined-up for inspection upon arrival -- many were dressed inpeccably.  (At Pizza Hut?  This was a high-end western restaurant, after all!)  My group of 4 were the only westernors.  Frankly, the service was SO over the top that it was terrible.  Even after MANY visits to China over 20+ years, it gets VERY tiring having my coke re-filled just about after EVERY drink... and it got REALLY annoying having to remove the lemon that they INSISTED on adding to my glass every time!  LOL That said, it still made us laugh... and we enjoyed the experience.
Frankly, ANY company that gets 50% of its revenue from China is destined to have some TERRIBLE months and years!  China is built on smoke and mirrors.  I have been visiting there for business since LONG before most western people did so.  I have watched small villages grow from 1,000 people to 2,000,000, and cities of 100,000 grow to 10,000,000.  The result is that what made the nation great -- the spirit of the people -- has been destroyed.  Trust me when I say not to believe the hype!  One day soon the credit will hit the proverbial fan... and all of the high prices, high salaries, expensive property values, inferior infrastructure, and lousy build quality will come crashing down to reality.  (There is a reason why a lot of production is moving from China to the Phillipines, Thailand, Vietnam, Laos, and even back to Taiwan, the US, Europe, and Mexico!)  China became successful in the 90s because it could throw cheap labor and cheap factories at any problem... but land and labor are no longer cheap! 
AVOID this stock!   
Are you sure you want to delete this comment?
DATA PROVIDERS
Copyright © 2014 Microsoft. All rights reserved.
Fundamental company data and historical chart data provided by Morningstar Inc. Real-time index quotes and delayed quotes supplied by Morningstar Inc. Quotes delayed by up to 15 minutes, except where indicated otherwise. Fund summary, fund performance and dividend data provided by Morningstar Inc. Analyst recommendations provided by Zacks Investment Research. StockScouter data provided by Verus Analytics. IPO data provided by Hoover's Inc. Index membership data provided by Morningstar Inc.
ABOUT
Top Stocks provides analysis about the most noteworthy stocks in the market each day, combining some of the best content from around the MSN Money site and the rest of the Web.
Contributors include professional investors and journalists affiliated with MSN Money.
Follow us on Twitter @topstocksmsn.