A weak dollar and a weak yen
How long should these trends run?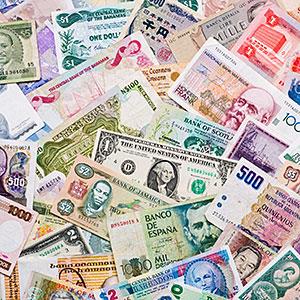 The Federal Reserve's decision not to begin tapering off its monthly $85 billion in purchases of Treasuries and mortgage-backed securities sent the dollar even lower against most global currencies. On Thursday,  the Dollar Index fell to a seven-month low. The dollar fell against the currencies of most U.S. trading partners -- except Japan. And it looks like the dollar will stay under pressure for at least the next few sessions.
The big question is, how long will this trend last. If you think it will run for a while, then you want to join in on the rally in emerging market stocks that has accompanied the rally in emerging market currencies such as the rupee and real.

If you think the run is getting a little over-extended -- the euro is, after all, at levels against the dollar that have marked resistance in the past BUT it has recently broken above resistance at $1.345 to close Thursday above $1.35 -- then this is a time to take some profits.
A lot will depend, in my opinion, on how big a scare Washington politics throws into global financial markets. I can't imagine overseas investors rushing to move into dollars in the face of rhetoric threatening a government shutdown and a default on U.S. debt. I'd say current trends could hold for a couple of weeks yet, but I wouldn't be rushing to add new positions that depend on dollar weakness right here.
The one currency that is running against the weak dollar tide is the Japanese yen. The yen initially climbed on the Fed's no-taper decision -- rising to 97.75 on the news -- but then fell all the way back to 99 yen to the dollar and finished Thursday at 99.42. (Remember that since the yen is quoted in yen to the dollar, a higher number is a sign of a weak yen and a smaller number means the yen is getting stronger.)

The thinking seems to be that the recent Japanese trade deficit will push the Bank of Japan to further weaken the yen, in order to boost Japanese exports. I continue to think  the yen will finish 2013 at weaker levels than current trading -- and that leads me to continue to hold positions in Japanese stocks such as Toyota Motor (TM) and Mitsubishi UFJ Financial Group (MTU). Both stocks are members of my Jubak's Picks portfolio.

Full disclosure: I don't own shares of any of the companies mentioned in this post in my personal portfolio. When in 2010 I started the mutual fund I manage, Jubak Global Equity Fund, I liquidated all my individual stock holdings and put the money into the fund. The fund did own shares of both Mitsubishi UFJ Financial and Toyota Motor as of the end of June. For a complete list of the fund's holdings as of the end of June see the fund's portfolio.
MSN Money on Twitter and Facebook
Like us on Facebook: MSN Money and Top Stocks
Follow us on Twitter: @msn_money and @topstocksmsn

Note to the USA and Japan...
You cannot PRINT your way to prosperity...    You cannot TAX your way to prosperity either....  Nor can you Borrow and Spend your way out of debt.   
Obamanomics is a complete failure.   Reinforcing failed policies will not turn around an economy.  Nor will socialist policies.
Only in America can you have a President and a Fed dead set on trashing the dollar, raising prices for consumers, decimating returns on savings and still have the nerve to call it "a recovery."
Bond market rout dead ahead.
Interest rates will need to rise to offset the debasing of the USD and additional risk of a central bank very capable of printing to infinity.
Thank God the right guy is in the WH.Stocks were down 37% with Bush and their up 90%
with Obama.People with brains are much better off with Obama.Of course, the sour puss
Republicans will lie,bellyache and cry, but we know they are still bitter about last years`
election.Like a 3 year old that doen`t get candy, they scream"Obama`s a socialist"Most
are too lazy to even look up the word.Bitterness s their motto.

Not rubbing it in, of course.  Who said this more than 3 years ago?  Not just me.  Where are all the liberals now that espoused such a magnificent job this "fool" in office is doing and laughing at the rest of us.  Just had to as they know that we know they are not to be "changed" in hope and promise. My buck is my buck and will get more out of it than "hoping and believing"....the dollar and yen debasement is continuing and will continue.....get a clue.  Japan owns more US treasuries than any nation.  Done.

Note to MirageGuy, the US and Japan have been taxing and printing their way to prosperity for literally Decades. It's the Foundation of ours and theirs Fiat based Money System. As is the growing Debt Levels. Reagan Tripled the National debt. Bush Doubled the National Debt with Obama on pace to do the same.

Obamanomics is effectively Reaganomics. Obama adapted some of the Failed polices of your boys and that's the very reason America has been in decline. Reinforcing failed right wing polices will not turn the economy around and they haven't. Well at least NOT  if you are the now Working Poor aka Middle-Class who by the way, are working harder while getting paid less. Meanwhile the SuperRich are having a field day at your expense. Workers are the real producers yet some are only happy if they are paid slave style wages. Either that or and ship everything overseas and pay them even less.

Socialist polices design to help only  the SuperRich aren't helping America nor the rest of the World. They didn't help under Reagan and they certainly have not helped under Obama.



Its an aging population thing, this type monetary policy involving the credit channels is weak because the older you are the more likely you pay straight up cash instead of use credit channels.  Japan has baby boomers just like the U.S.

Its fun to watch the currency trade, you can almost day trade currencies vs the Yen, there is enough daily arbitrage for it.


Are you sure you want to delete this comment?
DATA PROVIDERS
Copyright © 2014 Microsoft. All rights reserved.
Fundamental company data and historical chart data provided by Morningstar Inc. Real-time index quotes and delayed quotes supplied by Morningstar Inc. Quotes delayed by up to 15 minutes, except where indicated otherwise. Fund summary, fund performance and dividend data provided by Morningstar Inc. Analyst recommendations provided by Zacks Investment Research. StockScouter data provided by Verus Analytics. IPO data provided by Hoover's Inc. Index membership data provided by Morningstar Inc.
ABOUT
Top Stocks provides analysis about the most noteworthy stocks in the market each day, combining some of the best content from around the MSN Money site and the rest of the Web.
Contributors include professional investors and journalists affiliated with MSN Money.
Follow us on Twitter @topstocksmsn.