Alibaba IPO starts the clock for Yahoo chief
Marissa Mayer will face more intense scrutiny and higher expectations after Yahoo sells some of its stake in the hot Chinese company.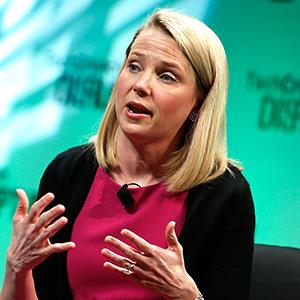 By Douglas MacMillan,
The Wall Street Journal
The clock is now ticking for Marissa Mayer.

Since she joined the Internet company nearly two years ago, the Yahoo (YHOO) chief executive has had more time than her predecessors to attempt one of the most unlikely turnarounds in the history of Silicon Valley. 
But revenue at the company is still flat, its share of the digital advertising market is dwindling and Ms. Mayer (pictured) has struggled to define a clear corporate vision.
Later this year, investors may lose patience, say analysts who follow the company.
Alibaba's expected fall IPO would force Yahoo to sell about 40 percent of its stake, prompting investors to reassess the true value of its business. Many analysts believe Yahoo's $35 billion market capitalization is mostly made up of its stakes in Alibaba and Yahoo Japan. 
Despite ranking second to Google (GOOG) in Web and mobile traffic, according to researcher comScore (SCOR), "the financial turnaround hasn't materialized," said Jordan Rohan, an analyst at Stifel Nicolaus & Co. "Yahoo's core franchise may be a slowly melting iceberg."'
Yahoo declined to make Ms. Mayer available to comment.
For a turnaround to get going, Yahoo needs a new revenue growth engine, said Mr. Rohan and others. Yet instead of focusing on one emerging area, Ms. Mayer has spread the company's resources across a dizzying array of businesses to refresh its engineering talent and to add more users.
The CEO has invested more than $1.2 billion on three-dozen small acquisitions, ranging from an e-commerce analytics tool to a Web browser to an image-recognition company. She hired celebrity journalists and touted plans to produce two original comedy series with star talent to fashion Yahoo into a next-generation media company. And she has renewed an emphasis on search and talked up efforts in mobile software.
When asked to describe her vision for Yahoo, Ms. Mayer has variously called it a "daily habits" company, a "personalization company," and a search engine where "you become the query." Some analysts say Yahoo can't shake off its identity as an Internet portal -- a patchwork of websites and apps driven by advertising.
Ms. Mayer has warned investors her priority is building a large audience of users, not selling ads. She has made modest gains: Recent revamps of popular sites like Yahoo Finance and Yahoo's home page helped boost desktop and mobile traffic to an all-time high of 229 million unique U.S. visitors in March, up 2.7 percent from a year earlier, according to comScore.
Those efforts have yet to pay off. In the first quarter, Yahoo's ad sales minus commissions were $853 million, up 2 percent from two years ago. In contrast, Google's ad revenue rose 38 percent while Facebook's (FB) has more than doubled ad sales in the same period. The latter have a combined 38 percent of the global digital advertising market, while Yahoo's market share has fallen to 3 percent, estimates researcher eMarketer Inc. Yahoo's total revenue last quarter fell 1 percent to $1.13 billion and earnings slipped 20 percent to $311.6 million, both over a year earlier.
And yet Yahoo's stock has more than doubled in the two-year period mostly because of its 22.6 percent stake in Alibaba Group Holding Ltd. Its shares closed down 15 cents at $33.92 on Thursday and fell another 5 cents by midday on Friday.
"Yes, things should always move faster" said Adam Cahan, head of mobile at Yahoo. "But as a company, we're starting to see the results of our work. There is naturally a lag time between hiring the team, creating the products, scaling them, getting users engaged with them and then monetizing."
Ms. Mayer has yet to show she can buy her way to growth. Her biggest deal, to acquire Tumblr for $1.1 billion in 2013, has begun to lose visitors, from a peak of 49 million in December, to 42 million in March, according to comScore. 
The blogging platform has yet to generate any meaningful revenue, as advertisers haven't figured out how best to sell ads on its pages, said Gian LaVecchia, managing partner at ad agency MEC Global.
"It's not a must for many brands yet," Mr. LaVecchia said. "When Yahoo bought it you worried that Tumblr would lose its swagger and it definitely has."
User growth will be meaningless if Yahoo can't improve its relationship with marketers, which has been strained under Ms. Mayer. In January, she fired her operating chief and top executive, Henrique de Castro, after the pair clashed on numerous occasions, according to a person familiar with the situation. Now, the top ad executive is former AOL (AOL) executive Ned Brody. "I need to get all the marketers to start using our products so they can understand them to a better extent," Mr. Brody said in April.
Part of the challenge is that advertiser demand for the premium, higher-priced banner ads that Yahoo specializes in is waning. In their place are newer methods of targeting individual Web surfers using algorithms of the type that Google and Facebook increasingly dominate.
Ms. Mayer hasn't detailed how she plans to use the IPO cash, telling investors only that the company plans to be "good stewards of capital" and continue making strategic and "tuck-in" acquisitions. If she plans to reinvigorate growth through deals, the Alibaba cash may be her last chance. Analysts expect Yahoo to receive about $10 billion after taxes. Added with its $1.7 billion in net cash at the end of March, Yahoo would have close to $12 billion to spend.
A big acquisition that could bolster Yahoo's revenue and expand its audience would be AOL, said Colin Gillis, an analyst at BGC Partners. The fellow Internet pioneer has about twice the video traffic as Yahoo and a large network of content and advertising. AOL's ad revenue rose 14 percent last year to $1.6 billion. And with AOL's market value earlier this week dropping to below $3 billion, "the deal size is about right" for Yahoo, Mr. Gillis estimated.
A spokesman for AOL declined to comment on the potential for a takeover.
Another area of focus for Ms. Mayer is search, a technology she helped pioneer as one of Google's earliest employees. Though Yahoo relies on Microsoft (MSFT) to power its search results, the company has hundreds of employees developing new tools for viewing those results and has struck deals to add extra content from partners, such as business reviews from Yelp (YELP). Ms. Mayer has attempted to end the search pact with Microsoft before it comes up for renegotiation in 2015, possibly with the goal of allying with Google. (Microsoft owns and publishes Top Stocks, an MSN Money site.)
Search ads account for more than 40 percent of Yahoo's revenue. This reliance on search presents risk, as more users gravitate toward mobile devices, where Google and Apple (AAPL) control the operating systems and can direct users to search engines. Yahoo recently halted development of a mobile app focused on search in favor of building better search capabilities within its existing apps, according to a person familiar with the plans.
Ms. Mayer may need to work quickly before the Alibaba IPO. Yahoo's shares may dip as some investors shift and take a position directly in the Chinese e-commerce site.
"There will probably be a churn in the investor base," said Sameet Sinha, an analyst at investment bank B. Riley & Co. "Because what's left with Yahoo is a non-growing asset with a question about value."
—Katherine Rosman and Mike Shields contributed to this article.
More from The Wall Street Journal

She's a overpaid Fraud who overpaid another Fraud and Friend from Google. That alone should have been the Day she got her Exit Papers. Instead, Yahoo will eventually give her a Golden Parachute for doing absolutely Nothing Right. Yahoo's stake in Alibaba had nothing to do with her. Even with all the proceeds from their once 40% stake which is now down to around 24%, all she has proven is that she isn't up to the Job. This revolving Door of overpaid CEO types is pathetic.

Are you sure you want to delete this comment?
DATA PROVIDERS
Copyright © 2014 Microsoft. All rights reserved.
Fundamental company data and historical chart data provided by Morningstar Inc. Real-time index quotes and delayed quotes supplied by Morningstar Inc. Quotes delayed by up to 15 minutes, except where indicated otherwise. Fund summary, fund performance and dividend data provided by Morningstar Inc. Analyst recommendations provided by Zacks Investment Research. StockScouter data provided by Verus Analytics. IPO data provided by Hoover's Inc. Index membership data provided by Morningstar Inc.
ABOUT
Top Stocks provides analysis about the most noteworthy stocks in the market each day, combining some of the best content from around the MSN Money site and the rest of the Web.
Contributors include professional investors and journalists affiliated with MSN Money.
Follow us on Twitter @topstocksmsn.