Amazon tests its own delivery network
Delivering packages will give the company, stung by shipping delays last Christmas, more control over the shopping experience.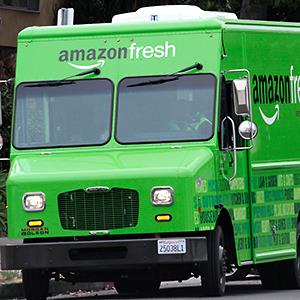 By Greg Bensinger and Laura Stevens,
The Wall Street Journal
The future of Amazon (AMZN) is hiding in plain sight in a San Francisco parking lot.

There, adjacent to recently closed Candlestick Park, Amazon is testing its own delivery network for "the last mile," the final leg of a package's journey to consumers' doorsteps. 
Trucks loaded with Amazon packages and driven by Amazon-supervised contractors leave this parking lot for homes and offices around San Francisco. Similar efforts are under way in Los Angeles and New York.
Delivering its own packages will give Amazon, stung by shipping delays last Christmas, more control over the shopping experience. The retailer will gain flexibility regarding when packages are delivered and help in containing shipping expenses, which grew 29 percent last year. As a percentage of sales, Amazon's shipping costs have grown each year since 2009, according to securities filings.
Just as important, the new delivery efforts will get Amazon closer to a holy grail of e-commerce: Delivering goods the same day they are purchased, offering shoppers one less reason to go to physical stores. With its own trucks, Amazon could offer deliveries late at night, or at more specific times.
The move is a shot across the bow of United Parcel Service (UPS), FedEx Corp. (FDX) and the U.S. Postal Service, which now deliver the overwhelming majority of Amazon packages. It is also a challenge to arch-rival Wal-Mart Stores Inc. (WMT), eBay (EBAY) and Google (GOOG), each of which is testing deliveries.
Ultimately, a delivery network could transform Amazon from an online retailer into a full-service logistics company that delivers packages for others, according to former Amazon executives. They caution that any such effort likely is years away.
Delivery is a big step in Amazon's seemingly limitless ambition. Not content to be the world's largest Internet retailer, Amazon has branched into original video programming, set-top boxes for streaming video, and soon, smartphones, among other things. (Read a preview of Amazon's quarterly earnings, due out after market's close Thursday.)
It is far from clear that Amazon will achieve its goals. UPS, founded in 1907, has a head start of more than a century. Industry observers say it will be difficult for Amazon to match the efficiency of UPS or FedEx in more than a handful of U.S. markets, simply because it will be delivering fewer packages over a wider area.
Amazon quietly began rolling out the delivery network in the U.S. late last year, in packages labeled "AMZL" and "AMZN_US." Customer-service representatives and former employees say those codes designate Amazon's in-house delivery network. Customers who've received the packages said they appear to use a different tracking process, with no links to an outside shipper.
Next up for Amazon is Treasure Island, a man-made spit of land in San Francisco Bay. Amazon is reviewing a lease for a site on the island to house trailers and delivery trucks, according to a person familiar with the matter. From there, Amazon would dispatch delivery trucks into San Francisco, likely late at night and early in the morning when traffic is lighter and fewer island residents would be disturbed, this person said.
Amazon offered a peek at the delivery network in a recent job posting on its website.
"Amazon is growing at a faster speed than UPS and FedEx, who are responsible for shipping the majority of our packages," the posting reads. "At this rate Amazon cannot continue to rely solely on the solutions provided through traditional logistics providers. To do so will limit our growth, increase costs and impede innovation in delivery capabilities."
"Last Mile is the solution to this. It is a program which is going to revolutionize how shipments are delivered to millions of customers."
As a prelude to the U.S. moves, Amazon has been testing a delivery network in the U.K. "We've created our own fast, last-mile delivery networks in the U.K., where commercial carriers couldn't support our peak volumes," Bezos said in his annual letter to shareholders earlier this month. "There is more invention to come."
Typically using small couriers, Amazon delivers packages under the "Amazon Logistics" moniker and recently acquired an option to invest in Yodel, a U.K.-based parcel-delivery service. Dave Clark, Amazon's vice president for world-wide operations, said in November that Amazon would use its own trucks to make Sunday deliveries in London.
Amazon declined to comment.
At San Francisco's Candlestick Park, formerly home to the NFL's 49ers, Ryder trucks are scattered around the parking lot, amid rows of bright green AmazonFresh trucks for Amazon's same-day grocery-delivery service. Trailers arrive each morning, and their contents are then transferred to vans or trucks for deliveries in and around San Francisco, said one person familiar with the operation.
The precise logistics between Amazon warehouses and the "Last Mile" logistics hubs couldn't be learned and the company doesn't discuss those specifics.
The exchange cuts out larger carriers. Typically, Amazon packages are trucked from a distribution center to large hubs operated by FedEx, UPS or a smaller regional carrier. Those companies either deliver the merchandise themselves or hand it off to the Postal Service for the last mile. Last fall, Amazon said it would use the Postal Service to begin Sunday deliveries in the U.S.
Planning for the delivery network began several years ago, but the project took on added urgency last winter after UPS and FedEx failed to deliver Amazon packages to some customers by Christmas, according to two people familiar with the matter. Amazon blamed the carriers, but offered $20 credits to many affected customers.
"What happened during Christmas cost a huge amount of money" for Amazon, UPS and FedEx, said Marc Wulfraat, president of logistics consulting firm MWPVL International, which tracks Amazon closely but isn't working with the retailer.
If Amazon expands its delivery network, it would likely rely initially on cheaper, more flexible regional carriers -- such as the East Coast's LaserShip Inc. and the West Coast's OnTrac -- as well as the Postal Service for deliveries, according to supply-chain experts and logistics consultants. That would affect package volumes at UPS and FedEx, potentially hurting their efficiency. LaserShip and OnTrac declined to comment.
Sanford C. Bernstein & Co. analysts estimate that Amazon shipped about 608 million U.S. packages in 2013. The Postal Service handled 35 percent, UPS 30 percent, regional shippers 18 percent and FedEx about 17 percent. The distribution hasn't changed much in recent years.
UPS and FedEx ground rates on average have increased 3 percent to 5 percent annually in the past five years, an incentive for Amazon to develop its own delivery service, industry observers say. Amazon cited rising shipping costs in boosting the price of its Prime unlimited two-day shipping membership in the U.S. by $20, or 25 percent, earlier this year.
Amazon typically pays between about $2 and $8 to ship each package, according to shipping-industry analysts, with the cheapest option through the Postal Service and the most expensive via UPS or FedEx.
Amazon shipments should account for less than 1 percent of revenue for both FedEx and UPS, said Jack Atkins, an airfreight and logistics analyst at Stephens Inc. That suggests Amazon's delivery network would have a limited effect on the shippers' profits, at least initially.
FedEx Chief Executive Fred Smith in December said that Amazon "can unquestionably do local deliveries should they choose to do so." But he said the vast majority of packages would continue to be moved by FedEx, UPS and the Postal Service. A FedEx spokesman declined to comment further.
A UPS spokesman declined to comment on a specific customer.
Amazon's in-house delivery efforts have experienced hiccups. Online forums in the U.K. are rife with customers reporting missed, late or inaccurate deliveries. Several packages shipped to The Wall Street Journal's San Francisco office assigned to "Amazon Logistics" arrived several days after their guaranteed delivery dates. Customer-service representatives said that because the division is new, it is more difficult to track packages.
David Steigman, a focus group recruiter in San Francisco, said two recent orders of DVDs like "The Hobbit" with tracking information for "AMZN_US" repeatedly missed Amazon's own delivery deadlines.
"After the first time, I asked them not to ship me anything using that service, but they did it again anyway" said Steigman. "I don't want to be Amazon's test market for their new shipping idea -- that's not what I am paying for."
More from The Wall Street Journal

Amazon has revolutionized how I shop...and delivery has never been a problem thus far. I can't begin to describe how it has freed me from driving around to various stores on an already tight schedule to get necessities. There is almost nothing that I don't check for availability at Amazon first before buying. (Recently bought an IPod Touch in a color I couldn't find anywhere else and with the larger memory and free shipping! What's not to love!) On occasion I have not found what I was looking for on Amazon or the price was higher but that is a rare occurrence. I've bought food even from Amazon, something that I love but could no longer find in stores and at an amazing price right to my door! (I can't wait till they offer groceries!) Their customer service is beyond compare! I have had callbacks from Amazon to be sure everything was resolved to my satisfaction! (/Name a retailer that does that!) I haven't shopped Best Buy for years after enduring years of lousy customer service, long lines, out of stock items and the rudest returns staff and policy in the industry. They lost me as a customer all on their own, Amazon had nothing to do with it. But Amazon did fill the gap beautifully! It's only a matter of time till they take on and excel at the delivery side of it too! 

Are you sure you want to delete this comment?
DATA PROVIDERS
Copyright © 2014 Microsoft. All rights reserved.
Fundamental company data and historical chart data provided by Morningstar Inc. Real-time index quotes and delayed quotes supplied by Morningstar Inc. Quotes delayed by up to 15 minutes, except where indicated otherwise. Fund summary, fund performance and dividend data provided by Morningstar Inc. Analyst recommendations provided by Zacks Investment Research. StockScouter data provided by Verus Analytics. IPO data provided by Hoover's Inc. Index membership data provided by Morningstar Inc.
ABOUT
Top Stocks provides analysis about the most noteworthy stocks in the market each day, combining some of the best content from around the MSN Money site and the rest of the Web.
Contributors include professional investors and journalists affiliated with MSN Money.
Follow us on Twitter @topstocksmsn.