Apple expands reach into lucrative office sector
Employees are demanding to use iPhones and iPads for work. The iPhone is 'the tip of the spear,' one software executive says.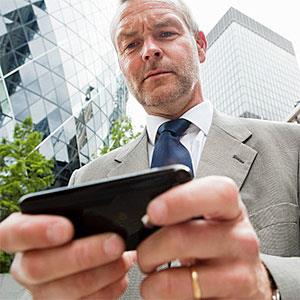 By Daisuke Wakabayashi

As technology shifts from personal computers to smartphones and tablets, Apple (AAPL) is expanding its reach into a lucrative customer base: companies.
The popularity of the iPhone and iPad among employees is prompting corporate tech managers to rewrite policies and change traditional buying patterns. The iPhone has replaced the BlackBerry as the mobile phone of choice, as the iPad assumes tasks once reserved for PCs.
Apple won about 8% of global business and government spending on computers and tablets in 2012, Forrester Research says, up from 1% in 2009. By 2015, Forrester estimates that figure will climb to 11%. The numbers exclude the iPhone, which may be the most widely purchased Apple product by corporate customers. It is often Apple's gateway into a business.
LG&E and KU Energy LLC, Kentucky's biggest electric utility, shows how Apple gains a foothold inside companies, and then expands its reach.
The utility, a subsidiary of PPL Corp. (PPL), approved the iPhone for employees in 2010. It then introduced iPads, and built apps such as one to help its helicopter patrollers survey 5,500 miles of high-voltage power lines. Using an iPad's global-positioning system, patrollers can pinpoint the location of a problem and select from a menu of common issues, such as a damaged pole or an overgrown tree.
"For years, we looked for some way to automate this and we heard all sorts of fairy tales, but we could never find anything," said Robby Trimble, LG&E and KU's manager of transmission-line services.
Now, the utility's engineers who run power plants use iPads to record how much electricity is generated. Warehouse managers use the tablet to scan bar codes and track the utility's tools and materials.
"People start with the iPhone. It's the tip of the spear," said Chip Pearson, chief executive of JAMF Software LLC, which helps businesses deploy Apple products. JAMF says its software manages five times as many as Apple phones, tablets and computers as three years ago.
At multinational firms like network-equipment giant Cisco Systems (CSCO), Apple is going mainstream. Cisco in 2009 adopted a "bring your own device" policy under which employees purchase their own phones and tablets, with Cisco paying the wireless bill in certain instances. Now, iPhones and iPads account for nearly three-fourths of the 70,000-plus mobile devices supported by Cisco's tech department.
Apple laptops spread quickly after Cisco gave employees the option to switch from Windows-based laptops. Today, one-fourth of Cisco's company-provided laptops -- roughly 35,000 -- are Apple MacBooks. 
Macs cost more than PCs, a hurdle for Apple in the past. After taking into account factors like maintenance and support, Sheila Jordan, a Cisco senior vice president, said the costs end up about even over the life of the machine.
For years, Apple devices weren't very practical inside companies, because many business applications were written only for Windows. The spread of Web-based software helps overcome such limitations. Cisco provides software to its Mac users that lets them tap Windows programs.
The rise of apps also works in Apple's favor. Cisco recently opened its own app store for employees, featuring nearly 60 programs for instant messaging, logging vacation days, and Web conferencing through a phone or a tablet.
Traditional makers of business software are making versions of their products for phones and tablets. Salesforce.com Inc., which offers its software to manage customer relationships over the Internet, says most of its apps are being downloaded to Apple devices.
Rival SAP AG (SAP) says its apps allow iPhone and iPad users to accomplish most of the tasks they can handle with its desktop applications. The apps span from customer relationship management, or CRM, software used heavily by sales staff, to programs that allow managers to approve expenses or vacation days.
Michael Golz, chief information officer for SAP Americas, says the company increasingly approaches its products from the perspective of "why wouldn't we do this mobile-first?" SAP is also a big user of Apple products, deploying about 27,000 iPhones and 25,000 iPads to its employees globally.
Apple historically made little effort to sell to businesses. Under Chief Executive Tim Cook, however, Apple is quietly moving to appeal to corporate tech managers, by making it easier to link iPhones and iPads to corporate email systems, and to better protect corporate data. In the latest example, the new Mac operating system Mavericks includes enhanced security and data-encryption technology aimed at corporate customers. The efforts are magnified by the growing appeal of Apple products.
When business apps are offered on phones or tablets, they are overwhelmingly on Apple devices. More than 90% of all business apps were deployed on Apple's iOS mobile-operating system in the third quarter, according to Good Technology, which provides mobile-security software and tracks mobile-device use by more than 5,000 corporate customers.
Competition is coming, however. Analysts and developers say Google's (GOOG) Android operating system is making some inroads, in part because the broad range of manufacturers creating devices for Android allows for more choice in prices and specifications such as screen size or processor speed.
But Apple's success in the corporate world can also create more challenges: Not many technology companies have successfully struck the balance of being both an enterprise and consumer brand.
Retail is another key niche for Apple devices. Nordstrom (JWN) has deployed more than 24,000 iPads and iPod Touch units at its 261 stores, replacing some point-of-sale machines. At Urban Outfitters (URBN), sales staff use customized iPod Touch devices to check out customers, handle returns and order out-of-stock products to be shipped to a shopper's home.
Urban Outfitters has deployed more than 1,000 iPod Touch units at its U.S. stores, including its Anthropologie outlets.
Alex and Ani, a Cranston, R.I., jewelry chain known for its bangle bracelets, late in 2012 replaced laptops running a Web-based payment system with a custom-made app for the iPod Touch inside a special "sled" that houses the device. 
Employees at Alex and Ani's 37 stores use the app to print out receipts, scan bar codes and look up customer information. The app also connects with the company's business software to keep track of inventory.
In the busy days before Mother's Day 2012, shoppers waited up to an hour at its flagship Cranston outlet, said Joe Lezon, the company's chief technology officer. After deploying the Apple devices, the wait times on Mother's Day this year dropped to less than 10 minutes even as same-store revenue doubled, Lezon said.
More from The Wall Street Journal
Republicans reduce their workforce!
Republicans reduce employee wages!
Republicans outsource jobs!
Republicans eliminate pensions and benefits!
Republicans want to eliminate Social Security, Medicare, Medicaid and Snap!
Republicans want to end Unemployment benefits, thus forcing more people on Welfare, which they want to eliminate!
Republicans want to destroy Unions and enforce "Right to Fire" states.
Republicans want Corporate Fascism and an Oligarchy to rule the land!
Republicans worship money and obscene profits above all else!
Republicans want your vote to make all these things a reality!

Is it any wonder why Republicans are losing and becoming extinct?

Mainstream Americans will not allow Republicans to destroy America!

God bless America!
So... you are a corporate executive well-aware that at-best, you are getting 20 minutes of focused productivity a day out of your mainly techno-adept personnel. Apple wants you to buy more handheld toys and further reduce productivity. Wouldn't it be better if Apple just lined the streets with machines and drew users out of offices? That way, real people could replace them and do real work that revives our economy. Apple is a cancer.


What has eliminated and reduced most of the benefits, wages and jobs and the ability of the government to tax successful businesses is probably no further than what's in your driveway, on your TV stand, computer you type on, plates you eat off, utensils you use to do so, clothes on your back, shoes on your feet, need I go on? The fact of the matter is it is US the people who live in this country at fault. We habve embraced foreign goods made in countries that we simply cannot compete against, we all cost to much as labor property taxs are too high, basic services are too expensive and health care is out of control. This has taken DECADES and now we are seeing the true price of a free market that we cannot compete in yet give easy entry to others. Such is the cross we carry being the reserve currency for the world, our currency is easily maniputated against for the betterment of countries exporting to us. All industries and markets that were developed by us and now exploited by competitiors to our detriment. If a country has a 20% cost advantage of course they can build better stuff and sell at the same price or build the equivalent for less.
Dems and Republicans do NOTHING against this slide so we must make choices where we still to support out own.
Are you sure you want to delete this comment?
DATA PROVIDERS
Copyright © 2014 Microsoft. All rights reserved.
Fundamental company data and historical chart data provided by Morningstar Inc. Real-time index quotes and delayed quotes supplied by Morningstar Inc. Quotes delayed by up to 15 minutes, except where indicated otherwise. Fund summary, fund performance and dividend data provided by Morningstar Inc. Analyst recommendations provided by Zacks Investment Research. StockScouter data provided by Verus Analytics. IPO data provided by Hoover's Inc. Index membership data provided by Morningstar Inc.
ABOUT
Top Stocks provides analysis about the most noteworthy stocks in the market each day, combining some of the best content from around the MSN Money site and the rest of the Web.
Contributors include professional investors and journalists affiliated with MSN Money.
Follow us on Twitter @topstocksmsn.