As tech stocks drop, remember the last bust
Fifteen years ago, the biggest and most insane valuations actually belonged to the biggest and most sane companies.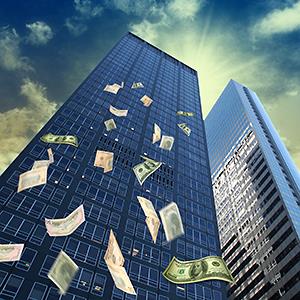 How did it happen?
How did the market come to scorn what it loved so much? Why did the momentum names begin to peak in February and begin their monumental rollover? How did the utilities, real estate investment trusts and packaged goods stocks ascend at the same time the economic climate improved? How have the industrials remained strong despite a bond market that signals a decline in economic activity that is so needed for their earnings to improve?

Are they all of the same piece?
Right now we are in the grips of a true collapse of the momentum stocks, where it seems like there is no floor for them.
At the same time, there appears to be no price the market won't pay for utilities. The consumer products stories go higher, depending upon their dividends and the bond market machinations. The traditional or classic growth stocks, typically valued on earnings per share, not dividends, are struggling and seem to be aimless. The industrials are case by case, with the winners, those that beat top and bottom lines, going higher, those that beat only one treading water, and those that fail to do both just collapsing to where their yield support might be.
Let's take them one at a time.
First, the momentums stocks, because they are the most under attack. You need to know the history of these stocks because it is very similar to what happened in the period leading up to the Nasdaq collapse in mid-March 2000. Not long after the crash, I examined the stocks that had been the most expensive stocks of the era. I called them Red Hots because they were red-hot momentum stocks that were going to beat the averages for you. Always remember that stocks, in the end, are just vehicles to beat the benchmark. At the time, the Nasdaq was pretty much the only game in town. If you weren't beating the S&P, you stood a very good chance of having the money taken away.
There was a prolonged period, beginning in 1998, when the highest fliers took off. But things didn't start to go nuts by traditional metrics until August 1999. Take this stroll down memory lane with some of the more prominent and, yes, profitable, momentum stocks of the era. In just a year, Ariba went from a $6 billion market capitalization to $35 billion in 2000, before bottoming at $358 million in 2002. Brocade (BRCD) ran from $7 billion to $25 billion and then back to $1.5 billion in 2002. Broadcom (BRCM) was $5 billion to $59 billion and then back to $4 billion in 2002, JDS Uniphase (JDSU) $5 billion to $114 billion and then to $3 billion in 2002, Juniper (JNPR) from $17 billion in 1999 to $40 billion in 2000 to $2.5 billion in 2002, QLogic (QLGC) from $1 billion to $12 billion and then back to $4 billion in 2002. Others had somewhat similar trajectories but took off earlier:Qualcomm (QCOM) went from $3 billion in 1998 to $54 billion in 2000 to $22 billion in 2002. VeriSign (VRSN) went from $1 billion in 1998 to $19 billion in 1999, before falling to $1.9 billion in 2002.
Many of these moves were breathtaking. In one six-month period, beginning in August 1999, Ariba rallied by 296 percent, Brocade 222 percent, Broadcom, 215 percent, JDSU 399 percent, Juniper 292 percent, Qlogic 259 percent and VeriSign 380 percent. During the same period, the S&P advanced by 3 percent. You simply had to chase performance or be crushed.
Now there were other, more egregious, nonprofitable ones that come to mind from that bizarre era. InfoSpace went from $800 million in 1998 to $15 billion in 1999 before crashing to $261 million in 2002, CMGI $1.5 billion in 1998, $11 billion in 2000 and then $161 million in 2002, ICG Group (ICGE), which wasn't public in 1998, went to $44 billion in 1999 and then $100 million in 2002. Webvan, which wasn't public in 1998, rose to $5 billion in 1999 and then crashed to nothingness with a pit stop at $200 million in 2000.
But what people forget when they get all hot under the collar about momentum tech's valuations now is that the biggest and most insane valuations actually belong to the biggest and most sane companies. Consider these. Microsoft (MSFT) went from $152 billion in 1997 to $476 billion in 1999 to $199 billion 10 years later. Intel (INTC) went from $115 billion in 1997 to $277 billion in 1999 to $78 billion nine years later, and Cisco (CSCO), $53 billion in 1997, $448 billion in 2000 and $86 billion in 2002.
In other words, don't blame the Red Hots for the wild overvaluation. But also keep in mind that while the Nasdaq ultimately brought down the S&P, it was the overvalued large tech portion of the S&P that was the true undoing, not the packaged goods, drugs or financials.
Jim Cramer's Action Alerts Plus: Check out this charitable trust portfolio for the stocks Cramer thinks could be winners.
More from TheStreet
DATA PROVIDERS
Copyright © 2014 Microsoft. All rights reserved.
Fundamental company data and historical chart data provided by Morningstar Inc. Real-time index quotes and delayed quotes supplied by Morningstar Inc. Quotes delayed by up to 15 minutes, except where indicated otherwise. Fund summary, fund performance and dividend data provided by Morningstar Inc. Analyst recommendations provided by Zacks Investment Research. StockScouter data provided by Verus Analytics. IPO data provided by Hoover's Inc. Index membership data provided by Morningstar Inc.
ABOUT
Top Stocks provides analysis about the most noteworthy stocks in the market each day, combining some of the best content from around the MSN Money site and the rest of the Web.
Contributors include professional investors and journalists affiliated with MSN Money.
Follow us on Twitter @topstocksmsn.