Beware of the hype around Apple and Adobe
The news regarding these 2 tech giants is not that good.
Two tech bellwethers are in the news Wednesday. These companies have historically been rivals and at odds with each other, especially when Steve Jobs was at the helm of one of them. Each moved higher Wednesday, based on news that carries with it some concern.

The companies I am speaking about are Apple (AAPL) and Adobe Systems (ADBE), and anyone who knows the history of these companies understands the references I have made above, but this article is not about the rivalry that Apple has had with flash products in the past. Instead, this article takes a look at each company individually, the news that is driving them, but then adds in a more important technical look at each one of these companies -- to reveal actual trading plans for investors who are concerned about price.

Ultimately, price is all that matters when it comes to making money in the stock market, but the news that drives stocks from day to day often distorts what otherwise are clear technical patterns.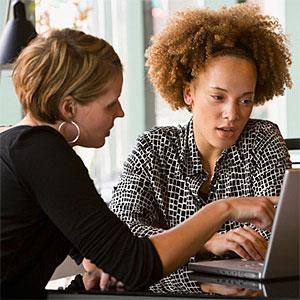 News from Adobe about increased subscriber growth is driving the stock higher aggressively. Previously, Adobe products were expensive one-time purchases with expensive upgrades, but because Adobe offers some of the best Web design products available in the world, designers and web developers were willing to pay the price. 

With the introduction of the cloud, Adobe is now offering its suite of products for a monthly fee, a recurring subscription -- and from a business model perspective this is a very healthy decision. If the economy comes under pressure again, subscribers to the Adobe suite will be much more willing to pay a small monthly fee rather than a large one-time upgrade, but more importantly recurring subscriptions allows Adobe to define revenue and income quite clearly.
The problem exists with the complexity of Adobe's products. The lower price points for the cloud computing products are driving revenue and earnings lower at Adobe even though subscriber growth for the cloud suite has increased aggressively. One could argue that these lower priced products can attract a completely different demographic, not just designers and Web developers, and that gives Adobe the opportunity to make substantially more than it has before, but there's still a major hurdle to overcome.
In order to attract a broader demographic Adobe will need to make its products more intuitive, because right now they are far too complex even for people who are already extremely competent computer users. Adobe must make its products easier to use or the business model it has transitioned to will fail to grow and the company will be constrained to stabilizing revenue and income instead. The tradeoff is growth, and in order to grow the products must be easier to use.
Trading report for Adobe: The spike higher in shares of Adobe on Wednesday has put the stock within striking distance of longer term resistance as that is defined in the real time trading report offered by Stock Traders Daily. 

By rule, we sell at resistance -- and if resistance levels hold we consider shorting stocks as well.  Based on price, Adobe therefore looks much more like a sell than a buy at current levels, and if resistance levels remain intact a natural progression lower to support should be expected, but resistance has not been tested yet today.  This should be monitored closely.
Without any relation to news offered by Adobe, Apple Computer is also increasing aggressively on what seems like equally concerning news.  For the first time in my recent memory. Apple has failed to brag about that pre-order sales for their new iPhone. 

Domestically, the new iPhone seems to be a flop, and if there was a huge demand we would hear about it from Apple. If buyers were lining up at the stores we would see it on the news, but those days are over and the demand for the new phone is not what it was for previous versions.
However, the stock is increasing because the focus of the company is shifting to emerging markets, and although margins will be tighter there is the possibility of offsetting lost domestic revenue with that from emerging markets, but clearly there is a transition and we are yet to see if that transition actually amounts to the growth Apple has demonstrated in the past.
Trading report for Apple: according to the trading report offered by Stock Traders Daily for Apple, the company has already tested longer term resistance and Apple has already begun to pull back. 

The stock is already on its way down towards longer term support levels and therefore we would not be buyers of Apple.  At the same time, we would not be shorting the stock, but we would expect the stock to continue to decline so long as resistance levels remain intact. 

The best time to short is at resistance, and the stock has already pulled back from there, and we buy at support naturally.  Only when support levels are tested will Apple become a buy again according to our report, so at this time Apple is at a void.
MSN Money on Twitter and Facebook
Like us on Facebook: MSN Money and Top Stocks
Follow us on Twitter: @msn_money and @topstocksmsn

Soo who are you guys and who gave you any credibility to get on the cheap shot train regarding Apple. You are beyond irrelevant and need to go away before you embarrass yourselves any further. To make assumptions you are certainly not an a position to make, just makes you all look self serving.
I have a position in Apple and have for a long time and the only thing I see for sure, is that they make an enormous amount of money period. lIke them or hate them, that is a fact.
Are you sure you want to delete this comment?
DATA PROVIDERS
Copyright © 2014 Microsoft. All rights reserved.
Fundamental company data and historical chart data provided by Morningstar Inc. Real-time index quotes and delayed quotes supplied by Morningstar Inc. Quotes delayed by up to 15 minutes, except where indicated otherwise. Fund summary, fund performance and dividend data provided by Morningstar Inc. Analyst recommendations provided by Zacks Investment Research. StockScouter data provided by Verus Analytics. IPO data provided by Hoover's Inc. Index membership data provided by Morningstar Inc.
ABOUT
Top Stocks provides analysis about the most noteworthy stocks in the market each day, combining some of the best content from around the MSN Money site and the rest of the Web.
Contributors include professional investors and journalists affiliated with MSN Money.
Follow us on Twitter @topstocksmsn.