Labor leaders regroup after defeat in Tennessee
Union bosses are gathering in Houston to talk strategy after getting pummeled by Volkswagen workers last week.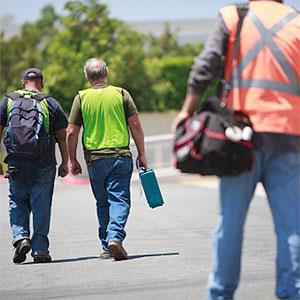 By Melanie Trottman,
The Wall Street Journal

Labor leaders are gathering in Houston this week to plot out their strategy for the year, but much of their focus will be almost 700 miles away, in Chattanooga, Tenn., where workers on Friday rejected the United Auto Workers attempt to organize under the union's label at a Volkswagen (VLKAY) plant.
Union leaders over the weekend voiced outrage about an anti-union campaign led by Republican Sen. Bob Corker, other Tennessee Republicans, and conservative lobbyists, blaming them for the defeat. But labor officials will also be looking inward over the next few days to consider whether their strategies need fine-tuning.
"The UAW, and the labor movement as a whole, is going to have to assess what happened [in Chattanooga] and use it as a learning experience for the future," said Josh Goldstein, a spokesman for the AFL-CIO, the nation's largest federation of unions, whose executive council is gathering in Texas.
So far, the unions' reaction to the defeat has been to fight back. AFL-CIO President Richard Trumka said in a statement that, "the ferocity of the anti-union forces only reinforces the fact that there is a powerful new form of organizing emerging." The Communications Workers of America issued a statement Sunday saying "Chattanooga is the new Madison, Wisconsin," referring to the bruising battle in that state with Republican Gov. Scott Walker a few years ago that led to the loss of collective-bargainin​g rights for many public employees there.
The question is how labor will wage that fight. Some organized labor experts and affiliates say an important part of the unions' strategy will be deciding how it can counter the outside forces with some political clout of its own in the South -- and whether it needs to make those political inroads before it undertakes new major organizing attempts.
"Our voters, whether they're in unions or not, are growing in the South and Southwest," said former California AFL-CIO official Amy Dean, referring to people who labor expects would support union-backed issues and candidates at the polls. Ms. Dean, who runs her own consulting business and works with labor groups on strategy, cited a growing immigrant community in the South as one example.
Deeper political ties in the South would provide important inroads for labor, as many workers and their families have had little to no exposure to labor unions. Texas had about one-fourth as many union members as New York did last year, despite having 2.7 million more wage and salary employees, according to the Labor Department's Bureau of Labor Statistics.
And while all the states in the Middle Atlantic and Pacific divisions of the U.S. had union-membership rates above the national average of 11.3% of workers last year, states in the East South Central and West South Central divisions had rates below it, according to the BLS.
For their part, anti-labor forces say unions' problems aren't with their lack of political strength but with the unions themselves, particularly the UAW.
Patrick Semmens, a vice president for the National Right to Work Legal Defense Foundation, which supports laws that allow workers to opt out of union membership and dues, said last week that workers make their view of unions known through such votes. "Workers will voluntarily join, good effective, responsive unions," he said.
Corker said after the UAW vote on Friday that he was "thrilled for the employees at Volkswagen and for our community and its future." He and Tennessee Republican Gov. Bill Haslam had urged workers to vote against the union on the grounds that unionization would raise costs and hurt the plant and the state competitively.
Still, the South is clearly where labor's challenge lies. Ever since the AFL-CIO announced a plan last year to focus on the South, it has been working to find ways to gain strength in the region, in part by exploring how to build ties to local community groups and applying its national strategy of focusing on more state and local politics.
The AFL-CIO chose Houston as the location for this week's meeting of labor leaders as a symbol of its intention to gain more ground in Texas and the broader South. The meeting is officially a gathering of the AFL-CIO's executive council, on which UAW President Bob King sits with dozens of others.
"Texas is at the epicenter of workers' rights and national politics. People are looking at it to become a more progressive state and the labor movement sees it as a way of shaping new kinds of organizing," including for low-income workers, Goldstein of the AFL-CIO said. 
He said there is growing local support for people like Wendy Davis, the Texas gubernatorial candidate who's vying to become the first Democrat elected statewide since 1994, and also a sense nationally that there is a possibility to turn the red state blue.
More from The Wall Street Journal

You can comment on Tennessee all you want - but I bet you live in a state with a high per capita debt and/or total state debt. Unionization has been a driving force for corporations moving out of the USA. General Motors will be at the bankruptcy trough in 10 years. They still owe the taxpayers $10 billion dollars which they will not payback while they are sitting on $26 billion in cash as of Dec. 2013.
Look this up: and see where Tennessee has the lowest per capita debt of any state.
 1. Total State Debt Tops $5 Trillion
A troubling new report discloses that the total debt facing U.S. state governments now stands at $5.1 trillion — equal to about $16,180 for each state resident.
Total debt amounts to one-third of annual gross state product, and 469 percent of all fiscal year state general and other fund revenues, according to the report from State Budget Solutions (SBS).
"Since 2010, SBS has conducted a comprehensive examination of debts facing the 50 state governments," the report explains. "These reports have repeatedly found trillions in combined debt that stand in stark contrast to officials' proclamations of balanced budgets and belt-tightening."
SBS calculates state debt based on four components: unfunded public pension liabilities; outstanding government debt, including bonds and leases; unfunded other post-employment benefit liabilities (OPEB), mainly retirees' health benefits; and outstanding unemployment trust fund loans from the federal government.
Unfunded public pension liabilities stand at $3.9 trillion. Outstanding debt totals $618.8 billion. Unfunded OPEB liabilities in the 50 states stand at $528.7 billion; and unemployment trust fund loans total $19.9 billion, according to SBS.
California leads all states with $778 billion in debt, due largely to its $584 billion unfunded public pension liability. New York is next with $388 billion in total debt, followed by Texas with $341 billion, and Illinois and Ohio, each with $321 billion.
The only states with debt under $10 billion are South Dakota ($7.7 billion), Vermont ($7.8 billion), North Dakota ($9.2 billion), and Wyoming ($9.9 billion).
In per capita terms, Alaska's debt amounts to $40,714 per person, Hawaii's is $33,111, and Connecticut's is $31,298. The lowest per capita debt is in Tennessee, $6,358.
Nevada's state debt stands at 1,048 percent of its fiscal year 2012 spending, and Hawaii's debt amounts to 64 percent of its gross state product.
"Over time, state debt will exact a toll on state budgets," SBS observes. "Money once expected to fund vital services like education and healthcare will have to be redirected to debt service, increased contributions to public pension systems, and more."

Sopwith and Another....Not really sure where you might get your facts from, or your FUTURISTIC projections..??
None of the benefits that most or ALL workers have today were not handed freely to the American Workforce....
And for the "most part" many could be taken away in the future, some already have been...
I have been a Union member, Union officer, Management member and educated...
Along with owning 2-3 business over our lifetimes....
We control you and your ILK, and you can do nothing about it....Because you accept your faith blindly, like little children and are convinced that someone else or the Government will take care of and protect you...


The Right to Work for Less States also lead in the greater percentage of their total population of Food Stamps and other government assistance. Basically that should not come as a shock as that's how the math always works out. When you tell people they should Work more for Less, the outcome is always the same, the wealth divide grows. Democracy fails. The Majority can't influence elections when only a small percent of the population controls all the wealth and thus who can actually run for office.

Are you sure you want to delete this comment?
DATA PROVIDERS
Copyright © 2014 Microsoft. All rights reserved.
Fundamental company data and historical chart data provided by Morningstar Inc. Real-time index quotes and delayed quotes supplied by Morningstar Inc. Quotes delayed by up to 15 minutes, except where indicated otherwise. Fund summary, fund performance and dividend data provided by Morningstar Inc. Analyst recommendations provided by Zacks Investment Research. StockScouter data provided by Verus Analytics. IPO data provided by Hoover's Inc. Index membership data provided by Morningstar Inc.
ABOUT
Top Stocks provides analysis about the most noteworthy stocks in the market each day, combining some of the best content from around the MSN Money site and the rest of the Web.
Contributors include professional investors and journalists affiliated with MSN Money.
Follow us on Twitter @topstocksmsn.