Buffett is betting on energy stocks again
He's made some mistakes in the sector and sat out much of the US shale boom. Now, however, Berkshire is building some positions.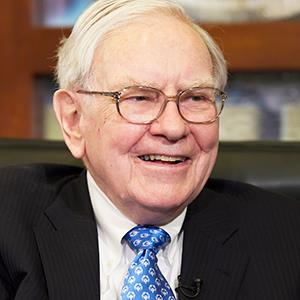 By Tim Mullaney,
CNBC
Warren Buffett (pictured) has been a big believer in and buyer of U.S. energy -- indirectly. 

When it comes to direct investments in energy stocks, though, Buffett -- famous for using an elephant-gun analogy to describe his hunt for acquisitions -- has been notably gun-shy.
Some recent bets on big oil and gas stocks suggest that Buffett and his stock-picking lieutenants -- former hedge fund managers Todd Combs and Ted Weschler -- are open to a wider range of direct energy stock investments. 
Buffett's biggest-ever acquisition, Burlington Northern Santa Fe Railway, is an indirect play on Western coal transport as well as the Bakken shale boom and the railcars now being relied on to move the oil to market. 
One of Berkshire Hathaway's (BRK.A) most capital-intensive businesses is Berkshire Hathaway Energy, a sprawling utility empire that encompasses power generation from coal plants to wind and solar. Buffett said earlier in June at the Edison Electric Institute annual conference that Berkshire is ready to double its $15 billion commitment to wind and solar power through its wholly-owned Berkshire Hathaway Energy unit.

But as the U.S. underwent the first decade of a transformative shale boom, Buffett didn't step up to buy any U.S. exploration or production or oil service companies for Berkshire Hathaway's portfolio of public stocks to capture that theme. And maybe for good reason: Buffett got a few big energy bets wrong in recent years.

In 2007 and 2008, Buffett made significant purchases of ConocoPhillips (COP) shares at the height of the bull market and the "peak oil" price of $150 that preceded the financial crash.
"Buffett went into standstill mode after Conoco," said Greggory Warren, Morningstar analyst.

The shale boom caught Buffett napping, albeit indirectly, too: The Berkshire Hathaway CEO announced earlier this year that the company would be taking an $873 million loss on an Energy Future Holdings bond that he bought before the depressed prices in the glutted natural gas market sent the energy company into bankruptcy.
More recently, Berkshire Hathaway has built positions in Exxon Mobil (XOM), oil services company National Oilwell Varco (NOV) and oil-sands driller Suncor Energy (SU). Two of the bets, National Oilwell Varco and Suncor, are small enough to be made by the hedge fund lieutenants at their own discretion. The Exxon Mobil stock purchases, though, valued at roughly $4 billion at the time of Berkshire's last quarterly stock filing, would have to be put on Warren's desk -- or emanate from his desk -- before being approved.
Never in 'Warren's wheelhouse'
"[Energy] was never in Warren's wheelhouse,'' Morningstar analyst Warren said. "There's probably some influence from Todd and Ted in there, some more confidence with the energy names now that he has more eyes to watch over them. Given his issue with COP in the past, he has got to be leaning more on Todd and Ted," he added.
Buffett has long sought investments in industries that he considers cornerstones of the modern economy and bets on the U.S. economy, in particular. His portfolio of publicly-traded stocks reflects the wide-ranging nature of those bets -- from the big banks to the brand-name consumer products companies.
To be sure, energy is still only a small chunk of Berkshire's holdings.
Out of 43 public companies in its portfolio of publicly-traded stocks, Berkshire has nearly $7 billion invested in five energy companies. The largest is the holding in Exxon Mobil. The Suncor stake is worth about $450 million, according to Berkshire's most recent 13F filing, with the Conoco position worth $775 million and Berkshire's chunk of Conoco's spun-off downstream company, Phillips 66, worth about $750 million. The stake in National Oilwell is worth a little shy of $700 million.
"Exxon is the seventh-largest holding -- it's not trivial,'' said George Washington University law professor Lawrence Cunningham, whose book "Berkshire After Buffett" is set to be published by Columbia University Press in Fall 2014. "But American Express is $14 billion; Wells Fargo is $22 billion. Exxon is not at the top, but it's big.''
The energy stocks don't come close to being Buffett's biggest bet on energy, either, Cunningham said.
Berkshire Hathaway Energy is owner of everything from utilities to gas pipelines to the $15 billion worth of solar and wind investments, which Cunningham said is the parent Berkshire's biggest commitment to any industry other than insurance. The energy business got even bigger last year when Berkshire shelled out nearly $6 billion to buy NV Energy, the largest utility in Nevada.
"We estimate that every $1 improvement in unit profitability should increase XOM's annual EPS by $0.35 a share," Sen wrote in a recent report.
In fact, for an example of this strategy in the past, when Buffett acquired Burlington Northern, Alleghany was one of the railroad's biggest shareholders, at 34 percent of the company. The investment holding company suddenly had a ton of cash to invest. Shortly thereafter, Alleghany made a big investment in -- yes, you guessed it -- Exxon Mobil.
More from CNBC
DATA PROVIDERS
Copyright © 2014 Microsoft. All rights reserved.
Fundamental company data and historical chart data provided by Morningstar Inc. Real-time index quotes and delayed quotes supplied by Morningstar Inc. Quotes delayed by up to 15 minutes, except where indicated otherwise. Fund summary, fund performance and dividend data provided by Morningstar Inc. Analyst recommendations provided by Zacks Investment Research. StockScouter data provided by Verus Analytics. IPO data provided by Hoover's Inc. Index membership data provided by Morningstar Inc.
ABOUT
Top Stocks provides analysis about the most noteworthy stocks in the market each day, combining some of the best content from around the MSN Money site and the rest of the Web.
Contributors include professional investors and journalists affiliated with MSN Money.
Follow us on Twitter @topstocksmsn.