Buffett spends 'whatever it takes' on Geico
Berkshire Hathaway pours more than $1 billion a year into ads for the insurance unit, and the investment is paying off.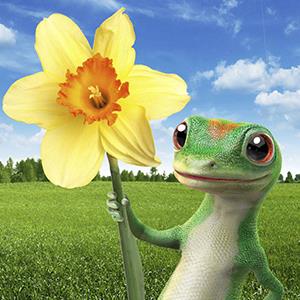 By Anupreeta Das,
The Wall Street Journal
Among the thousands of employees at Berkshire Hathaway (BRK.A), Warren Buffett says a "nice little fellow" is one of the most hardworking. He also happens to be a green lizard.

Since his debut in 2000, the Geico gecko has helped to sell millions of policies for the Berkshire-owned auto insurer and made it one of the conglomerate's most-consistent profit drivers. 
The ubiquitous ads, accounting for almost a quarter of all U.S. insurance companies' advertising spending, cost Berkshire more than $1.2 billion last year.
Mr. Buffett said he intends to keep lavishing Geico with money.
"I am perfectly willing to spend whatever it takes to get everyone in the country to check our price," Mr. Buffett said in a recent interview, adding that the company is on pace to spend even more on Geico ads in 2014.
Such splashy branding efforts don't easily jibe with Berkshire's thrifty image. But thanks largely to the gecko with a Cockney accent and Geico's cast of other anthropomorphic characters, Berkshire was the seventh-largest advertiser in the country in 2013, according to Kantar Media.
Not only is the insurer a money spinner for Berkshire -- Geico's second-quarter pretax underwriting profit jumped 17 percent to $393 million from a year earlier -- it also is one of Mr. Buffett's oldest and most-cherished holdings.
The company was one of Mr. Buffett's first investments, more than 60 years ago. It was also the first stock he sold, to his aunt, as a new stockbroker.
Mr. Buffett has called Geico his "first business love." In his 2012 annual letter to shareholders, the billionaire investor wrote, "When I count my blessings, I count Geico twice."
The architect of Geico's strategy, ironically, is a publicity-shy chief executive who rarely gives interviews. Tony Nicely, who started as a Geico clerk, initiated the ad push, with Mr. Buffett's encouragement, soon after he took the top job in 1993. Mr. Nicely has long been one of Mr. Buffett's top lieutenants, and analysts once considered him a potential successor to the billionaire investor. However, Mr. Nicely is now 71 years old.
With 83-year-old Mr. Buffett at the helm, Berkshire doesn't have a mandatory retirement age, and Mr. Buffett said he hoped Mr. Nicely wouldn't retire anytime soon. Mr. Nicely declined to comment.
Geico first won over Mr. Buffett in 1951, when the then-20-year-old traveled to Washington to visit the insurer one Saturday morning. While there, he ran into Lorimer "Davy" Davidson, a Geico executive who gave him a four-hour lesson on the insurance business. That year, Mr. Buffett put more than half of his net worth into buying 350 shares of Geico for $10,282. He sold them a year later to buy another stock, only to watch the value of the Geico stake eventually rise to $1.3 million.
In 1976, he got a chance to invest again in Geico, when the insurer sought a capital infusion to avoid bankruptcy after a period of expansion. Through additional investments and due to share buybacks, Berkshire slowly raised its stake over the years to 50 percent before buying the rest of the company for $2.3 billion in 1996.
Since then, Geico has been a cornerstone of Berkshire's huge insurance operation, which also includes a reinsurance business.
Because customers pay premiums upfront and claims are typically due years later, insurers can invest that cash in the interim -- a strategy that helped turn Berkshire from a struggling textile maker in 1965 into a diversified conglomerate whose Class A shares sell around $200,000 apiece today.
Mr. Buffett was attracted, in particular, by Geico's low-cost business model, which hasn't changed much since its 1936 founding as the Government Employees Insurance Co.
Since 1995, Geico's market share of the U.S. personal auto-insurance market has jumped to about 10 percent from 2.5 percent. Last year, Geico became the second-largest U.S. auto insurer by premiums, behind State Farm and ahead of Allstate (ALL) and Progressive (PGR). 
One reason advertising is so important to Geico is that the firm doesn't use insurance agents, which keeps its costs low. It instead offers policies directly to customers over the Web or phone.
Geico executives are "cost-conscious connoisseurs," said Lawrence Cunningham, author of a coming book on Berkshire and a professor at George Washington University. "At headquarters, they're as thrifty as can be . . . Geico is the quintessential Berkshire company."
Geico has taken market share at the expense of regional auto-insurance firms as people have become more comfortable buying online, said Nomura analyst Cliff Gallant. "They have the cheapest product, and they keep hammering you over the head" with their advertising campaigns, he said.
Geico is taking one big calculated risk: Unlike many rivals, the firm isn't investing in so-called usage-based insurance, which uses computer devices to track drivers' habits and provide discounts to safe drivers. Analysts say rivals could use the technology to siphon off some of the best drivers, potentially hurting Geico's profitability if it is left with drivers more likely to file claims.
Mr. Buffett said Geico hasn't seen evidence that usage-based pricing provides an advantage.
More from The Wall Street Journal
DATA PROVIDERS
Copyright © 2014 Microsoft. All rights reserved.
Fundamental company data and historical chart data provided by Morningstar Inc. Real-time index quotes and delayed quotes supplied by Morningstar Inc. Quotes delayed by up to 15 minutes, except where indicated otherwise. Fund summary, fund performance and dividend data provided by Morningstar Inc. Analyst recommendations provided by Zacks Investment Research. StockScouter data provided by Verus Analytics. IPO data provided by Hoover's Inc. Index membership data provided by Morningstar Inc.
ABOUT
Top Stocks provides analysis about the most noteworthy stocks in the market each day, combining some of the best content from around the MSN Money site and the rest of the Web.
Contributors include professional investors and journalists affiliated with MSN Money.
Follow us on Twitter @topstocksmsn.