Why now is a good time to buy Ford stock
The Detroit automaker is seeing robust sales, and now may be your chance to sell puts to get rolling.
Tapering talks weighed on equities in June and again in August. But so far, the auto industry has continued to outperform, and in it, one stock has continued to lead the group: Ford (F).
Sales remain robust, evident after the company beat monthly sales estimates for May and June. For July, Ford posted total vehicle sales of 193,715, an 11% increase, missing analyst estimates by about 3%.
Thought the stock would selloff on that news? Think again. It was also thought that after the run up into earnings, the stock would again selloff a bit -- at least, by me. But that also wasn't the case.
For second-quarter earnings, the company crushed top-line estimates of $35.15 billion by nearly $3 billion and bottom-line estimates of 37 cents per share by 8 cents. That alone could fuel a rally, but then the company's management revealed its European losses were finally shrinking, ($348 million versus $404 million in the same quarter last year), something that has been plaguing the stock for multiple quarters.
After earnings, the stock gapped higher to $17.50, before selling off slightly, to the upper-$16 range. After the July sales numbers were reported in early August, the stock quickly ran higher and tested $17.50 once again. The bears have won that level so far, but that won't likely be the case for long.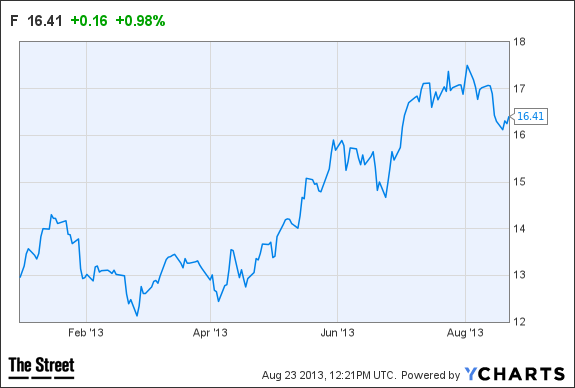 The Detroit automaker continues to press higher and has presented only a few buying opportunities throughout the year, the last one coming when the stock sold off to its 50-day moving average, closing slightly above it, at $14.67.
Now, with some relative weakness in the broader market, shares of Ford made an intraday low of $15.82 on Aug. 20, after another mini-pullback. With its most recent close at $16.41 on Thursday, the stock is down roughly 6% from its monthly high. Now you're probably wondering, "How the heck do I buy shares at $14.60?"
The answer is by selling puts, which is often times an overlooked strategy. The thought of holding naked put options -- which is the term used when shorting single-leg call and put options -- is considered highly risky and only for the sophisticated investor.
I disagree with this notion. While there can be added risk, I don't consider the strategy to be all that bad, or overly risky. In essence, the seller is paid money, (called a premium), for accepting the obligation to buy a specific stock, at a specific price, on a specific day. That doesn't seem all that bad, right?
Although there are some terrible ways to go about using short puts, in many ways it can be a sound strategy. Let's look at Ford for example. We think the stock is eventually going to go higher. The stock has already pulled back about 10% from its monthly highs to its recent low.
Shorting puts as an entry into a long common stock position is a way of saying, "We've had a decent pullback and I'm willing to own the stock on a continued pullback, but I don't want to miss a rally."
That's exactly the situation we have here. The stock has had a decent pullback, and has now caught our attention. But what would stop Ford from dropping another $1, or more? Nothing, really. The same could be said by asking the inverse; what would stop Ford from going up a $1 per share?
So to play the bounce or buy shares at a lower price, selling puts becomes an adequate solution. Let's use the November expiration, nearly three-months away. I picked the $15 strike, meaning I will be assigned 100 shares for each put option sold short if the stock closes below $15 per share on November expiration.
In addition to shorting the $15 puts, I bought the $10 puts for 3 cents. The reason I did this was twofold: To lower the margin requirements and raise the return on invested capital.
I think selling the spread for 40 cents or more would be ideal, which means we are collecting $40 in premium, since you have to multiply the 40 cents by 100 shares. If we are assigned shares of Ford in November, our cost-basis for the position will be $14.60 per share, ($15 minus 40 cents in premium, equals $14.60 per share).
Personally, I think being assigned shares of Ford would be great. The company is doing well, sales have been robust, and the dividend continues to grow. If I'm not assigned, then I receive an 8% return on my capital over the three months. On an annualized basis, the return is 32%, not including commissions, since they vary widely from broker to broker.
At the time of publication the author long F.
More from TheStreet.com
DATA PROVIDERS
Copyright © 2014 Microsoft. All rights reserved.
Fundamental company data and historical chart data provided by Morningstar Inc. Real-time index quotes and delayed quotes supplied by Morningstar Inc. Quotes delayed by up to 15 minutes, except where indicated otherwise. Fund summary, fund performance and dividend data provided by Morningstar Inc. Analyst recommendations provided by Zacks Investment Research. StockScouter data provided by Verus Analytics. IPO data provided by Hoover's Inc. Index membership data provided by Morningstar Inc.
ABOUT
Top Stocks provides analysis about the most noteworthy stocks in the market each day, combining some of the best content from around the MSN Money site and the rest of the Web.
Contributors include professional investors and journalists affiliated with MSN Money.
Follow us on Twitter @topstocksmsn.