Can earnings season reboot the market?
A great deal is riding on first-quarter numbers that are about to roll out. Watch for these 3 key elements.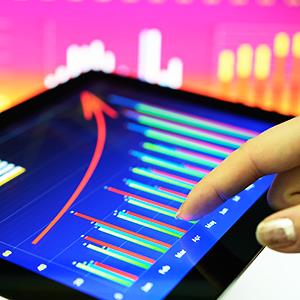 By Jamie Dlugosch
I'm a fundamental analyst. That means it all boils down to the numbers.
That's why I love earnings season. Instead of the market focusing on irrational speculation, we get real information that can allow us to determine fair valuations.
This year, the speculation on the long side has essentially disappeared. The narrative has been entirely about a pending end to the bull market and a potential correction or even worse.
Where oh where did the glass-half-full investors go?
They are being overwhelmed by the naysayers, but that can change in a heartbeat. All it takes are stronger-than-expect​ed numbers. A good earnings report is all it takes to eliminate the doubt.
The expectations for first-quarter earnings are not that high. In fact, earnings for the S&P 500 are poised to fall on a year-over-year basis.
And this is the environment that has the Federal Reserve on the verge of ending its bond-buying program? Something doesn't jive.
The central bank is eliminating quantitative easing because it sees a strong and growing-stronger economy. A stronger economy equates to stronger earnings.
Thus far we really are not seeing that strength in earnings. Aside from stock buybacks, expense reductions and other ways companies can gin the numbers, the proof must now come in the pudding.
There is much riding on this quarter's earnings season. If the numbers are poor, we could see a real problem in the market.
If they are strong, as I expect, we may finally break out of this tight trading range. All market participants and observers are on pins and needles for sure, waiting for the results.
Here are three specific elements  I would like to see emerge this earnings season -- in support of higher stock prices this year:
Revenues that beat estimates
A good earnings report is not just about profits. It's about the top line, too.
In that vein, the numbers in the last two quarters have not been that great. Company after company seemed to miss on the revenue expectations. That's not a healthy state of things.
Sure, you can manage earnings, but if you are missing sales estimates, that says much about the real operations of a company. While there can be some manipulation with respect to revenues, a sale is just a sale. There are no gimmicks.
What I am looking for this year is more and more companies meeting or beating estimates on the top line. To the extent we see an acceleration of sales, we are likely to see an reacceleration of the bull market.
Strong guidance and corporate enthusiasm
Earnings reports give us a snapshot of where the company has been over the last three months, but the past is the past.
What is more important in some cases is what the company says about the future. How many times does a company beat earnings estimates only to then disappoint when it comes to guidance? It happens far too often and when it does happen a stock usually suffers big time.
It's been some time since guidance blew away investors. If the economy is as strong as the Federal Reserve seems to think it is, guidance should be quite good this quarter.
On the flip side, some companies will use the earnings reporting season to dampen enthusiasms that may have run amok. In some ways, that is a manipulation that sets the stage for earnings beats down the road.
This quarter I just want to see corporate enthusiasm run amok and guidance be strong.
Emerging markets impact
What, if any, will be the impact of chaos in emerging markets on corporate operating results?
Aside from challenges with the weather during the first quarter, did multinational companies see weakness in results due to troubles overseas? We know that many overseas markets are getting slammed by investors, but is that the same with corporations with operations overseas? We are about to find out.
To the extent companies managed this hurdle, results are likely to be much better than current expectations. If you like surprises, this is one that has the potential to surprise, up or down. If companies stumbled because of overseas weakness, perhaps we could see some selling in U.S. markets as a result.
We seem to be at a crossroads this earnings season. How it all plays out will determine the future path for stocks for the remainder of the year.
It promises to be an exciting season. Fasten your seat belts!
More from Traders Reserve

This stock market no longer really cares about earnings because the analysts always tend to lower their expectations to make it easier for the company to meet the earnings expectations.  You also have many situations where companies have yet to make a profit and yet their stock is trading at an all-time high due to the continued manipulation that occurs daily. 

I really don't think earnings will be all that good. Is there a company who HASN'T cited the weather. Sure, revenue in-line, profits beat, growth???? Idk. Q2 will be important as everyone is expected to buy all the stuff they did without in Q1. That sets up a horrible end of July.
We can live with high multiples as long as where are the only game in town. I don't think we are overpriced yet. I WANT to be an optimist. 18K, anyone with me?
.
Are you sure you want to delete this comment?
DATA PROVIDERS
Copyright © 2014 Microsoft. All rights reserved.
Fundamental company data and historical chart data provided by Morningstar Inc. Real-time index quotes and delayed quotes supplied by Morningstar Inc. Quotes delayed by up to 15 minutes, except where indicated otherwise. Fund summary, fund performance and dividend data provided by Morningstar Inc. Analyst recommendations provided by Zacks Investment Research. StockScouter data provided by Verus Analytics. IPO data provided by Hoover's Inc. Index membership data provided by Morningstar Inc.
LATEST POSTS
Meet Alibaba's new billionaires
Despite its size, the IPO will create just two new members of the 10-figure club from its executive ranks. A few others could net hundreds of millions.
ABOUT
Top Stocks provides analysis about the most noteworthy stocks in the market each day, combining some of the best content from around the MSN Money site and the rest of the Web.
Contributors include professional investors and journalists affiliated with MSN Money.
Follow us on Twitter @topstocksmsn.