Companies rush to list shares in IPO frenzy
Already this year, 42 have gone public. That's one of the strongest starts since 2000.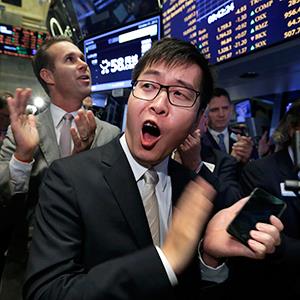 By Telis Demos,
The Wall Street Journal
In a scramble reminiscent of the 1990s Internet heyday, companies are going public at the fastest pace in years, hoping to take advantage of booming share prices and investor demand while they last.

In the first two months of this year, 42 companies went public in the U.S., raising $8.3 billion and tying 2007 for the busiest start to a year for initial public offerings since 2000, when there were 77 in the period, according to Dealogic.
In 2013, by comparison -- itself a strong year for IPOs -- there were 20 such offerings in the first two months.
Scores more companies are readying IPO pitches to investors, including most recently Moelis & Co., the investment bank that this week unveiled plans for an offering. Meanwhile, Alibaba Group Holding, the Chinese e-commerce giant, plans to go public this year or next, according to people familiar with the company's thinking, in what promises to be one of most eagerly anticipated market debuts in years.
In some respects, the IPO market is even hotter now than it was in 2007, on the eve of the financial crisis and, like 2000, a year in which the stock market peaked. By one key measure, investors are bidding more aggressively for newly minted shares this year than they have in more than a decade, paying a median 14.5 times annual sales, compared with six times in 2007, according to University of Florida finance professor Jay Ritter. At the height of the Internet frenzy in early 2000, they paid a whopping 30 times.
That surge of interest "is bringing lots of companies out of the woodwork that couldn't have gone public in the past," said William Bowmer, head of Americas technology-stock offerings at Barclays PLC.
The pace at which companies are making new public filings for IPOs is at levels not seen since 2000, according to Renaissance Capital, an IPO research and investment firm. In January and February, there were 56 such company filings, topping the 35 in that period in 2007. While still not close to 2000s 159 filings, this year's number might be even higher if not for new rules that allow companies with less than $1 billion in revenues to initially file for an IPO confidentially, which most eligible firms are taking advantage of.
Investors willing to take a chance on new listings this year have been rewarded handsomely. The average U.S. IPO in 2014 had risen 19 percent from its debut through Feb. 28 and 5 percent from where it closed after its first day of trading, according to Dealogic. The Standard & Poor's 500 Index ($INX), meanwhile, is up only slightly this year, though it is trading at record levels.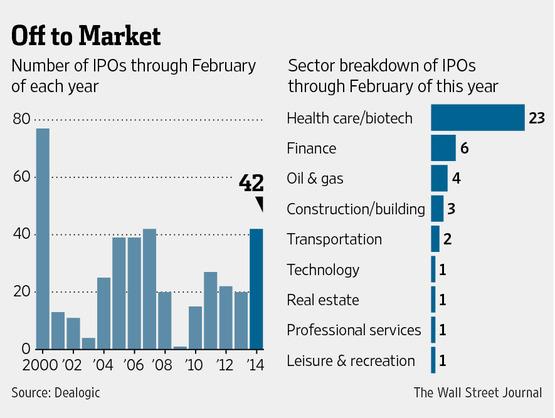 Investment bankers, entrepreneurs and venture-capital and private-equity firms that own companies say they are scrambling to keep up with the pace of new share issues.
Kate Mitchell, a partner at venture-capital investor Scale Venture Partners in Foster City, Calif., said her firm was ditching long-unused filing cabinets to create more conference-room space. That is an effort to accommodate the stream of bankers visiting officials from companies it owns to pitch them IPOs. At least three of the companies in which Scale has invested are planning to go public, according to company statements and filings.
Some companies that have been contemplating going public are stepping up the pace, worried the window of opportunity will close. 
Wayfair LLC is working with underwriters on an IPO that could happen before the summer, according to people familiar with the matter. The online home-goods retailer had previously said it would go public as early as late 2014 or in 2015. But, with recent successful IPOs of similar companies, including online retailer Zulily Inc., Wayfair is in a position to launch sooner, the people said.
"If companies feel like they need any more money in the next two to three years, sophisticated companies are doing it now," said Kevin Hartz, chief executive of Eventbrite, an online event-management company that is considering going public.
The market for new listings is showing signs it could be overheating. So far this year, nearly three-quarters of companies that have gone public are unprofitable, according to Ritter of the University of Florida. Just under two-thirds have annual sales of less than $50 million. Both measures are at their highest in any year since 2000, although they don't approach the levels reached in that era.
"In many meetings we've had with investors, really starting last fall, the phrase 'bubble' or 'year 1999' has been referenced as relevant," Morgan Stanley analysts wrote in a recent research note.
Some of the new listings have disappointed investors. Shares of Cyan (CYNI), for example, are off 64 percent since they started trading in May, after the computer-networking company said it fell short of its revenue forecast for the fourth quarter.
This year has seen a number of IPOs of biotechnology companies, shares that typically carry high risks because the companies are still developing drugs and have little or no revenue when they go public. That has contributed to the smaller average size, lack of profitability and higher prices of IPOs this year. Four biotech companies with lead drugs in only the earliest stages of testing have made debuts this year.
"Investors who were previously shy about assigning value to [drug-] development pipelines now are willing to put a premium on them," said biotech-stock investor Vikram Khanna of Silicon Valley Bank.
Meanwhile, investment bankers are rushing to help companies -- and themselves -- grab a piece of the pie.
After meeting with investment bankers, Opower Inc., which delivers reports to energy consumers on their usage patterns, last year increased its estimate of its enterprise value -- which includes debt and equity -- to $917 million from $275 million, according to its IPO filing this month.
It said there had been "a shift in the manner in which we were viewed by investors and a general increase in the value of cloud-based solution companies."
Bankers say that the number of "bake-offs," in which companies select lead underwriters for their IPOs, has shot up this year, requiring them to be constantly in touch with potential clients, even on airplanes as they fly across the country for meetings.
Indeed, the largest provider of airplane Internet service, Gogo Inc. (GOGO), went public last June. Its shares are up 43 percent since then.
More from The Wall Street Journal
Are you sure you want to delete this comment?
DATA PROVIDERS
Copyright © 2014 Microsoft. All rights reserved.
Fundamental company data and historical chart data provided by Morningstar Inc. Real-time index quotes and delayed quotes supplied by Morningstar Inc. Quotes delayed by up to 15 minutes, except where indicated otherwise. Fund summary, fund performance and dividend data provided by Morningstar Inc. Analyst recommendations provided by Zacks Investment Research. StockScouter data provided by Verus Analytics. IPO data provided by Hoover's Inc. Index membership data provided by Morningstar Inc.
ABOUT
Top Stocks provides analysis about the most noteworthy stocks in the market each day, combining some of the best content from around the MSN Money site and the rest of the Web.
Contributors include professional investors and journalists affiliated with MSN Money.
Follow us on Twitter @topstocksmsn.