Compromise is in the air
Perhaps not a moment too soon this debt-ceiling issue has crossed Wall Street on to Main Street.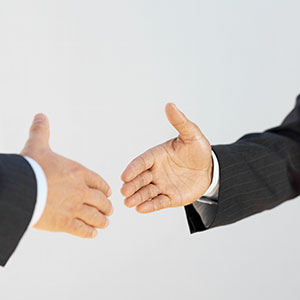 Compromise is suddenly in the air, judging by the robust nature of the morning's markets. What's happened? I think the debate out of Washington somehow has gotten switched in the last 24 hours. It's gone from some faux handwringing about whether the Japanese or Chinese will still buy U.S. bonds to a recognition that the whole reliability of the U.S. -- as a provider to its people, and not just its debtholders -- must now be called into question.
In other words, finally, and perhaps not a moment too soon -- and maybe not soon enough if we don't see a thaw today -- this debt-ceiling issue has crossed Wall Street on to Main Street. That has even the most doctrinaire of elected leaders worried about losing their jobs.
How do we put this reliability quotient in perspective? Let's say Boeing (BA) had advertised that its planes work 100% of the time, and everyone had gotten used to that thinking, and we had grown comfortable with the reliability of the place.
Then imagine that, one day, Boeing had said its planes were guaranteed to work 95 percent of the time. Would you ever fly in a Boeing plane again?
Probably not.
That's pretty much the analogy that my old friend Chris Matthews laid on me last night when I invited him on "Mad Money" to explain to me what he thinks could happen if the country defaults on its debts. He thinks no one will ever trust the country again on anything financial. Social Security checks may not be in the mail next month, Medicare wouldn't be expected to pay doctors in a timely fashion and the Chinese would be sellers of our Treasuries, because the only reason they are buying our paper is its reliability.
You take away the reliability, you take away the reason for owning. Who needs Treasuries if the only reason you are buying them is that they had been 100% reliable, and now they no longer are?
It's because the possibilities are that grave that Chris believes something can happen by next Tuesday to break the logjam, and that the stirrings Thursday could be for real. The movement, he says, will ultimately come from the Senate. The White House can't afford to negotiate after President Obama's statement that he won't negotiate, and House Speaker John Boehner has said that if Obama's not negotiating, he's not going to negotiate. Chris believes that everything has gotten pushed along by Congressman Paul Ryan's reasoned piece in Wednesday's Wall Street Journal, which argues for some substantive dialogue on the budget and not hysterics about the debt ceiling.
But, to be sure, Matthews said he doesn't know if a deal will get done on time, and if it doesn't the reliability factor will then be gone.
Now, I know there are many consequences to a potential default besides reliability. Eighty million people get checks each month from the federal government. There's a huge number of different kinds of payments. Nobody knows how to prioritize, and that has been and remains Treasury Secretary Jack Lew's point as he testifies before Congress. You can't really just prioritize paying interest, because Treasuries doesn't pay out just interest. They pay out interest and principal the way you pay a mortgage, and it's difficult to separate the streams. So that whole argument's a bit of a non-starter.
So checks to contractors, to doctors, to veterans and so Social Security will most likely be delayed, not paid, until this is resolved. I think that's catastrophic on the face of it. No amount of prudence about future deficits would ever be able to make up for the chaos that delayed payments would cause -- and, make no mistake about it: Come November, everything will be delayed.
Chris waxed nostalgic for the days when House Speaker Tip O'Neill and former President Ronald Reagan, polar opposites, got things done -- which is the subject of his new book,Tip and the Gipper: When Politics Worked. It's is a terrific read, like all of his books are (and I don't just read them because Chris went to the school that was at the end of my block and we are both huge Philadelphia sports fans). He talks about how these two old pols, who were not friends but dueling opponents, had respect for each other and tackled the toughest issues, including a monumental deal to save the solvency of Social Security. That's unimaginable now.
But Chris did see the path, and he said we need to stay close to everything that goes on in the Senate. That's where the movement will be if there is to be movement, so don't give up hope for a deal if the White House's meeting with the House leadership produces more rancor this afternoon.
But if there isn't a deal by next Wednesday then, from my perch, a month from now it looks like the real checks really won't be in the mail.

More from TheStreet.com
DATA PROVIDERS
Copyright © 2014 Microsoft. All rights reserved.
Fundamental company data and historical chart data provided by Morningstar Inc. Real-time index quotes and delayed quotes supplied by Morningstar Inc. Quotes delayed by up to 15 minutes, except where indicated otherwise. Fund summary, fund performance and dividend data provided by Morningstar Inc. Analyst recommendations provided by Zacks Investment Research. StockScouter data provided by Verus Analytics. IPO data provided by Hoover's Inc. Index membership data provided by Morningstar Inc.
ABOUT
Top Stocks provides analysis about the most noteworthy stocks in the market each day, combining some of the best content from around the MSN Money site and the rest of the Web.
Contributors include professional investors and journalists affiliated with MSN Money.
Follow us on Twitter @topstocksmsn.