Cramer: Caterpillar set for rally
Shares of the world's largest equipment maker are well behind the market and it might be time for the laggard to take off.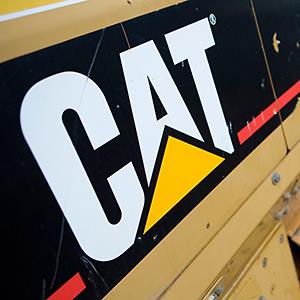 Immunity? That's what it seemed like yesterday when Caterpillar (CAT) didn't go down on those hideous November sales or when Herb Greenberg delineated the misdeeds of CEO Doug Oberhelman.
I like Caterpillar here; it is a stock that we own for Action Alerts PLUS because we think that the downside is minimal and the upside (from a pickup in orders, a restructuring or a firing of the CEO) takes the stock to the mid-$90s in a heartbeat.
The main thing you need to know about Caterpillar is the calendar. We are in "hope springs eternal" limbo. We have no Fed to wreck us, no Washington to torture us, no companies left to preannounce.
This is fertile ground to dream that 2014 could be a big up year for the earth-moving giant that will cause people who say, OK, I missed the runs in Emerson Electric (EMR), Parker-Hannifin (PH), Deere (DE), Boeing (BA), Honeywell (HON), even General Electric (GE), so I am going to buy this laggard.
They will do so because it is well behind the market, heavily shorted, and you are going to get new adherents and new themes such as the Merrill Lynch analyst who came out Friday morning and suggested that Caterpillar be bought on compression sales related to shale exploration and the Gulf of Mexico. In other words, the metals and mining weakness, which is still very much there (as you can tell from the price of minerals around the globe), will be offset by other lines of business.

Let me say from the outset that I don't think this kind of logic is needle-moving to the earnings; it is just needle-moving to the stock. That means the purists and the dyed-in-the-wool shorts will battle it, but it will be to no avail. In fact, I think that, if history is any guide, the big battle for Caterpillar will be how to stay long it through what I believe will be a real run-up here into the quarter, which, unless the CEO is fired and a gigantic restructuring occurs, will cause the stock to be hammered.
That's right: I am predicting that Caterpillar breaks out here despite all of the badness because it didn't go down this time on retail sales. It always goes down on retail sales. That's how the run begins.
I think that it's the next big stock to take off here (the DJIA laggard, the dog of the Dow) and the question will be, "How can you lose -- you get either a turn or a new CEO?" Works until it doesn't. 

At the time of publication, Action Alerts PLUS, which Cramer co-manages as a charitable trust, was long CAT, EMR, HON and GE.
Jim Cramer's Action Alerts Plus: Check out this charitable trust portfolio and uncover the stocks Cramer thinks could be winners.
More from TheStreet.com

no mention of the coming collapse of china, the massive global deleveraging at hand, the ascending interest rates, the chasm between the haves and have not's, lower future gdp, or the looming totally unresolved debt-ceiling debate .... bet you can't use "pollyannaish" in a complete sentence.
thanks for the other names however - we'll add them to our "stocks to short" list for 2014.  seriously, thanks for the overview but we'll just have to agree to disagree on the state of the global economy and the prospects for cap ex intensive companies ... we'll take a nice short-term bond "bank fund" portfolio for now ...  

as long as china and india have many square miles untouched by roads and bridges, CAT has a market. 
they produce by far the best of the construction vehicles. 
note vehicles are yellow because that was CAT's original color.  it used to be people would see a work site and many vehilces not moving.  because they broke down.  but the yellow ones WERE still running. 
the phrase "copy cat" comes from the inovations CAT has developed over the years

Bloomberg article today on China .. just sayin' ....
"John-Paul Smith doesn't share the enthusiasm.
When the Deutsche Bank AG equity strategist looks at the country, he says he detects some of the same signs of a financial meltdown that led him to predict Russia's1998 stock market crash months in advance. China's expansion is being fueled by soaring corporate borrowing, a high-risk model that needs to be replaced by the kind of free-market measures and budget cuts that fed Russia's growth in the aftermath of the country's default and subsequent 44 percent monthly tumble in the Micex Index, Smith said.
"There is potential for a debt trap in industrial companies which can trigger an economy-wide financial crisis as early as next year," Smith said in an interview from London on Dec. 12, a day after he issued a report predicting China's slowdown will lead to a 10 percent decline in emerging-market stocks next year. "If I am wrong on China, I am wrong on everything."
Are you sure you want to delete this comment?
DATA PROVIDERS
Copyright © 2014 Microsoft. All rights reserved.
Fundamental company data and historical chart data provided by Morningstar Inc. Real-time index quotes and delayed quotes supplied by Morningstar Inc. Quotes delayed by up to 15 minutes, except where indicated otherwise. Fund summary, fund performance and dividend data provided by Morningstar Inc. Analyst recommendations provided by Zacks Investment Research. StockScouter data provided by Verus Analytics. IPO data provided by Hoover's Inc. Index membership data provided by Morningstar Inc.
ABOUT
Top Stocks provides analysis about the most noteworthy stocks in the market each day, combining some of the best content from around the MSN Money site and the rest of the Web.
Contributors include professional investors and journalists affiliated with MSN Money.
Follow us on Twitter @topstocksmsn.