Cramer: The greatness of Restoration Hardware
The blowout vision of this company's earnings call painted a bright picture of a revolution in the brick-and-mortar and catalog businesses.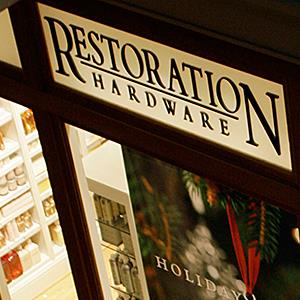 If you are a stock junkie like me, you have to be on a gazillion conference calls. They become chore-like. You have to go through the quick preamble about how everything is fabulous, even from companies that seem to be flailing or even failing. 

Then you have to have a 30,000-foot description of the business from the CEO, followed by a boots-on-the-ground exposition by the CFO, culminating in the obligatory guidance paragraph that tends to determine the fate of the stock, no matter what else was said earlier.
Of course, then you have the Q&A, and that's usually the stuff of analysts trying to figure out their model, meaning they want to fill that spreadsheet that takes up about two-thirds of their analyst reports, the other third being split equally between analysis and worthless disclosures that waste a lot of paper when you print them.
Occasionally, you will get a conference call with some variant. You might get a little entertainment or pizazz from the CEO -- but not too much, because then he or she is being silly and nobody likes a silly CEO. You might get a longer-term view, a five-year plan, something that makes you feel there's some continuity here.

And, of course, you might get the code words of the era like "challenging" and "competitive," which means we screwed up and we really disappointed you but it's not our fault. Of course, there's always the two-worded real kiss of death of "promotional environment," which means we have to bring down numbers in the future because we have way too much inventory and budgeted totally wrong. That gets distilled into the headline buzz phrases "cuts earnings, sales below forecast," meaning "bang bang, you're dead."
And then, every once in a while, you are on a conference call and you say: Wait a second, I think there's something different going on here. I think I am hearing something I am not hearing from anyone else. Let me take this slower. I might be in the presence of, well, greatness.
I found myself in the presence of greatness in last night's Restoration Hardware (RH) conference call.
Now, let me say from the get-go that I came in with two perceived biases. One, we are huge customers of Restoration Hardware and use their stuff whenever we remodel anything. Two, I had to get someone to carry up the stairs the darned source book, the new catalog that arrived two weeks ago, because it's really heavy and I have a bad L-5 thing going on with my lower back. It still sits on the kitchen table. I promise myself to get to it.
But I wasn't ready for the blowout vision of a call that started with CEO Gary Friedman saying he had recently pulled up with someone who said, "You might be the most misunderstood company in Wall Street." Friedman recognized something I have heard only from Starbucks (SBUX) CEO Howard Schultz. He said he has to define his company or else the industry-best 18% comparable sales numbers and the dramatic guide up would be dismissed as a fluke.
He knew he had to explain that the company is revolutionizing the brick-and-mortar and catalog businesses in a way that could be multiyear and long lasting, so that the increase in the stock doesn't seem like one big short squeeze.
And I think he did it, laying out a series of strategies about delivering the best, whether it be Belgian linens or Italian bedding -- he's the biggest importer of those -- or Thai silk. And doing it in a way that's much lower priced but with much higher quality than everyone else. He's delivering the product in a setting that's unique, to say the least. He's got a showroom-to-source-b​ook-to-website strategy that might have every other retailer beat.
You put it all together and you recognize that Friedman is, literally, reinventing the model of luxury. His "We are like a $1.6 billion startup" line midway through his opening comments wasn't hyperbole. He has created the home brand for luxury, the one place people who are wealthy or aspirational will shop and shop with gusto.
Let's play baseball for a minute. How many times have you heard a CEO say we are in "the early innings" of these changes? This transformation is truly in maybe the second or third. I don't say first, because there have already been too many beautiful galleries opened to be dismissive and say we are in inning one.
Is it lasting? I think it is, because Restoration Hardware might be the savior to the part of the real estate investment trust industry devoted to luxury malls. This company basically wants that department store space, that anchor designation that so many others no longer crave or can't afford or can't live up to. For Restoration, it's strictly the bigger and the more beautiful the better.
That's why, at the conclusion of the call, I understood why Restoration Hardware has been able to outperform the industry for four consecutive years, generating revenue growth of more than 25 percent, and why it could continue to do so. It's why I get that this will not be the last accelerating revenue growth quarter and that there might be many more. It's why the stock's rally Thursday is not a fluke at all. 
Oh, and that catalog that's so heavy? Turns out it's a dramatic decline in paper use, 10 source books a year down to one, a 70 percent cut in page circulation, something only 0.1 percent of recipients have squawked about in the social media that RH monitors. Looks like they've figured that one out, too. 
Jim Cramer's Action Alerts Plus: Check out this charitable trust portfolio to see the stocks Cramer thinks could be winners.
More from TheStreet
DATA PROVIDERS
Copyright © 2014 Microsoft. All rights reserved.
Fundamental company data and historical chart data provided by Morningstar Inc. Real-time index quotes and delayed quotes supplied by Morningstar Inc. Quotes delayed by up to 15 minutes, except where indicated otherwise. Fund summary, fund performance and dividend data provided by Morningstar Inc. Analyst recommendations provided by Zacks Investment Research. StockScouter data provided by Verus Analytics. IPO data provided by Hoover's Inc. Index membership data provided by Morningstar Inc.
ABOUT
Top Stocks provides analysis about the most noteworthy stocks in the market each day, combining some of the best content from around the MSN Money site and the rest of the Web.
Contributors include professional investors and journalists affiliated with MSN Money.
Follow us on Twitter @topstocksmsn.