Did Pentagon just send Lockheed an F-35 warning?
A leak to a newspaper and an admonishment on '60 Minutes' are hard to dismiss as mere coincidences.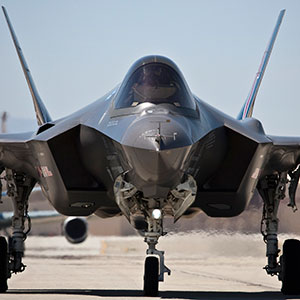 By David Francis, The Fiscal Times
On CBS' "60 Minutes" Sunday night, correspondent David Martin chronicled the seemingly never-ending list of problems with the Pentagon's next-generation F-35 fight jet (pictured), from cost overruns of $160 billion to technical problems that have plagued the plane's development. 
When asked if the F-35 program, which is expected to cost some $1.5 trillion over the four-decade life of the program, is now under control, the Pentagon's acquisition chief, Frank Kendall, said, "Yes, it is."
But that commitment came with a warning.
"Long gone is the time when we're going to pay for mistake after mistake after mistake," said Lt. Gen. Christopher Bogdan, the officer who took control of the F-35 program last year. He added that the planes are necessary, however, to keep pace with the technology being developed by U.S. rivals Russia and China.
"I don't see any scenario where we are walking back away from this program. We're going to buy a lot of these airplanes," said Bogdan.
The Defense department is so far down the F-35 rabbit hole, both in terms of technology and cost -- $400 billion for 2,400 planes -- that it has no choice but to continue with the program. Still, it's not too far gone to send a message to the plane's manufacturer, Lockheed Martin (LMT).
A report in The Washington Post about DOD's 2015 fiscal request says the Pentagon needs funds to purchase two of the Navy's version of the plane, six of the Marines', and 26 of the Air Force's model. It's a sizable order, but it's actually eight fewer planes than the 42 originally expected. 
In the scheme of things, eight fewer jets among an order of 2,400 is not a big drop. But the timing of the leak to the Post, as well as the admonishment to Lockheed on "60 Minutes," is hard to dismiss as mere coincidence.
Lockheed did not comment on camera on the "60 Minutes" report.
Lockheed and DOD have been squabbling over F-35 problems for years. In October, a DOD Inspector General report found 719 problems with the plane and cited Lockheed's failure to make sure subcontractors' work was "up to snuff."
Lockheed countered that the problems were not new and that they were based on data that's more than 16 months old, and a majority of the corrective action requests identified have been closed.
"Producing quality products is a top priority for the F-35 program, and Lockheed Martin and its suppliers strive every day to deliver the best aircraft possible to our customers," Lockheed said in a statement at the time. "When discoveries occur, we take decisive and thorough action to correct the situation. Our commitment is to deliver the F-35's world class Fifth Generation fighter capabilities to the warfighter on time and within budget."
It seems as if DOD is attempting to send another message with Sunday night's broadcast and the news that orders are expected to be cut in 2015. This isn't just a cost issue any more, either -- DOD needs the plane to work in order to maintain air superiority.
Unfortunately, the Pentagon is stuck with the F-35, for better or worse, so Lockheed doesn't really have an incentive to deliver a state of the art plane in working order. DOD is stuck with the contract regardless.
If Lockheed cares about national security, it might want to get the plane working soon. China and Russia are in the plane's jet contrails and catching up fast.
More from the Fiscal Times

Bureaucrats keep costs down to get congressional approval, after congress signs off on a program the pentagon adds more requirements which is a major reason for cost overruns.
These contracts take years to hammer out, so much of the preliminary design is obsolete by the time they begin the manufacturing process, and that adds to the cost.
The government is as much responsible for the delayed deliveries and cost overruns as the contractor.
Gone are the old days. When the U.S. Navy was going from Wooden ships and ironclads to Steel in the 1880s to 1910,  contracts had performance clauses. Exceed performance and time requirements, get a bonus. Not meet specifications and the company got penalized.
Why not bring those type of clauses back?

When the he[[ are we going to stop these thieving contractors from continually running up the cost of these planes and other equipment. This is just a big game so that these companies and God knows who else in the government can get rich. And the government wonders why we don't trust them. What a joke!!! 
Are you sure you want to delete this comment?
DATA PROVIDERS
Copyright © 2014 Microsoft. All rights reserved.
Fundamental company data and historical chart data provided by Morningstar Inc. Real-time index quotes and delayed quotes supplied by Morningstar Inc. Quotes delayed by up to 15 minutes, except where indicated otherwise. Fund summary, fund performance and dividend data provided by Morningstar Inc. Analyst recommendations provided by Zacks Investment Research. StockScouter data provided by Verus Analytics. IPO data provided by Hoover's Inc. Index membership data provided by Morningstar Inc.
ABOUT
Top Stocks provides analysis about the most noteworthy stocks in the market each day, combining some of the best content from around the MSN Money site and the rest of the Web.
Contributors include professional investors and journalists affiliated with MSN Money.
Follow us on Twitter @topstocksmsn.