Do Russian countersanctions put stocks at risk?
Energy, auto and even beer companies all have something to lose in the international crossfire.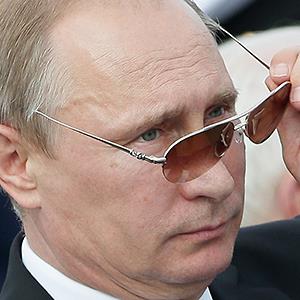 By Charles Sizemore, InvestorPlace

Russia made news last week by shutting down four Moscow McDonald's (MCD) restaurants, ostensibly for health code violations.

But the move is widely viewed as Russia's latest "countersanction" against the West in retaliation for Western sanctions against Russia for its involvement in Ukraine.
Funnily enough, McDonald's first Russian restaurant -- opened in 1990 when Russia was still the communist Soviet Union -- is the most-visited McDonald's location in the world.
While Russia is one of the company's biggest markets outside of North America, the closures are expected to be temporary and are not expected to inflict major long-term damage on the stock.

Other Western companies might indeed feel the pinch, and not just from Western sanctions or Russian countersanctions. Russia's economy also is contracting, potentially taking consumer spending with it.
Which means varying risks for these Western companies with strong ties to Russia:

Daimler
I'll start with German luxury automaker Daimler (DDAIF), maker of the iconic Mercedes-Benz. Daimler has been steadily increasing its presence in Russia, and as recently as July, the company planned to start manufacturing Mercedes cars in Russia.
Daimler's sales in Russia have also, up until very recently, been growing at a blistering pace. In the first half of 2014, Daimler sales in Russia were up about 20 percent after rising about 19 percent in 2013. But with Germany now leading the sanctions charge, its companies are now at risk. And Western automakers are a likely candidate in the event that there is another round of countersanctions -- likely the driving fear in DDAIF over the past month.
German stocks, as measured by the iShares MSCI Germany ETF (EWG), were down about 13 percent from the June peak to the early August trough, though they have recovered modestly since then. Over the same period, Daimler was hit harder, down about 18 percent before recovering slightly.
But Daimler investors shouldn't be worried. Although Russia was a promising market for Daimler -- and might be again once Ukraine fades from memory -- Russia is not one of Daimler's biggest markets. Last year, only 44,376 autos, or 3 percent of Daimler's global sales, came from Russia -- were that amount to fall to zero (which is unlikely), it wouldn't be catastrophic to Daimler's business.
Taking a bigger picture, while Russia is a promising export market for Germany, Germany's exposure to Russia is overstated. Russia accounts for only about 3 percent of total German imports, making Daimler pretty typical as far as German companies go.
Meanwhile, Daimler sells for a very reasonable 10 times earnings and sports a 3.6 percent dividend yield.
Heineken (HEINY)/Carlsberg

Heineken (HEINY) recently warned that its sales volumes were down more than 10 percent in Russia, and this was before the effects of any countersanctions.
But as a diversified global brewer, the slowdown in Russia is not particularly damaging for Heineken. Heineken's most promising growth markets are in Africa, Latin America and Asia. The entire Central and Eastern European region, of which Russia is a part, accounted for only 10.1 percent of operating profit last year.
I can't say the same for rival Carlsberg (CABGY).
Carlsberg -- which is based in Denmark -- is the largest brewer in Russia and generates about a third of its sales by volume in the country. Carlsberg saw its beer sales volumes in Eastern Europe fall by 13 percent in the second quarter, and again, this is before the effects of any countersanctions by Moscow. Consumer confidence has been sagging for months, and the Russian government has been discouraging beer consumption for months as part of a public health drive.
Carlsberg is not expecting a speedy recovery either; the company indicated it might be closing some of its 10 breweries in Russia.
I've been a major Heineken bull for years based on its strong competitive position in Africa, and I do not see any developments in Russia having much of an impact. But I would probably steer clear of CABGY for the time being.

Exxon Mobil

What about oil and gas companies? Russia is, of course, one of the biggest players in the global energy industry, and virtually every international oil major has some connection to the country.
One U.S. company potentially at risk is Exxon Mobil (XOM). Exxon partnered with Russian energy giant Rosneft (OJSCY) in 2011 to develop Russia's massive Arctic reserves in a deal that could eventually be worth as much as $500 billion. Exxon had negotiated a very favorable tax deal in exchange for its investment and expertise, and by Russian estimates the Arctic region in question has as much oil and gas resources as Saudi Arabia.
As a visible symbol of American industry, you might think Exxon would be a very easy target for Russian reprisal. However, thus far, Putin has made no indication that he intends to punish Exxon, and in fact, as recently as mid-August, Putin praised Exxon as an "old and reliable partner." While Putin is no doubt itching to thumb his nose at the West, his relationship with the oil majors is simply too important to blow up over a political row.
The bigger risk to Exxon is not punishment from Russia, but rather the reality that it might not be able to invest as much as originally planned due to Western sanctions that limit the export of oil production equipment to Russia.
And what about Exxon stock?
Despite being near its 52-week high, XOM is not particularly expensive, particularly by the standards of today's market valuations. Exxon stock trades for less than 13 times forward earnings and yields a respectable 2.8 percent in dividends. A deep freeze in Exxon's Russia operations would take a bite out of growth. But at current prices, you're not exactly paying a premium.
XOM is a decent buy at today's prices. Should it sell off on any escalation in tensions with Russia, I would consider it a strong buy.
More from InvestorPlace
Charles Lewis Sizemore, CFA, is the editor of Macro Trend Investor and chief investment officer of the investment firm Sizemore Capital Management. As of this writing, he did not hold a position in any of the aforementioned securities. Click here to receive his FREE weekly e-letter covering top market insights, trends, and the best stocks and ETFs to profit from today's best global value plays.

  Will Russian sanctions effect our market?  The Euro zone will be effected by Russia far more than us and may be pulling funds out of the U.S. market for fear of what could happen there. The morning down drafts could be a indication of them pulling funds. To early to tell yet. They have been big supporters of the large caps for the past few years. Just be aware and stay alert. Stay profitable.


"Do Russian counter sanctions put stocks at risk?"

I wonder if that is even the right question. This highly charged issue and what follows is more likely to drive Russia, China, and others to be far more determined in their efforts to replace the almighty Dollar sooner than later. Something was almighty before the Dollar, the same will be after. Nothing ever stays the same.

When Stocks are this highly leveraged via manipulated currencies and interest rates, do you really want to continually take the chance that things come unraveled. This game of Russian Roulette always ends the same. Hopefully it doesn't escalate into something far worse.

You don't give a 9 year old a semi-automatic anything. By doing so, folks should not be shocked at what can happen. Same applies to folks thinking they can continually push Putin and the Russian People buttons. All this farce Nation Building is also taking it's toll. America, we can't even solve problems here at home but we always think we can solve problems of folks we really have not a clue about.

When Global Central Banks are engaged in a Frankenstein type experiments, anything poses a possible risk to Stocks and just about everything else in the Global economy.

Are you sure you want to delete this comment?
DATA PROVIDERS
Copyright © 2014 Microsoft. All rights reserved.
Fundamental company data and historical chart data provided by Morningstar Inc. Real-time index quotes and delayed quotes supplied by Morningstar Inc. Quotes delayed by up to 15 minutes, except where indicated otherwise. Fund summary, fund performance and dividend data provided by Morningstar Inc. Analyst recommendations provided by Zacks Investment Research. StockScouter data provided by Verus Analytics. IPO data provided by Hoover's Inc. Index membership data provided by Morningstar Inc.
ABOUT
Top Stocks provides analysis about the most noteworthy stocks in the market each day, combining some of the best content from around the MSN Money site and the rest of the Web.
Contributors include professional investors and journalists affiliated with MSN Money.
Follow us on Twitter @topstocksmsn.