Does Obama want a market sell-off?
Pushing investors out of complacency could be just what settles the impasse in Washington and reopens the government.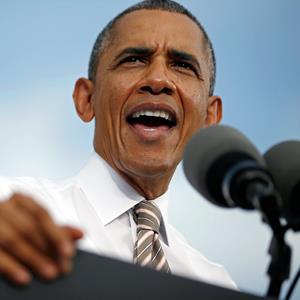 By Jeff Cox
President Barack Obama's best friend could be Wall Street's worst nightmare.
A little market crisis -- not enough to crash the economy into recession but enough to stir public fear that would push Republicans to the negotiating table -- could be just what settles the impasse in Washington and reopens the government, according to investing pros and market observers.
In an exclusive interview with CNBC, the president warned Wall Street that this shutdown could be different. Previous halts in nonessential government activities have caused little market reaction, with major averages actually rising most of the time in the month after the shutdowns are settled.
Obama's remarks indicated to some observers that he is trying to push investors out of the relative complacency they have shown so far. Futures were broadly lower Thursday, indicating markets may be taking heed.
"They feel that a severe market selloff would be helpful to break the logjam," said Greg Valliere, chief political strategist at Potomac Research Group in Washington. "It would be helpful in making the Republicans sue for peace. Obama and [Senate minority leader] Harry Reid believe that."
Twitter was abuzz about the interview, with some sharing Valliere's opinion.
While Valliere said the Democratic president and his chief Senate lieutenant are playing a dangerous game, the political advantage so far has been Obama's.
"All of the players in this game are playing with fire," he said. "This is hardball at its most brutal. They're not inclined to compromise. They want to make the markets squirm."
Wall Street has been unrattled by the shutdown and its ramifications for the debt ceiling battle.
While the stock market sandwiched two modest losses Monday and Wednesday around a small gain Tuesday, interest rates have barely budged. That's consistent with previous shutdowns, though none faced the specter of the government actually defaulting on its obligations.
Obama's approach, though, was beginning to wear thin with some market participants.
"It's obvious this stalemate is going to continue for many days, if not weeks, now based on the 'sharp elbow' responses by the president in the CNBC piece," Todd Schoenberger, managing director at LandColt Capital, said in a statement. "Unless a resolution in Washington happens soon, investors should brace themselves for violent volatility in the equity markets for the foreseeable future."
The nonconciliatory tone bothered some.
"It's very difficult when the president says 'I'll compromise, I'll talk to anyone, as long as you agree with everything I say,' " Steve Grasso, a trader at Stuart Franke, said on CNBC.
Carol Roth of Intercap Merchant Partners called Obama's tone "too subtle if he wants the market's help right now" and said he should have used stronger language about the direction he wanted the Federal Reserve to take.
The president did not discuss whom he would name to replace Fed Chairman Ben Bernanke, whose second term expires in January.
"What's clear from the president's remarks are two things: 1) Despite his claims to the contrary, he is pushing the rhetoric that this is Republicans' fault and, more specifically, tea party Republicans; and 2) that he is out of his depth when discussing financing issues," Roth said.
"While he pandered to small business and the middle class and tried to explain the mandate of the Fed, he is completely unaware or unfazed by the fact that current policies are doing the exact opposite of what he claims he is trying to accomplish."
Anthony Scaramucci, founder at the SkyBridge Capital hedge fund, also faulted the president for lack of leadership.
"His rhetoric about being worried is unsound, he is the one that has to be worried," Scaramucci said. "If he allows the government to default at this hour in our history, it would be a terrible blow to a fragile recovery."
More from CNBC
DATA PROVIDERS
Copyright © 2014 Microsoft. All rights reserved.
Fundamental company data and historical chart data provided by Morningstar Inc. Real-time index quotes and delayed quotes supplied by Morningstar Inc. Quotes delayed by up to 15 minutes, except where indicated otherwise. Fund summary, fund performance and dividend data provided by Morningstar Inc. Analyst recommendations provided by Zacks Investment Research. StockScouter data provided by Verus Analytics. IPO data provided by Hoover's Inc. Index membership data provided by Morningstar Inc.
ABOUT
Top Stocks provides analysis about the most noteworthy stocks in the market each day, combining some of the best content from around the MSN Money site and the rest of the Web.
Contributors include professional investors and journalists affiliated with MSN Money.
Follow us on Twitter @topstocksmsn.