Dow could rise 10 percent or more in 2014: Siegel
Wharton School professor Jeremy Siegel said that the Dow could finish out 2013 with another 6 percent, on top of the blue-chip index's 25 percent gain year-to-date.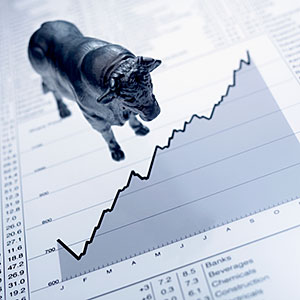 By Matthew J. Belvedere
Wharton School professor Jeremy Siegel told CNBC on Monday that the Dow Jones Industrial Average ($INDU) could rise 10 percent or more in 2014.
That may not be on par with this year's roaring return but is still historically robust, he said, considering that 2013 has been an "extraordinary year" for stock gains.
In a "Squawk Box" interview, Siegel said that the Dow could finish out 2013 with another 6 percent, on top of the blue-chip index's 25 percent gain year-to-date.
"November and December are usually pretty good months," he said. "There's no major uncertainties that are hanging over the markets, at least in these two months coming up."
Barring a major selloff this week, the Dow, the S&P 500 ($INX) and the Nasdaq ($COMPX) will all be positive for September and October. That is relatively rare, happening only four other times in the past 30 years: 2010, 2007, 2006 and 1998.
Looking ahead, Siegel also said he sees GDP accelerating next year to "3 [to] 3.5 percent from the 2 percent we're stuck in this year." That will make for a very "good climate for earnings growth," he added.
"If we can get 3.5 percent GDP, the market can take a [Federal Reserve] tapering down to zero," he said. "Don't forget, the first rate hike is not expected—right now if you look at the futures market—until April or May of 2015."
The Fed is scheduled to begin its two-day October meeting Tuesday. After surprising Wall Street last month by not scaling back its $85 billion-a-month bond-buying program, it is not expected to take any action either this week or at its December meeting. Siegel said the first chance for tapering appears to be in March.
He also does not expect another government shutdown or a down-to-the-wire debt ceiling fight early next year, when the temporary deals to fund federal operations and extend the borrowing limit run out.
"I think they are going to kick the [budget] can down the road a whole year," Siegel said. "So that'll be off our plate and that will be a very, very positive factor [for] first-quarter 2014."
More from CNBC
"....no major uncertainties that are hanging over the markets"
Um, what about the uncertainties over the "Affordable" Care Act? Individual policies cancelled, replacement policies cost 50-1,000% more. Employer based care will see the same increases as 2014 unfolds.
What about Iran and its nuclear program?
What about the next government shutdown?
The 2014 elections which will be the most contentious in years?
Not sure what ivory tower this Wharton prof lives in, but some days I'm nervous just getting out of bed. He may be right, but no uncertainties? Come on.

There will come a point where a Rate Hike will occur regardless of what the Global FEDS do. That's what we use to call FREE Markets. All we have now is manipulated Markets on end going back Decades. Stocks rising both in Sept and Oct, that's only the fourth time that's happened in the last 30 years. So that usually means throw out tradition for Nov and DEC. Stocks have been behaving tired lately and if that continues, nobody would be shocked if we started moving downward towards year end. As the fundamental economy here and abroad get's worse, stock have done better. So what do we really expect in 2014?

1)FED not tapering
2)Crude Prices and Interest Rates a Wildcard
3)Continued Record Margin Buying
4)Record Stock Buybacks via Corporate Bonds
5)More Record Student Loan Debt and outsourcing of our Jobs to slave Labor.
6)Finding out that the Euro-Zone turnaround was a Dud.
7)Japan's first Sales tax increase since 97, from 5% to 8%
8)China, Major Slowdown
9)Tapped out Global Consumers
10)The SuperRich becoming even Richer.

So the bottom-line is what will be the Trigger Event. We can certainly grind higher as long as we keep borrowing more Fiat Money to buy Stocks but eventually Gravity must take hold. The higher the Rise, the Harder the Fall. Either way, no person would really be shocked.


Are you sure you want to delete this comment?
DATA PROVIDERS
Copyright © 2014 Microsoft. All rights reserved.
Fundamental company data and historical chart data provided by Morningstar Inc. Real-time index quotes and delayed quotes supplied by Morningstar Inc. Quotes delayed by up to 15 minutes, except where indicated otherwise. Fund summary, fund performance and dividend data provided by Morningstar Inc. Analyst recommendations provided by Zacks Investment Research. StockScouter data provided by Verus Analytics. IPO data provided by Hoover's Inc. Index membership data provided by Morningstar Inc.
ABOUT
Top Stocks provides analysis about the most noteworthy stocks in the market each day, combining some of the best content from around the MSN Money site and the rest of the Web.
Contributors include professional investors and journalists affiliated with MSN Money.
Follow us on Twitter @topstocksmsn.