Ever wonder how hedge funds really work?
Here's how an absence of doom and gloom overseas coupled with benign economic data and neutral corporate news can add up to a market rally.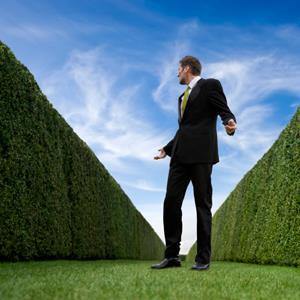 In the absence of really bad overseas news, we focus on what's really going on in the world of profits. The rest is all a distraction unless it deeply affects the numbers.

Here's how this market works. An event overseas, such as the flap with Russia and Crimea, occurs. Immediately it is perceived as being threatening to the interests of the United States in one form or another. We know this either because someone in the State Department or the president tells us this or because some analyst or money manager predisposed to negativity for whatever reason tells us so.
Immediately, the hedge fund managers who are also predisposed to negativity take action. Why are they typically saturnine? I think it's because they are paid to be right all of the time, which means they have to make money on up and down days. Long-only managers, meaning managers who can't short and can just own stocks, aren't expected to make money every day. They are supposed to beat the benchmark of the S&P 500.
But hedge fund managers are expected to predict events and profit from them regardless of the direction. The Putin power grab is a classic example of an event that must be profited from.
Hedge funds typically use the blunt instrument of the S&P 500 futures, although they can also use ETFs that give them leverage to short the stock market.
Now you needed a combination of things to continue the Putin sell-off that started last week. You needed a Crimea secession, which was a forgone conclusion and caused the market to sell off last week. Then you needed a firm response by the United States, including something that hurt the numbers, that caused companies to lose sales and business to be suppressed. Then you needed a definitive statement from Putin that he wasn't done with his mischief-making.
The hedge funds put the shorts on after the first data point, the Crimea secession, but Secretary of State John Kerry, who said the Russians would meet the sword of swift American justice, turned out to be a no-show, the proximate cause of Tuesday's rally, and then Putin said he had no more designs on Ukraine, which snuffed out the hedge funds' third reason for being short.
Some managers will stay short no matter what, betting that Putin is fibbing and he is going to move on Ukraine at the first provocation against the ethnic Russians in that country. That's all well and good, and I can't blame anyone for speculating on that view. I just wouldn't put a lot of money on it. I consider the likelihood of Putin's taking action right after he said he wouldn't take action at about the same as the possibility that a 14th seed will make it to the Final Four (better than a 16th seed, because that's never happened, but not something I would necessarily enter into if I were playing the Buffett billion-dollar challenge).
So what happens in the absence of Putin's parry into Ukraine? What's the next thing that occurs, according to Cramer's "Hedge Funds for Dummies" textbook? Well, of course, we default to China for the latest round of weak economic numbers, which then cause the domino of a hard Chinese landing, declines in minerals, slower worldwide growth and, yes, a cutting of the numbers. Guess what, though. We didn't get any China data, so we didn't play dominoes.
What's the next bearish rap that can influence us more than it should because of the hedge fund complex's blast of the futures, which causes the market to go down, which then causes the media to grasp at a reason to explain the red ink?
Why, Europe, of course. Unfortunately for the bears, the only data we had out of Europe were stronger car sales. I'm sure the hedge funds were steamed that the sales weren't too strong, which would then signal that the European Central Bank might tighten, a terrific reason to short. And I'm sure they were angry as all get-out that sales weren't weaker than expected, which could have caused some permanent-recession talk, another staple from "Hedge Funds for Dummies."
Well, then, how about Japan? That's been a horrendous market. Look out, Japan bounced and actually rallied, a fact that didn't fit the negative hedge fund complex worldview and couldn't be spun in some hideous way.
Other hotbeds of urgency? Break out the hedge fund checklist. Argentinian bond woes? Nope. Venezuelan insurrection? Uh-uh. Turkish unrest? Sorry. All of the things that matter to this cohort, every one of them, just not generating a reason to knock the market down and get some negative headlines going.
So what happens next, after we've exhausted every central casting woe? We then have to deal with the reality of the United States and the profits of U.S companies, something that I contend we should be focusing on to begin with, which is why I keep trying to bring the discourse back to the fundamentals.
So now we have to be really mundane and examine the news and numbers that came out Tuesday. First, we got good housing starts, certainly stronger than expected, and, more importantly, we got robust permits, up 7.7%, which clocks in at 1 million home build. That's perfect. Not too strong to force the Fed on Wednesday to say, "We have to stop buying bonds," and not too weak for the hedge funds complex to spread the word that things aren't getting any better so numbers are too high.
That means if you own any retailers connected with housing, numbers can actually go up if a positive analyst is so inclined. 
Then right on top of that benignly positive news came a tame consumer price index report, an increase of 0.1%, which is actually perfect if you are convening to talk monetary policy as the Fed is doing. Yes, there was some food inflation, but that was more than made up for by heating costs going down and apparel costing less. Take it from me, the owner of a Mexican restaurant, if the CPI were to measure just the price of guacamole, the Fed would not only stop buying bonds, it would be raising short rates like mad. But, sorry hedge funds, Fed policy will not be set by this non-key ingredient, although I might raise prices on my chips and salsa plate.
Now, there was a negative corporate news story. Nucor (NUE), the country's largest steelmaker, pre-announced weaker earnings, something that bums me out because I saw them last week in "True Detective" country. But the company cited the weather and said nonresidential construction was picking up, a detail that trumped the weather and actually caused the stock to advance. That and vague positives about how Microsoft (MSFT) execs are vowing to be, well, less like Microsoft and more like Apple, were the only backdrop that mattered, and both were perceived as positive. (Microsoft owns and publishes MSN Money.)

You put all of these facts together, an absence of negatives overseas coupled with benign macro data and positive reaction to mildly negative to neutral corporate news and what do you get? How about a rally.
And that's just what we got.

Jim Cramer's Action Alerts Plus: Check out this charitable trust portfolio and uncover the stocks Cramer thinks could be winners.
More from TheStreet
DATA PROVIDERS
Copyright © 2014 Microsoft. All rights reserved.
Fundamental company data and historical chart data provided by Morningstar Inc. Real-time index quotes and delayed quotes supplied by Morningstar Inc. Quotes delayed by up to 15 minutes, except where indicated otherwise. Fund summary, fund performance and dividend data provided by Morningstar Inc. Analyst recommendations provided by Zacks Investment Research. StockScouter data provided by Verus Analytics. IPO data provided by Hoover's Inc. Index membership data provided by Morningstar Inc.
ABOUT
Top Stocks provides analysis about the most noteworthy stocks in the market each day, combining some of the best content from around the MSN Money site and the rest of the Web.
Contributors include professional investors and journalists affiliated with MSN Money.
Follow us on Twitter @topstocksmsn.