Fannie Mae soft-pedals $4 billion in mistakes
The mortgage giant quietly acknowledges numerous accounting errors that occured over 6 quarters from 2010 to 2012.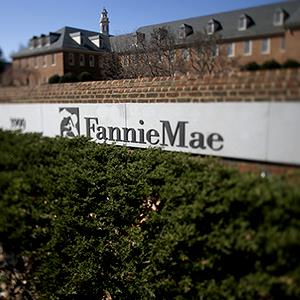 By Dan Freed, TheStreet
Fannie Mae (FNMA) quietly acknowledged several errors in its financial statements that have largely gone unnoticed, even by sophisticated investors who made daring contrarian bets on the turnaround of the controversial mortgage giant.

Fannie Mae reported the errors, which add up to nearly $4 billion, during five consecutive quarters from the fourth quarter of 2011 through the fourth quarter of 2012 and also in the second quarter of 2010. 
Olga Usvyatsky, an accountant with a research firm called Audit Analytics, believes the errors may point to "control deficiencies" -- a catch-all accounting phrase that encompasses issues such as poorly trained or inadequate staffing, inadequate technological capabilities or ineffective business processes, among other examples.
"From what I see on the surface, it does not look like intentional manipulation," she said. "It looks more like [the] financial statements in general are not very reliable because they keep finding those errors."
A Fannie Mae spokesman emailed the following statement: "We disclosed these out-of-period adjustments in order to be transparent. As in any large company, our financial statements are reviewed by our independent auditors. We are confident that our financial statements are reliable."

While Fannie Mae did disclose the errors, one reason they did not attract more scrutiny is likely the manner in which they were disclosed -- as out-of-period adjustments rather than restatements. In correspondence with the Securities and Exchange Commission, Fannie Mae took the position that the errors were too small to be of much interest to investors.
In an Aug. 30 letter to the Securities and Exchange Commission, explaining $528 million worth of adjustments in the first half of 2012, Fannie Mae CFO Susan McFarland (who left Fannie Mae in 2013) wrote:
We do not plan to include disclosure regarding how these misstatements were discovered in our future filings because we believe the effects of these misstatements, both quantitatively and qualitatively, are not material to prior periods or to our projected annual 2012 income; therefore we do not believe additional information regarding the detection of these items would be meaningful to investors.
The SEC followed up on the issue, we learn from McFarland's response to the SEC on Dec. 13. Among the SEC's requests:
Please provide your analysis supporting your conclusion that you do not have a material weakness with respect to the accounting for the allowance for loan losses and reserve for guaranty losses as of December 31, 2011 and discuss any new processes or procedures you have put in place to prevent these types of errors from recurring in the future.
McFarland's response contended in part that the adjustments did not indicate a "material weakness" because they were relatively small.
These misstatements were less than 2% of our allowance for loan losses as of December 31, 2011 and less than 5% of our net loss for the year ended December 31, 2011. Additionally, we concluded that the misstatements were not material to our projected 2012 consolidated financial statements taken as a whole.
However, they grew larger. The additional $850 million and $172 million discovered in the third and fourth quarters, respectively, were not discussed in this correspondence, even though the $850 million was already disclosed at the time of the second letter.
Usvyatsky estimates the total $2.073 billion of out-of-period adjustment in 2012 reduced net income by $1.658 billion or about 9.5 percent of total 2012 income of $17.224 billion. An SEC spokeswoman declined to comment as did a spokeswoman for the Federal Housing Finance Authority, Fannie Mae's chief regulator.

Fannie Mae reported a first quarter 2014 profit of $5.3 billion Thursday morning. On a conference call with the media following the earnings announcement, TheStreet reiterated its questions to CEO Tim Mayopoulos and CFO David Benson. 
Benson essentially repeated the statement given me by the spokesman.

"Both we and our auditors our independent auditors are comfortable with our financial statements and feel that they are perfectly reliable," Benson said.

Even after Benson's predecessor had told the SEC the same thing in Dec. 12, 2012 only to disclose another $1 billion of new adjustments?

"I don't think we have anything further to say on the matter. You've asked the questions and I think we've answered them," Benson concluded.
More from TheStreet
Are you sure you want to delete this comment?
DATA PROVIDERS
Copyright © 2014 Microsoft. All rights reserved.
Fundamental company data and historical chart data provided by Morningstar Inc. Real-time index quotes and delayed quotes supplied by Morningstar Inc. Quotes delayed by up to 15 minutes, except where indicated otherwise. Fund summary, fund performance and dividend data provided by Morningstar Inc. Analyst recommendations provided by Zacks Investment Research. StockScouter data provided by Verus Analytics. IPO data provided by Hoover's Inc. Index membership data provided by Morningstar Inc.
ABOUT
Top Stocks provides analysis about the most noteworthy stocks in the market each day, combining some of the best content from around the MSN Money site and the rest of the Web.
Contributors include professional investors and journalists affiliated with MSN Money.
Follow us on Twitter @topstocksmsn.