Get 30% upside with this overlooked burger stock
Forget McDonald's. Once an also-ran in fast food, this company is making the right moves to become No. 1.

By David Goodboy
Many people would call my favorite food choice boring and predictable. However, I consider myself a connoisseur of the lowly hamburger.
I have had burgers all over North America from down-and-dirty burger shacks to the finest restaurants such as Daniel Boulud's DBGB Kitchen & Bar in Las Vegas, New York's Old Homestead Steakhouse and other assorted classy joints.
Often, these top chefs, in their zeal to outdo one another, create more of a meatloaf concoction than a serious hamburger. This is particularly true when you get into the Kobe beef varieties, which I think are just terrible, despite their astronomical price tags. My favorite burgers are of the down-home variety, handmade with top-notch organic beef and a thick, fresh-toasted bun. I have several favorite burger joints, and not one is from a celebrity chef.
The burger war
I am not alone with my zeal for the lowly hamburger. It is among the most popular foods in North America. This popularity has led to an all-out burger war among the chain restaurants. A true David versus Goliath battle is going on for the palates of burger lovers.
Believe it or not, the large, entrenched burger Goliaths are losing this war to the smaller, David-like burger chains nationwide.
In fact, the big guys are getting crushed in consumer sentiment. This is signaling that big changes are coming. Those chains that do not change their way of doing business, thinking their past success means they are above the fray, will likely be left in the dust.
According to a Market Force Information survey of more than 7,600 consumers, Five Guys Burgers and Fries was picked as the top U.S. burger chain, followed by In-N-Out Burger, Fuddrucker's, A&W Restaurants and Smashburger. Burger heavyweights
Burger King
(
BKW
) and
McDonald's
(
MCD
) are 12th and 14th, respectively, on the list. In other words, the most famous hamburger chains are under siege by the smaller niche chains.
Does this mean that the monster burger chains of yesteryear will slowly die as the new upstarts take a leading role in this ultra-competitive arena? Yes, the ones that don't adapt to accommodate the changing tastes of customers may fade into irrelevance. But don't write the old-school burger giants off just yet.
A leading chain is making aggressive changes to regain consumers taste buds. These assertive changes have made this entrenched chain an excellent investment right now. In fact, it's already up 50% this year.
I'm talking about
Wendy's
(
WEN
), which is often thought of as third fiddle to McDonald's and Burger King.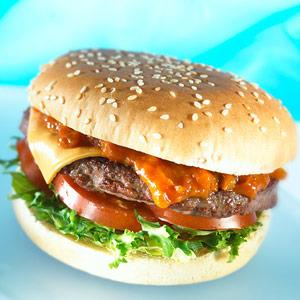 In an effort to stay relevant with consumers and to keep its smaller competitors from gaining market share, Wendy's launched an innovative plan to upgrade stores with bistrolike features. It has also expanded its menu with additional premium burgers, making for more variety than McDonald's or Burger King. In fact, Wendy's expects its pretzel bacon cheeseburger -- which I think tastes great, by the way -- will increase same-store sales as much as 3% by itself.
Financially, Wendy's recently made the bold move of reducing company ownership of restaurants from 22% to 15%. This works out to 400 stores sold to franchisees. By doing this, the company creates increasingly stable revenue based on steady rent payments, franchise fees and royalties rather than sales.
The company just reported solid second-quarter results with adjusted earnings of 8 cents a share, beating analysts' consensus estimates by 2 cents. Revenue rose 1.8% from a year ago, to $650 million, but missed estimates by $10 million. The miss is attributed to weak same-store sales growth of just 0.3% at franchised restaurants.
Investors are betting that Wendy's changes will increase sales. On the positive side, the company increased its quarterly dividend by 25% to 5 cents, which equates to a 2.8% annual yield.
My bullish bet is on Wendy's as the single mega-burger chain to thrive long term due to its willingness to undertake substantial changes to stay relevant. To my thinking, the fearlessness exhibited by the company provides a winning edge against its smaller competitors.
Technically, shares have broken out of a tight channel between $6.20 and $5.50, hitting a high of $7.60 prior to falling back to support in the $7 range.
Risks to consider:
Wendy's is one of the old-school burger chains, and being bullish on Wendy's is a bet that fickle consumer tastes will be satisfied with its changes. Always use stops and position size properly when investing.

Action to take:
I like Wendy's at support right now with a 12-month target of $10. Stops at $6.60 make solid technical sense.
David Goodboy does not personally hold positions in any securities mentioned in this article.
StreetAuthority LLC does not hold positions in any securities mentioned in this article.
More from StreetAuthority


Wendy's has been around forever as article points out..
I've seen many of their Storefronts come and go...
They normally don't always build across from Micks or the King..
If their business is good in a Locale...McD's built across from them.
Wendy food was always pretty good, better fare then the others.
But prices slightly higher also, you had choices.
Had the chance to meet Dave Thomas, once upon a time in the early days in the 60s.
Nice guy and sincere...He's gone and not sure if his Daughter (Wendy) is just a figurehead or spokesperson; But still think they are Hdqtrd. in Dublin near Columbus Ohio.?
Maybe a good investment in the burger-biz, but they have to compete...
And who in hell wants a "Pretzel Burger"?
Push the "square burger" from "local higher protein beef" and build from there.

Probably all pretty decent advice here from D Goodboy...But my question is Wendy's really on an incline to a better return on investment or are they riding the "ground swell" of the recent upturn in all Markets..."The rising tide...."
And are they really only a $6.20- 6.80 stock rising to that level because of earnings??
Although div of a nickel is okay...The 2.8% is respectable. 
Are you sure you want to delete this comment?
DATA PROVIDERS
Copyright © 2014 Microsoft. All rights reserved.
Fundamental company data and historical chart data provided by Morningstar Inc. Real-time index quotes and delayed quotes supplied by Morningstar Inc. Quotes delayed by up to 15 minutes, except where indicated otherwise. Fund summary, fund performance and dividend data provided by Morningstar Inc. Analyst recommendations provided by Zacks Investment Research. StockScouter data provided by Verus Analytics. IPO data provided by Hoover's Inc. Index membership data provided by Morningstar Inc.
ABOUT
Top Stocks provides analysis about the most noteworthy stocks in the market each day, combining some of the best content from around the MSN Money site and the rest of the Web.
Contributors include professional investors and journalists affiliated with MSN Money.
Follow us on Twitter @topstocksmsn.