Go global to avoid a US market meltdown
With trouble in developed markets and yields on interest-bearing assets still paltry, these funds offer potential.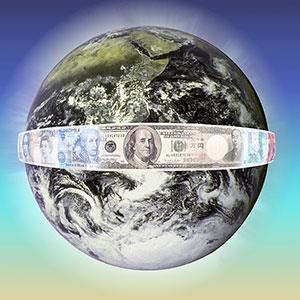 By Jeff Reeves,
MarketWatch
Last week, I listed concerns of a stock market correction in the U.S., including high valuations and a weaker-than-expected​ economy. Investors seemed to acknowledge those risks, as stocks drifted steadily lower on the week.

At the same time, European equities had a shock as the solvency of a major Portuguese bank was called into question. Shades of the 2011 European debt crisis spooked investors, and stocks across Europe slid.
With trouble in developed markets and yields on interest-bearing assets still paltry -- and perhaps threatening to drift even lower given recent trends with the 10-year Treasury -- then where is an investor to turn?
I say go global -- and start staking out a position in emerging markets. The valuations are much cheaper, the momentum is much better and there are some very attractive ETFs that allow you to play the upside potential in these volatile regions but with enough diversification to reduce your risk significantly.
Here are three such emerging market ETFs I'm watching now:
iShares MSCI Taiwan Index ETF (EWT) 
• 60-day return: 11 percent
• 2014 return: 13 percent
• Net assets: $3.3 billion
• Expense ratio: 0.62 percent, or $62 on every $10,000 invested
Many emerging market stocks and ETFs have picked up nicely since their May lows, outperforming the S&P 500 in that period. But one region that has actually outperformed all year long is Taiwan.
Stocks in the region largely sat out the 2013 rally, but momentum has picked up this year with double-digit gains in the past two months. Longer term, the iShares MSCI Taiwan Index ETF is up 13 percent since Jan. 1, double the profits generated by the Standard & Poor's 500 Index ($INX) in the same period.
So much for emerging markets being chronic underperformers.
Longtime commodity trader Peter Brandt recently shared a chart-heavy analysis of Asian equities, making the case for why "Asian equity markets are on the verge of explosive advances." For those interested in technical analysis, I highly recommend Peter's blog post where the charts speak for themselves.
Taiwan is a great place to put your cash because it is proximal to mainland China and can benefit from the future growth opportunities there. However, Taiwan still enjoys a small degree of autonomy from Beijing and economic ties with the West that are a bit more robust.
The big risk for investors is that technology stocks make up much of the EWT fund, a big reason for its outperformance in 2014. These include tech giant Taiwan Semiconductor (TSM), which represents 21 percent of the entire fund's assets.
However, I believe that hopes of a continued recovery in the West across the next few years will boost both enterprise and consumer technology sales. Furthermore, if China can continue to transition from a manufacturing powerhouse to a world player in technology and services, Taiwan's mature businesses in this space will be a big asset.
SPDR S&P China ETF (GXC)
• 60-day return: 7 percent
• 2014 return: -2 percent
• Net assets: $830 million
• Expense ratio: 0.59 percent, or $59 on every $10,000 invested
A different twist on Asia investing is the SPDR S&P China ETF. Though the fund is down since Jan. 1, it has bounced back sharply since lows in May -- tacking on about 7 percent to roughly double the returns of the S&P 500 in the same period.
I like the GXC fund over more popular alternatives like the iShares China Large Cap ETF (FXI), which boasts almost six times the assets, because of the make-up of this particular China ETF.
For starters, it charges less in fees than its peers. And it offers a decent 1.9 percent dividend yield. That's actually higher than the 1.8 percent currently offered by major S&P 500 ETFs.
Looking deeper, the GXC fund has only 18 percent of its assets allocated in the top three holdings and only about 30 percent in China financials. By contrast, the FXI has about 26 percent in the top three stocks alone and a whopping 53 percent of assets in the financial sector.
Given concerns about a credit bubble in China and the basic notion of diversification to reduce risk, I much prefer the mix of GXC's stocks to the FXI or other alternatives in the space.
GXC has its risks, of course, because the 30 percent allocation in Chinese banks could get ugly if a financial crisis hits the region as some fear it might. However, the 21 percent exposure to technology and 11 percent to Chinese energy stocks should serve investors quite well in the years ahead. After all, Chinese equities are some of the cheapest in the world, so a lot of current negativity is baked in and future growth deeply discounted.
And don't forget that nice 1.9 percent dividend as a hedge even if the fund drifts sideways for a bit.
Wisdom Tree India Earnings Fund (EPI)
• 60-day return: 5 percent
• 2014 return: 24 percent
• Net assets: $1.7 million
• Expense ratio: 0.83 percent, or $83 on every $10,000 invested
India's investment story is a troubled one. However, there are signs of life in the region as major India ETFs are all up by 12 percent or more since May and some funds like the Wisdom Tree India Earnings Fund are up by twice that since January.
First, the risks: India GDP peaked at 10.3 percent in 2010, according to the World Bank , but slowed sharply to 6.6 percent in 2011, 4.7 percent in 2012 and 5 percent in 2013.
Slowing growth has worried investors. Despite the nation being very populous, India is struggling mightily to turn those many residents into middle-class consumers or skilled workers. A lot of that trouble has stemmed from a recent bout of red-hot inflation, eating into consumer spending. Worse, a significant rate hike to stabilize inflation could increase the cost of borrowing so much that a great many Indian firms are forced into default.
It sounds bleak. However, three rate increases over five months across the end of 2013 and beginning of 2014 seem to be making some headway on inflation, and more recent moves to leave interest rates steady coupled with spring elections that ushered in a trade-friendly leadership are giving investors a renewed sense of optimism.
Given momentum in stock prices and the general upbeat vibe after recent policy changes, there's a good chance that India has bottomed and is on the way up. To play this trend, I prefer the Wisdom Tree India Earnings funds to some alternatives because of its makeup.
Less than 20 percent of the fund is allocated in its top three holdings, and only six total positions are at an allocation of more than 3 percent of EPI's total assets. That's a good level of diversification. Furthermore, exposure to India's banks is just 26 percent, smaller than many other India ETFs, and the rest of the portfolio is spread out with double-digit percentages allocated to stocks across the energy, information technology and industrial sectors.
There are always risks in emerging markets, and India has plenty. But the EPI fund is a bit cheaper and bit more diversified than its peers, so if you want to tap into this region, I recommend this fund above others.
More from MarketWatch
The "meltdown" will occur IN the markets because the are fake funded. It couldn't get any dumber. Pull the plug on financial tyranny orchestrated by Central Banks-- restore global economies. Some insane lunatics thought saving cardboard cut-out business platforms, dysfunctional banks, phony services and oligarchies would be more prudent than allowing a natural recovery course. They were wrong. All wealth will be chased down and wiped out. It has to. 
Eat the rich for they are tender and moist and dined on only the finest of ingredients. 
Are you sure you want to delete this comment?
DATA PROVIDERS
Copyright © 2014 Microsoft. All rights reserved.
Fundamental company data and historical chart data provided by Morningstar Inc. Real-time index quotes and delayed quotes supplied by Morningstar Inc. Quotes delayed by up to 15 minutes, except where indicated otherwise. Fund summary, fund performance and dividend data provided by Morningstar Inc. Analyst recommendations provided by Zacks Investment Research. StockScouter data provided by Verus Analytics. IPO data provided by Hoover's Inc. Index membership data provided by Morningstar Inc.
ABOUT
Top Stocks provides analysis about the most noteworthy stocks in the market each day, combining some of the best content from around the MSN Money site and the rest of the Web.
Contributors include professional investors and journalists affiliated with MSN Money.
Follow us on Twitter @topstocksmsn.