Gold iPhone 5s: Where to get one
The model is back-ordered on Apple's Web site, and it's nearly impossible to get at an Apple Store. Surprisingly, China has some available.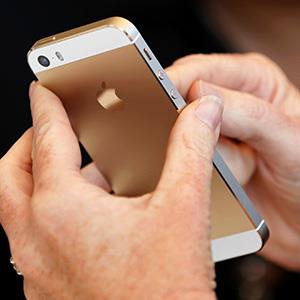 By Chris Ciaccia

It's nearly impossible to get an Apple (AAPL) iPhone 5s in champagne gold anywhere, as that particular model has proved to be Apple's most popular. While consumers may have a tough time getting one in the United States, looking abroad might prove more fruitful.
 
Cantor Fitzgerald analyst Brian White is on a tour of Asia and recently noted that retailers and resellers in Shenzhen, China, were carrying the champagne gold version of the iPhone 5s. "Surprisingly, the iPhone 5S was frequently available, and in many cases the champagne gold was in stock," White wrote in a research note. "In some cases, the space gray colored iPhone 5S was out of stock but the champagne gold was available, exactly the opposite of what we have discussed in the U.S. market."

White rates Apple shares "buy" with a $777 price target, the highest on Wall Street.

A look on Apple's U.S. Web site shows the gold version of the iPhone 5s is available to ship in October, but does not mention a date.  That fact is true for the space gray and silver models of the iPhone 5s as well.  Conversely, ship dates for the iPhone 5c are much more defined, showing an available-to-ship date within 24 hours.  

The iPhone 5c is largely the same phone as Apple's now defunct iPhone 5 - both use Apple's A6 chip. The iPhone 5s uses Apple's new A7 chip, as well as the M7 chip, which is used for motion sensor information.

White believes this is the case because Apple may have allocated more units of the gold iPhone 5s to the Chinese market than the U.S. market.  Gold is considered to be a good luck color in China, symbolizing prosperity and wealth. Given the importance Apple CEO Tim Cook has placed on China for Apple's future, this may very well be the case.

There was plenty of speculation surrounding Apple's sales of 9 million new iPhone units during their opening weekend, and the breakdown of 5s and 5c sales. During White's trip, he noted that for every 10 new iPhones being sold in the Chinese market, 70% to 80% are iPhone 5s, and 20% to 30% are iPhone 5c units. 

Apple doesn't break down sales of each model, simply choosing to report sales of the iPhone in one lump sum. 

The technology giant is slated to report fiscal fourth-quarter earnings on Oct. 28.  Analysts surveyed by Thomson Reuters expect Apple to earn $7.88 a share on $36.76 billion in revenue. 

In conjunction with the announcement that Apple had sold more than 9 million new iPhones in their opening weekend, the company also raised guidance for the upcoming quarter. "Apple expects total company revenue for the fourth fiscal quarter to be near the high end of the previously provided range of $34 billion to $37 billion, and expects gross margin to be near the high end of the previously provided range of 36% to 37%," the company said in a Securities and Exchange Commission filing.

More from TheStreet.com         
Having been to Shenzhen China many times, I really wonder if you buy an iPhone whether it really is an iPhone.  Today, if you go to Alibaba; the site which lists all the "manufacturers in China of so many copy products, you can find iPhones labeled Apple that are not made by Apple, iPads labeled Apple that are not made by Apple; iMacs, MacBooks and so on.  None are real Apple product.  But these suppliers are not solely focused on Apple.  You can buy Samsung labeled product, and actually, you can buy just about any illegally branded product at pennies on the dollar.  Some look like fakes, but most look so close that unless you take the product apart, it is impossible to tell that they are fakes.
So although the author reports that Cantor Fitzgerald saw available Gold colored iPhone 5Ss, unless he verified that they were real, I would just assume otherwise.  I have been to the phone market in Shenzhen and the one in Guangzhou.  In both places, I saw components for the outer case of new model phones, before the new models had been introduced to the US market.  Once I bought a case (plastic covers and a keypad) for a soon to be sold Motorola Android phone a week before that model was scheduled to be sold by Verizon.    The case back was clearly labeled Verizon Wireless.  Then, when I got back to the US, I bought that model as I had intended to do.  When I compared the components I bought in Shenzhen to the actual Verizon branded Motorola phone, I could detect no difference.
So how is this explained?  It is not hard to imagine.  I bought a real case and keyboard.  The manufacturers of these parts make them and sell them to anyone that will buy them.  They aren't supposed to do that, but they do.  Now clone makers produce fake phones using the real-deal covers and clone guts.  The phones have no warranty, and might not and probably do not function the way the real phone operates.  They look real, but they really are not.  And in China, folks will sell anyone anything that puts cash on the counter.  The sellers don't even consider what they are doing as wrong.
That is just the way business is conducted.
So I reiterate.  If Cantor Fitzgerald saw Gold iPhone 5Ss in Shenzhen, the chance that they are fakes is quite high.

Those type of articles create "buzz" and participation or comments on the blogs...
Unfortunately the buzz subsides, conversations break down and turn to other subjects...
On here a lot of political rubbish, or he said/she said...
And the subject manner or discussions on investing seem to fade...
The buzz is only a pesky fly or a bee in someone's bonnet....Nothing else.

Steve, it seems that is what part of this has become...
        A little editorial work should be in order, but probably wont happen...
Too many articles about the "same" Company or Subject.
Apple, Sears/JCP, Wal-Mart, Facebook, Shutdown, Debt Ceiling, today 2-3 on Darden Restaurants;
They are sprinkled throughout the Website on various pages..
And after awhile get pretty boring.
Are you sure you want to delete this comment?
DATA PROVIDERS
Copyright © 2014 Microsoft. All rights reserved.
Fundamental company data and historical chart data provided by Morningstar Inc. Real-time index quotes and delayed quotes supplied by Morningstar Inc. Quotes delayed by up to 15 minutes, except where indicated otherwise. Fund summary, fund performance and dividend data provided by Morningstar Inc. Analyst recommendations provided by Zacks Investment Research. StockScouter data provided by Verus Analytics. IPO data provided by Hoover's Inc. Index membership data provided by Morningstar Inc.
ABOUT
Top Stocks provides analysis about the most noteworthy stocks in the market each day, combining some of the best content from around the MSN Money site and the rest of the Web.
Contributors include professional investors and journalists affiliated with MSN Money.
Follow us on Twitter @topstocksmsn.